Football gets warm reception in North Dakota
Updated:
December 22, 2006, 1:25 PM ET
ESPN.com
Select another state:
TWO GOOD REASONS TO CHEER: BISON AND SIOUX
By Chris Gessele
North Dakota football breeds passion of a variety not defined by a few claps for a touchdown. North Dakota football passion is defined by a surge of adrenaline and an involuntary shout of appreciation for a great defensive hustle effort.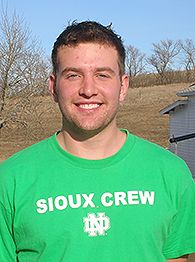 Courtesy of Chris Gessele
Chris applauds North Dakota football at all levels.
Even a 20-below wind chill isn't enough to keep hands in the pockets when the home team picks up seven yards on a running play. Hot chocolate tastes great on an overcast, crisp autumn evening, but all it does is deny North Dakota football fans the fist pump and the raised arms of a touchdown celebration.
Players such as Jim Kleinsasser and former NFL pro-bowlers Jim LeClair and Dave Osborn are recognized by casual NFL fans and groomed their talent in North Dakota before playing in the National Football League.
It is a great time to be a North Dakota college football fan. The University of North Dakota Fighting Sioux have been a perennial Division II powerhouse and didn't disappoint this season. The Fighting Sioux posted a 9-1 regular season record and advanced to the NCAA quarterfinals to meet postseason nemesis and defending NCAA D-II champs Grand Valley State of Michigan.
The two teams have met five times, all in the playoffs. Twice they have met in the national championship game, with the Sioux prevailing in 2001 and Grand Valley avenging in 2003. This season, the Lakers of Grand Valley exploded for a 27-0 first quarter lead, which proved too much for the Sioux to overcome. The scoreboard read Grand Valley 30, UND 20 as the final seconds ran out.
The lightning strike that is mini-junior wideout and kick/punt return extraordinaire Weston Dressler (listed charitably at 5 feet, 8 inches) made his mark in the Fighting Sioux record books. Weston set the school mark for career receptions, receiving yards in a season and all-purpose yards in a season. He was one of the original 24 candidates for the Harlon Hill Trophy, the Heisman of Division II.
The North Dakota State University Bison won the Division I-AA Great West Conference with a 10-1 regular-season record and removed any doubts of their D-I worthiness. Their only blemish of the season came in a 10-9 loss to the Minnesota Gophers of the Big Ten. The entire country doubted, but the 22 believers whose opinion counted most stepped onto the field and battled the D I-A Gophers until the final horn. The Bison would undoubtedly have made some postseason noise, but their move to D-I renders them ineligible for the postseason until 2008.
The move to D-IAA for NDSU and the pending jump for UND will help the national ranking of North Dakota college football. One of the most heated and anticipated D-II rivalry games will be renewed on the D-I level. The Nickel trophy, a 75-pound, 1937 buffalo head nickel replica, has been awarded to the winner of the annual game since 1938. The Sioux lead the series with 32 wins, while the Bison have won 29.
Chris Gessele is a sports columnist for The Dakota Student.
SMALL TOWNS STOP FOR FOOTBALL
By Chris Gessele
It is not a federally recognized holiday, but small-town streets are barren and dotted with closed signs each fall during the annual celebration that is the high school football playoffs. In North Dakota, high school football is divided into four divisions: 11-man class AAA (16 teams), 11-man class AA (16 teams), 11-man class A (32 teams), and 9-man (45 teams).
The highly competitive divisions allow many teams to have state championship aspirations in the preseason. North Dakota communities completely invest emotionally in their local teams. When the starting quarterback takes a sack, the pain is felt by his mom, dad, uncle who runs the grocery store on main, and the public address announcer/11th grade algebra teacher.
Long before he wore pinstripes, Roger Maris played football for Shanley High School in Fargo. It was there that Roger set a national high school record of four kickoff return touchdowns in one game. Legendary coach Bud Wilkinson recruited Roger to play football for the University of Oklahoma, but Maris eventually decided to forgo football and attempt professional baseball. It proved to be a solid decision.
Numerous states possess far bigger communities with far larger schools, but what North Dakota lacks in sheer quantity of athletes it compensates for with a pure enthusiasm and passion. Graduates of North Dakota high schools and schools of higher education forever bleed the colors they once wore.
Playing football on the prairie generates lifelong memories, and North Dakotans experience chills of nostalgia when remembering the unconditional support they received from a small town community for a bunch of small-town kids.
Chris Gessele is a sports columnist for The Dakota Student.
Your Turn
ESPN.com wants your opinion about where North Dakota ranks as an NFL, college or high school football state. Submit your thoughts
Hashing out the best football state
ESPN.com has teed up the 50 states and the District of Columbia. Now the football is in your hands. Pull on your gameday jersey, tape up those writing fingers and hit back with your opinion. We'll print the best fan signal callers on our pages.
Submit your opinion
States' overall football rank
1. Texas | Conversation
2. California | Conversation
3. Florida | Conversation
4. Pennsylvania | Conversation
5. Ohio | Conversation
6. Georgia | Conversation
7. Michigan | Conversation
8. Louisiana | Conversation
9. New Jersey | Conversation
10. Wisconsin | Conversation
11. Illinois | Conversation
12. Alabama | Conversation
13. Virginia | Conversation
14. North Carolina | Conversation
15. Missouri | Conversation
16. New York | Conversation
17. Maryland | Conversation
18. Tennessee | Conversation
19. Oklahoma | Conversation
20. Indiana | Conversation
21. Nebraska | Conversation
22. Colorado | Conversation
23. Washington | Conversation
24. Minnesota | Conversation
25. Mississippi | Conversation
26. Iowa | Conversation
27. Massachusetts | Conversation
28. Arizona | Conversation
29. Arkansas | Conversation
30. District of Columbia | Conversation
31. West Virginia | Conversation
32. South Carolina | Conversation
33. Oregon | Conversation
34. Nevada | Conversation
35.Hawaii | Conversation
36. Kentucky | Conversation
37. Utah | Conversation
38. Kansas | Conversation
39. Connecticut | Conversation
40. Idaho | Conversation
41. New Mexico | Conversation
42. New Hampshire | Conversation
43. Rhode Island | Conversation
44. Wyoming | Conversation
45. Delaware | Conversation
46. North Dakota | Conversation
47. South Dakota | Conversation
48. Maine | Conversation
49. Montana | Conversation
50. Vermont | Conversation
51. Alaska | Conversation
MOST SENT STORIES ON ESPN.COM