Carolina a short, quick roller-coaster ride
Originally Published:
December 27, 2006
ESPN.com
Select another state:
MR. BLUE
By Mark Nowlan

How do the Carolina Panthers stack up? At the onset of the 2006 NFL season, many prognosticators cast the class superlative of "most likely to succeed" upon the 2005 NFC runner-ups. Their up and down play since, however, is emblematic of the franchise's brief history.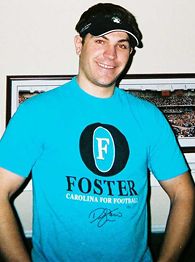 Courtesy of Mark Nowlan
Mark has been drinking up Carolina football.
From racking up more wins than any expansion team in history, to following up a Super Bowl campaign with a subpar 7-9 record, the Panthers have been erratic. As of late, coach John Fox regime has produced a bland brand of football despite having what is likely the fastest gridiron squad (in NASCAR's back yard). It's time to kick it in high gear, as history lives in the shadows of success or the ability to entertain.
Sports passion runs deep south of the Mason-Dixon line, but unfortunately many hearts are given first to college athletics. In addition to being stepchildren of the Redskins and Falcons, the Panthers wear maybe the third-most popular shade of blue in North Carolina.
If you catch a game at Bank of America Stadium, be sure to wear your Sunday best because this is a wine and cheese crowd. On the plus side, you can wear your Michael Irvin jersey and not get pelted in the noggin by a D-cell. If this were a two-win team, attendance would fizzle out quicker than K-Fed's rap career. Still, Carolina fans have to be better than those cheering the Cardinals and the Santa Clara Niners.
On Sundays, you know whether Carolina is home or on the road by the number of available parking spaces at the local pub. Beer and football go together like steak and potatoes, which is not lost on the good people of the Charlotte area, including those at Stool Pigeons. Football is another excuse to throw a few back on the weekend, but make sure to pick up your tailgate supplies on Saturday, because there is no booze sold before noon in these parts.
Right now, I rank the Tar Heel State No. 16 on the pro level. This organization has a ways to climb, but has a solid foundation for building a younger fan base. College will always reign supreme in tobacco country, but cat scratch fever is in the air, and there is no doubt the Queen City has a gem.
OTHER HIGH SCHOOL TALENT
By Justin Griffin

I don't have any problems about your state rankings; I do believe that's about where North Carolina falls.
Griffin
But instead of just talking about one high school, I think you'd do better to talk about regions. Independence is great, but that high school only accounts for about 1 percent of the great players in this state.
The Fayetteville/coastal area, and Asheville and Winston-Salem areas all consistently have incredibly talented players that make the jump to the next level.
We're not Florida and We're not Texas, but there are high schools other than Independence where those kinds of players exist in this state and most of the time, they fall way, way under the radar.
Torry Holt was from Mebane and Julius Peppers is from Tarboro. Other than the Leak brothers, I'm having a hard time remembering any big time players from Independence.
Your Turn
ESPN.com wants your opinion about where North Carolina ranks as a pro, college or high school football state. Submit your thoughts
SPONSORED HEADLINES
ESPN TOP HEADLINES
MOST SENT STORIES ON ESPN.COM
Hashing out the best football state
ESPN.com has teed up the 50 states and the District of Columbia. Now the football is in your hands. Pull on your gameday jersey, tape up those writing fingers and hit back with your opinion. We'll print the best fan signal callers on our pages.
Submit your opinion
States' overall football rank
1. Texas | Conversation
2. California | Conversation
3. Florida | Conversation
4. Pennsylvania | Conversation
5. Ohio | Conversation
6. Georgia | Conversation
7. Michigan | Conversation
8. Louisiana | Conversation
9. New Jersey | Conversation
10. Wisconsin | Conversation
11. Illinois | Conversation
12. Alabama | Conversation
13. Virginia | Conversation
14. North Carolina | Conversation
15. Missouri | Conversation
16. New York | Conversation
17. Maryland | Conversation
18. Tennessee | Conversation
19. Oklahoma | Conversation
20. Indiana | Conversation
21. Nebraska | Conversation
22. Colorado | Conversation
23. Washington | Conversation
24. Minnesota | Conversation
25. Mississippi | Conversation
26. Iowa | Conversation
27. Massachusetts | Conversation
28. Arizona | Conversation
29. Arkansas | Conversation
30. District of Columbia | Conversation
31. West Virginia | Conversation
32. South Carolina | Conversation
33. Oregon | Conversation
34. Nevada | Conversation
35.Hawaii | Conversation
36. Kentucky | Conversation
37. Utah | Conversation
38. Kansas | Conversation
39. Connecticut | Conversation
40. Idaho | Conversation
41. New Mexico | Conversation
42. New Hampshire | Conversation
43. Rhode Island | Conversation
44. Wyoming | Conversation
45. Delaware | Conversation
46. North Dakota | Conversation
47. South Dakota | Conversation
48. Maine | Conversation
49. Montana | Conversation
50. Vermont | Conversation
51. Alaska | Conversation