Ultimate Standings: Fan Satisfaction Rankings
Originally Published:
February 3, 2004
Categories
BNG (Bang for the Buck): Wins over the past three years per revenues directly from fans

FRL (Fan Relations): Ease of access to players, coaches & management

OWN (Ownership): Honesty; loyalty to players and city

AFF (Affordability): Price of tickets, parking and concessions

STD (Stadium Experience): Friendliness of environment; quality of game-day promotions

PLA (Players): Effort on the field; likability off it

CCH (Coach/Manager): Strong on-field leadership

TTR (Title Track): Titles already won or expected -- soon
We know what really matters to fans -- because you told us. We surveyed more than 80,000 fans in SportsNation, and you told us what you want from your favorite team. And then you told us how well your favorite franchise repays you for all the love and money you devote to it.
In the table to the right you will see the eight categories by which you, the fans of SportsNation, ranked your teams.
The results? The Buffalo Sabres rank No. 1 among 122 pro sports teams based on what they give back to fans who invest their time and money in the organization.
Below, you can check the full Ultimate Standings results to see:


Where your favorite team stands.

How each team ranks in its own sport.

How each major market compares with each other.

How each team does in each category.



Questions about how the rankings were decided? Check out the method to our madness and a further explanation of Bang for the Buck.

Click on table headings to sort by category.
Click on team name for expanded analysis.
SPONSORED HEADLINES
ESPN TOP HEADLINES
MOST SENT STORIES ON ESPN.COM
BEST OF THE BEST
Best dancers?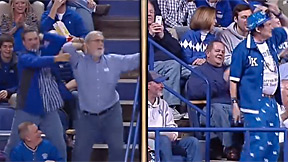 Which fans were better dancers at Tuesday night's Alabama/Kentucky matchup? Vote! »