Dolphins fans drown in misery; Browns suffer whiplash
Updated:
April 28, 2007, 5:46 PM ET
ESPN.com
After the Dolphins front office bypassed Brady Quinn to select Ted Ginn Jr., Dolphins fans, well, lost it. Meanwhile, Cleveland fans weren't quite sure what to think when the Browns bypassed the former Notre Dame quarterback only to trade for a 22nd-round pick to take him. Here's what they're saying in conversations:
This is by far the worst draft selection I have seen the Dolphins make in years, and the first draft pick I've seen for the Dolphins was Yatil Green. They have not selected the best first rounders in the world in recent memory, the only one panning out significantly being Ronnie Brown from 2 years ago, but this pick is simply horrendous. First off, Brady Quinn should have been the pick by far. He has all the skill sets that you need to be an excellent NFL QB, and he has the right man to coach him up in Cam Cameron. But if the team wasn't going with a QB in this situation, as someone mentioned from before, they should have worked on getting younger on defense and shoring up the weakest part of the defense, the backfield. Leon Hall would have been the next best choice in this situation, but instead they go with Ginn Jr. Undoubtedly, Ginn is a weapon for the future of this team. He will immediately replace Wes Welker as the kick and punt returner, and he's a dynamic, fast player. In addition, he will help the team as the No. 2 receiver. Let's not all look at the negatives; after all, we still get a good player for the future. Having said all that, I still feel that they did a massive job of dropping the ball here. No matter how good a receiver is, as we all know and saw earlier in the draft, you don't pass up on the potential franchise QB for a receiver, even a Calvin Johnson, and especially a Ted Ginn Jr.
— S.Fiercex4
The Dolphins passed on a franchise qaurterback for a kick/punt returner! The Dolphins should not be allowed to handle their own draft.
CMal3
I am a lifelong Dolphins fan, and now I think I'm going to pick a new team. I can't believe that they seriously did not pick Quinn. That dumb pick set the team back another 10 years. I tried to call the main office and their are "closed", and I think it is bring your kid to work day … and the kid got to make the pick. The Dolphins are dead to me, and Cameron is the Wannstadt (sp?)
—tgrant980
Now I know how Houston fans feel! If Randy doesn't have some trick up his sleeve and is trading Ginn for a player and pick then Im going to cancel my season tix. Just another example of the front office dropping the ball. We seriously need Pioli!
—m_ratti
Cam Cameron should go back to his High School Alma Mater and Coach there, because he just made the biggest mistake of his professional life. Looks like Jason Taylor and the Defense will still have to carry the entire team
—timshady5k
I have been a Dolphin's fan since early 80's and for the first time ever I am ready to throw in the towel and just give up on them. Ted Ginn was the worst player Miami could have took at number 9, I hope Brady Quinn haunts them for years to come!!!!!!!!!!!!
—ronmilissa
It's gonna be great having Ginn return it to the 35-yard line to start every drive before whatever retread we line up behind center goes three-and-out
—nymattso77
I am ashamed to admit I am a Fins Fan. After seeing Cameron and the GM discuss for multiple weeks how well they are going to work together to build a winning team, they have dropped the ball on what should of been a great pick. Get use to top 10 picks for a couple of years.
—flyfan64
i like the move it gives them some mobility i think the green move is done . kansas city needs a returner since they lost hall it maybe a move to losen the trade options
—wingard187
I was one of those people who didn't like Quinn, and I thought for sure that they would draft him. All I can say now is that Ginn better be good because other wise Cam is done after a year. The dolphins better not have picked him because they have the BYU, Stanford or Michigan St. QB rated higher.
—miamidolfins5407
Trading up
Browns' fans felt sorry for Quinn at first when he wasn't picked.
I like this pick but man the look on quinn's face when he wasnt picked by the browns made my stomach hurt. Then when espn showed him in the browns uniform about 15 years ago i felt bad for the kid. It hurts him. You could tell by the look on his face that he was dissapointed

— buckeye73193
Then everything changed after a trade with Dallas. Fans made it clear that from the start, expectations will be high for Quinn in Cleveland.
great draft so far for the brownies,BUT i dont know how much i like giving up next years #1 for Brady Quinn. any comments
— buckeye73193
The first rounder does seem a bit high. Hopefully they win 8 games next year. I'd start Frye next year. Use the addition of j. thomas, e. steinbach, and j. lewis…and a healthy b. edwards and k. winslow to have a great offense. I'd use the third rounder on antonio pittman. really load the offense up and try to make Frye look good. then try to snooker some team into trading us a couple of 2nd rounders, ala the Falcons with Matt Schaub. End up with two second rounders in both 2008 and 2009, and finally the pieces of a super bowl champ will be in place.
— hooodyhoo42
Even if Quinn chokes in EVERY big game…that would still imply that he had gotten the Brown's to some big games. At this point, I think I can take that. Don't forget, Peyton choked in "every big game" for a WHILE!
— stpalmisano
the browns got two out of five most skilled players in the draft i think that is well worth next years first round pick which will hopefully be late round
— casey_mk2006
Can 2nd guess all ya want. But if you think about it, regardless of what is said about arm strength, the only thing the Browns needed more than the O-Line (and maybe a CB) is LEADERSHIP. No one can say that there was a stand out Leader on offense. I think it is the intangibles that Quinn brings that makes him a good pick.
— stpalmisano
Quinn was definitely overhyped, but so was Russell… we may have gotten the best QB in this draft in exchange for a first rounder next year. QB hype is an unavoidable part of the game, and it isn't like we wouldn't have been drafting one next year (short of a Charlie Frye miracle revelation this year).

We got a reasonable guy with a lot of upside. Quit whimpering.
— yurin713
SPONSORED HEADLINES
ESPN TOP HEADLINES
MOST SENT STORIES ON ESPN.COM
SportsNation

SportsNation


RT @ESPN_Numbers: Allen Iverson and Oscar Robertson would love to wish you a Happy Pi Day » http://t.co/2pu7KcRIpg
about an hour ago

SportsNation

SportsNation


.@RSherman_25 & @DeAngeloHall23 are exchanging some strong tweets between each other. http://t.co/hVc37bQhhD
about 14 hours ago

Max_Kellerman

Max Kellerman


Max and Marcellus ESPNLA 710am weekdays, 3-7pm PT Download the podcast http://t.co/bICnqQZBfJ
about 16 hours ago

SportsNation

SportsNation


Oklahoma St. - Kansas is done & we're just starting! SN is on! ESPN2 now!
about 18 hours ago

SportsNation

SportsNation


RT @dannypudi: Jump ball! 2:30 pm on ESPN2. Thanks for letting me play @SportsNation @blakegriffin32 http://t.co/Qbh0ZyrT30
about 19 hours ago

Max_Kellerman

Max Kellerman


Great idea. Dan Snyder on wrong side of history here. "@ProFootballTalk: Pelosi: Redskins should lose trademark http://t.co/z1sEdkrdZT"
about 19 hours ago

SportsNation

SportsNation


NFL free agents still available: 1- Julius Peppers 2- Jared Allen 3- Dan Smith (BYU) http://t.co/HIJIfrB8Yy
about 20 hours ago

SportsNation

SportsNation


Hey @KingJames you aren't the only one that people get tattooed on their back! http://t.co/r0dY4s9TKQ http://t.co/RWGsGd5pqd
about 20 hours ago

Max_Kellerman

Max Kellerman


Sorry #Knicks fans/dont worry #Lakers fans if @PhilJackson11 goes to NY Dolan will screw it up. Phil will be back w/LA < 2 yrs #sportsnation
about 22 hours ago

SportsNation

SportsNation


Marcellus and Beadle breaking it down in 2009 #TBT http://t.co/wmJlqguYjW
about 22 hours ago

SportsNation

SportsNation


Pinocchio isn't the greatest motivational speaker. Just ask the Lakers... http://t.co/flTsENmzfG
1 day ago

SportsNation

SportsNation


Eric Decker is going to have to get used to catching passes from Geno this year...http://t.co/XJ4BIVALa4 http://t.co/P9nVejzKgA
1 day ago

SportsNation

SportsNation


After the Eagles traded for for Darren Sproles, Chip Kelly will probably just be yelling "I WANNA GO FAST!" all day.
1 day ago

SportsNation

SportsNation


The Jets signed Eric Decker last night. All they have to do is get Peyton Manning and they'll be all set for next year.
1 day ago

Max_Kellerman

Max Kellerman


RT @LakerNation: Report: Phil Jackson deal with Knicks not done yet; Lakers want Jackson back. READ MORE: http://t.co/oQKQOH7WyZ
1 day ago

Max_Kellerman

Max Kellerman


RT @usatodaynba: All this Phil Jackson-to-the-Knicks talk has Laker Land jealous, as @Sam_amick and @JeffZillgitt write: http://t.co/DDXNiF…
1 day ago

Max_Kellerman

Max Kellerman


RT @TheFightSource: @Max_Kellerman Spitting image... http://t.co/dyJPLOWfnU
1 day ago

Max_Kellerman

Max Kellerman


Face Off http://t.co/7L9mA76SzL
1 day ago

Max_Kellerman

Max Kellerman


RT @LakersNation: Three-time champion, and now, NBA Insider. RT @Rickafox: Official Phil to NY
1 day ago

marcelluswiley

Marcellus Wiley


RT @datguymario: C'mon man @iamMarioRuiz @Max_Kellerman @marcelluswiley http://t.co/CSbYcql6Yy
1 day ago
BEST OF THE BEST
Best dancers?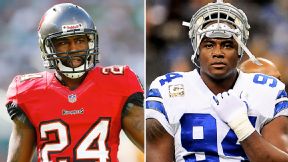 Which player has a brighter NFL future: Darrelle Revis, or DeMarcus Ware? Vote! »