Community best April 26-May 2
Updated:
May 2, 2009, 10:27 PM ET
CommunityEds
What a week of highs and lows. Fans blogged about draft picks good and bad, playoff exits and super series, baseball woes and much more.
Click through the links below to read the full posts and share your opinions with the bloggers.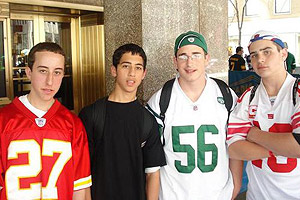 NFL fans lined up in New York hours before the draft.
Best blogs of the week
Lett08: Father Time still undefeated
Over the years we have witnessed many dynasties. The only one to never lose was Father Time.
bravesgirl85: Bulls-Celtics Game 5: Basketball heaven
The NBA is "Where Amazing Happens." TD Banknorth Garden is "Where Amazing Happens." And, on Tuesday night, the Chicago Bulls and the Boston Celtics delivered on this year's NBA playoff slogan. This could possibly be the best first-round playoff series EVER.
manny24435: Frantic Fans
NCAAB: Best Fans- Duke's Cameron Crazies. Runners-up: Kansas, Pitt, North Carolina, Notre Dame. NHL: Best Fans- Montreal Canadiens. Runners-up: Penguins, Red Wings, Bruins, Capitals. NCAAF: Best Fans- Penn State Nittany Lions. Runners-up: LSU, USC, Michigan, Ohio State.
owenjs33: 10 reasons Bears will win NFC North
Forte ran 316 times for 1,238 yards and 8 touchdowns in 2008. He had 63 receptions for 477 yards and four touchdowns through the air. He did this with an average, at best, quarterback behind center and every single opposing defense knowing that Forte would see the ball, whether in the air or on the ground.
balanceroadie7630: April attendance
Now, watch where these numbers go in July, August and September -- way down. That's when you're going to see plenty of blue at Yankee Stadium (empty seats).
ejomo89: The Blackhawks have what it takes
I think we have a pretty good shot when we face Vancouver. We DOMINATED Vancouver early in the season, but Vancouver came back and killed us in the last couple of games. But, they weren't facing the team that we are now.
BirishB: Mets need to fir Minaya
Omar Minaya has so far assembled a flawed team. It is evident that the Mets over-committed to Oliver Perez given that similar dollars and one more year would have yielded the far more predictable Derek Lowe.
lovelykd: Assessing the first-round picks 1-19
I was thinking about this last night, long after the last pick of the seventh round had been made. Mr. Irrelevant for this year is a kicker named Ryan Succup in case you didn't know. However, I came up with a way to describe my thoughts on each pick in the first round.
DaQuadfatha: The year of the unknown closer
Clearly, there is a significant difference between Mariano Rivera, Jonathan Papelbon or Trevor Hoffman closing out your game as opposed to Heath Bell, Joel Hanrahan or Chad Qualls.
DTJones2005: What would you say to stars?
I got to thinking what if I were to meet some of my favorite athletes and/or celebrities. What would I say to them? How would I act? When I met my baseball hero Ryne Sandberg, I didn't say anything. I was speechless. At spring training I never thought about meeting him, then I turned around and he was there.
Bostonrandy: Eight weeks until Shangri-La
If you're a recent convert to college baseball, enjoy the ride. The "Road to Omaha" is filled with stories of memorable finishes and eternal tales. Southern Cal's 21-14 slugfest victory over Arizona State for the 1998 title and Oregon State's 3-2 nailbiter championship win against North Carolina in 2006 are two examples of the beauty of the College World Series.
Questions? Comments? GMs you want to fire after the draft? Send a note to CommunityEds.
Profiles | Groups | Videos | Conversations | Message boards | SportsNation | Widgets