Forget the scandal and play ball, fans say
Updated:
May 16, 2009, 6:12 PM ET
CommunityEds
Baseball play, not scandal, Kobe vs. LeBron (enlivened by the Lakers' lackluster play), the NHL playoffs and more got fans blogging this week.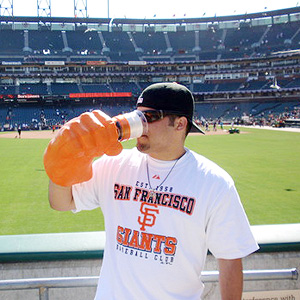 The Giants Hulk fist is the "best Money I ever spent," says Giantsgamer55.
Click through the links below to respond to the bloggers.
Best baseball blogs of the week
Justin6812: The little dirt spot
Now, my mephew and his friends spend spring and summer playing baseball in my parents' yard. They argue about being safe or out. They argue about who is gonna get the ball out of the weeds. That cover the slope of the highway ramp. They fight about whether the ball was fair or foul. Most of the time though they just PLAY BASEBALL. It took a while for that dirt spot to come back, but, I guess, homebase is always gonna be there.
periattM10: The last man standing: Junior's legacy
There are always a few truly great players a generation. We probably lost a couple of them to steroids, but I think Ken Griffey Jr. is one of those guys who really was special, one of the great ones in our generation. It would be a shame if Griffey's legacy was tarnished in any way for the mistakes of those around him.
jmt02191990: Cy Youngs
The obvious choice for the AL Cy Young winner is Royals ace Zack Greinke. He has a 6-1 record, with his first loss coming Sunday in a 1-0 loss. Amazingly, he has only given up three earned runs in his seven starts and 53 innings. His 59 strikeouts also leads the American League. Is there really anyone else to even consider for the AL Cy Young Award?
SportscallBilly: Clemens' clamor
I came away asking, "Why?" Why did Roger the Dodger choose to step forward today? What did he hope to gain by retelling the same "lie?" Judging from the e-mail response, Clemens failed to change many minds. Perhaps if he had just stuck to his denial he would have been better off. Instead he seemed to mainly wish to promote himself and his charitable works, making it seem as though he was attempting to mask his blemishes.
Best NBA blogs of the week
nicholas.gelso: Dwight Howard vs. Stan Van Gundy
Overall, though I do not care for Stan Van Gundy's style of coaching, I would have to say that Dwight Howard is an offensive liability in the fourth quarter of games. Dwight, stop publicly bashing your coach and start putting film clips together of Tim Duncan, Kevin McHale and your boy Patrick Ewing. Soon you will have a lot of time to review that film and realize your potential.
TJSCU: LeBron James, the best athlete in sports
LeBron James is the one athlete today that unquestionably finds himself in the elite class across all three athletic characteristics. Both Tiger and Tom Brady have wonderfully honed skills and are the most clutch performers in their respective sports, but neither man is supremely athletically gifted by nature. A-Rod is a naturally gifted baseball player and a finely tuned athlete, but he is notorious for failing in the spotlight.
DBach17: Playoff thoughts -- Big Baby, big shot
The last three or four seasons, the NBA has done a great job bringing back fans like myself. I am a college hoops lover and always will be. Give me March Madness over the Eternal 40 Games in 40 Days any time. However, since the Wade/Shaq victory over the Mavericks in the Finals, I have loved to watch NBA basketball again.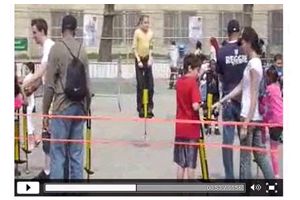 hph6203: Is there consistency in NBA playoff officiating?
I'm trying to find some consistency with the officiating in regards to the Mavs last couple of playoff ventures. I'm having a hard time, so let us examine it a bit deeper.
The Mind of Trizz: NBA -- Unofficial mergers with rap
The NBA and Hip Hop go together like peanut butter and jelly. You see NBA players often try rapping to primarily poor results; you hear rappers use NBA players in their songs. So as I go on ESPN as I listen to my iPod, I decided to compare NBA players to rap artists.
Best NHL blog of the week
slushman4: NHL Western Conference finals prediction
The Chicago Blackhawks are back and relevant again in the NHL and will be for some time before they start running into cap trouble. Look for them to be a playoff contender for many years to come.
Best NFL blogs of the week
josephj1109: AFC North power rankings
1. The Pittsburgh Steelers. They're the Super Bowl champions, returning 20-22 starters this season. Yes, they hope the offensive line improves this year with the addition of the rookies. Yes, their defensive line is getting a bit older, and yes, there is a question mark at running back for Willie Parker.
cj_titans_28: The keys to success (short version)
Steelers: Just continue playing Steeler football. Ravens: Don't make Flacco do it all alone. Browns: Make sure you know who's starting at QB. Bengals: Stay healthy. Titans: Smash and Dash.
Best other blogs of the week
XXDaleJrXX88: Give Dale Jr. a break
No worries Jr., tough times don't last but tough people do, and I got a feeling we haven't seen the last win for this son of a legend. So next time you want to place him with the "go or go homers" or act like the kid is 50 and can't hang with the big boys, take a moment to reflect on what he means to NASCAR first. I always smell the jealously when ANTI-JuniorNation start to run their mouths.
trendyskaman: Top Ten greatest sports movie villains
They're the characters you love to hate in the simplified world of good vs. evil that pervades sports cinema. Whether they are conspiring to sleep with the good guy's girl or dreaming up some dastardly plan to cheat the hero out of the title, these are the guys who we wish would be traded to the Detroit Lions at the end of the film. Here are the top ten, with a few honorable mentions.
Questions? Comments? A Little League team you'd like to brag about? Send a note to CommunityEds.
Profiles | Groups | Videos | Conversations | Message boards | SportsNation | Widgets
SPONSORED HEADLINES
ESPN TOP HEADLINES
MOST SENT STORIES ON ESPN.COM
Max_Kellerman

Max Kellerman


http://t.co/TtomlvzBKX
about 3 hours ago

marcelluswiley

Marcellus Wiley


RT @SportsNation: ICYMI: Here is @Max_Kellerman talking to Master Yoda about This is Madness >> http://t.co/IWUYLrponQ
about 8 hours ago

marcelluswiley

Marcellus Wiley


Javale McGee stopped by Sportsnation today.....kinda! http://t.co/pdyfOlF64o
about 9 hours ago

Max_Kellerman

Max Kellerman


Guy just called into Max & Marcellus to give Marcellus marriage advice. Asked him how long he's been married: "18, with the windchill? 40."
about 9 hours ago

Max_Kellerman

Max Kellerman


http://t.co/ACeSlk3amq
about 10 hours ago

Max_Kellerman

Max Kellerman


RT @dan_brooks: Watch #Yoda talk to @SportsNation's great @Max_Kellerman about all things #ThisIsMadness! https://t.co/4Hk7RIDzua
about 14 hours ago

SportsNation

SportsNation


BREAKING: Browns and Raiders have begun a bidding war over the services of Bismo Funyuns #FakeFreeAgency > http://t.co/evsa7xkMLC
about 15 hours ago

SportsNation

SportsNation


ICYMI: Here is @Max_Kellerman talking to Master Yoda about This is Madness >> http://t.co/IWUYLrponQ
about 15 hours ago

SportsNation

SportsNation


The Nation has spoken, @marcelluswiley wins the Hashtag Game with #IslandHopping http://t.co/LEaFfrErNJ
about 15 hours ago

SportsNation

SportsNation


What is the better hashtag for the Bucs looking to move Darrelle Revis? #RevisSmiling or #IslandHopping ?
about 15 hours ago

SportsNation

SportsNation


"I think he's a jerk" @MichelleDBeadle on Barry Bonds
about 15 hours ago

SportsNation

SportsNation


"Blake Griffin has perfected obnoxious" - @Max_Kellerman
about 16 hours ago

Max_Kellerman

Max Kellerman


LeBron says there are no rivalries in the #NBA. Why he's right. ESPN2 3pm ET @SportsNation
about 16 hours ago

SportsNation

SportsNation


It's time to get STOKED for NFL Free Agency!!! http://t.co/kbf9p5HFne http://t.co/dCuUCSPSuX
about 18 hours ago

kevinwildes

Kevin Wildes


Phil's masterful skill is bending huge egos to his will. Not buying that Dolan is more stubborn than a young Michael Jordan.
about 20 hours ago

SportsNation

SportsNation


Talk about rock bottom... the 76ers just lost their 17th straight... a 13-point loss to the Knicks... THE KNICKS (!!)
1 day ago

Max_Kellerman

Max Kellerman


How do the #Lakers live in a world where Riley has dynasty in Miami, Jerry West turns GS into a contender & PhilJackson11 goes to #Knicks?
1 day ago

marcelluswiley

Marcellus Wiley


RT @kbull53: Had a great time today on @Sportsnation w/Max, Michelle & Dat Dude @marcelluswiley Thank you @ ESPN… http://t.co/F6be4uvrzf
1 day ago

Max_Kellerman

Max Kellerman


RT @WojYahooNBA: Column: New York's doomed partnership of Phil Jackson and James Dolan. http://t.co/XVkr0v6NG2
1 day ago

SportsNation

SportsNation


This weekend Iowa State fans hilariously mocked Marcus Smart for flopping. - http://t.co/1XohMdugxC
1 day ago
BEST OF THE BEST
Best dancers?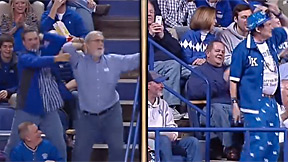 Which fans were better dancers at Tuesday night's Alabama/Kentucky matchup? Vote! »