MLB '08 Story lines: What's your take?
Updated:
March 24, 2008, 5:32 PM ET
SportsNation
2007 was a year of contradictions for Major League Baseball. The game has rarely been more awash in young, exciting talent, with standout performances from the likes of Prince Fielder, Curtis Granderson, Dustin Pedroia, B.J. and Justin Upton, David Wright and many others. The National League experienced some thrilling playoff races, with two in particular coming down to the final game of the season. Competitively, it was a banner year for the league.
Conversely, the game suffered a blow to its credibility with the release of the Mitchell report, which named almost 90 current and former players who allegedly used or purchased performance-enhancing drugs. Both Barry Bonds, who hit his record-breaking 762nd home run last season, and Roger Clemens, who many consider to be among the greatest pitchers of all time, were named in the report. Bonds is still without a job as spring training kicks into high gear, while Clemens was forced into an embarrassing and damaging public hearing.
Despite all this, we're fast approaching a brand new season. What will be the big issues this year? Give us your opinions!
The Mets hope Johan Santana will put them over the top.
For the past few years, the Mets have been all promise and no results.
Their 2006 season ended in a hard-fought National League Championship Series, during which a 97-win Mets team lost to the Cardinals, who eventually went on to win the World Series. Their 2007 season ended in heartbreak; after losing 11 of their last 16 games, the Mets dropped the final game of the season -- and postseason hopes -- to the Marlins. Tom Glavine, now with the Braves, gave up seven runs in the first inning of that final loss.
Clearly, this state of affairs is unacceptable for what is ostensibly the National League's most star-studded team. General manager Omar Minaya reacted in grand fashion during the offseason, making a blockbuster trade for the Twins' Johan Santana, the best pitcher in baseball. With Santana and a hopefully healthy Pedro Martinez at the top of the rotation, the Mets now have a substantial one-two pitching punch to go along with an elite-level offense.
Despite all this, it's still unclear whether the Mets have enough to truly go all the way, or if they can get out of the suddenly-competitive NL East. The Phillies, last year's East champions, boast a high-powered, diverse offense, while the Braves have a combination of talented young hitters and skilled veteran pitchers. Who will win the NL East?
What They're Saying
We've collected a sample of what writers, bloggers and players themselves have said this offseason about the Mets' collapse and potential redemption. For this issue, we've chosen ESPN's Tim Kurkjian and Bob Klapisch and Matt Cerrone from MetsBlog.com (an MLB affiliate):
Tim Kurkjian: "[The Mets' collapse] was a team-wide failure. Their defense was not good; in one, two-game stretch, the Mets made 10 errors, the first team to do that since the 1985 Red Sox. The offense wasn't good, led by shortstop Jose Reyes, whose dropoff in the second half of the season was never more apparent than in September when he hit .205 and stole five bases (with four caught stealings). Their bullpen failed down the stretch in part because it was exhausted from overwork; the Mets lost consecutive games that they led by four runs for the first time since 2000. The staff ERA in September was 5.11, marking the fifth straight month that the team ERA increased, beginning at 2.69 in April. The rotation was so shot by the end of the season, the Mets became the second team in baseball history to have a starting pitcher (in this case, Philip Humber) make his major league debut during the last week of the season with his team fighting for first place -- that is, either two games ahead or two games out of first. "
Mar. 1, 2008
Mets say last season's historic collapse is now out of their sight

---
Bob Klapisch: "Think the Mets aren't feeling invincible these days? After hanging around Johan Santana for less than a week, the talk in the clubhouse has already turned bold. Even Carlos Beltran, one of the most mild-mannered players on the roster, is saying it: The Mets will avenge last September's collapse to the Phillies.
'With [Santana], I have no doubt we're going to win our division. I have no doubt about that,' said Beltran on Saturday. 'So, this year, tell Jimmy Rollins we are the team to beat.' "
Feb. 17, 2008
Santana's mere presence giving the Mets confidence
---
Matt Cerrone: I don't want the Mets, nor their fans, to forget the pain and shock of last season's ending. I think there is a great lesson to be learned on all ends. However, we can't dwell on it either and we all must move forward.
That said, the acquisition of Johan Santana does more than just bring the Mets a great pitcher; it changes the topic of conversation among us, the media and the players when spring training begins in a few weeks.
Sure, the Mets will still get hit with a ton of questions about 'The Collapse,' as they should, but this acquisition allows everyone involved to then shift the discussion towards a much happier topic, including us. It gives us all an excuse to look forward, not back."
Feb. 4, 2008
MetsBlog.com: Opinion: Santana, the Collapse, and 2008
The Rundown: Epic Collapse
Tom Glavine's disastrous final start was only the capper to a month of futility.
From Sept. 12-30, the Mets played 17 games and lost 12 of them, blowing a seven-game division lead in the process. Despite a standout performance from MVP-candidate David Wright (during the collapse, he put up a BA/OBP/SLG line of .397/.451/.575), the Mets were unable to hold off the Phillies. New York gave up almost seven runs per game during the dismal stretch.
Here's how the collapse played out:
Anatomy of a Collapse
Date
Opponent
Result
Record
Sept. 14
Phillies
L 3-2
83-63
Sept. 15
Phillies
L 5-3
83-64
Sept. 16
Phillies
L 10-6
83-65
Sept. 17
Nationals
L 12-4
83-66
Sept. 18
Nationals
L 9-8
83-67
Sept. 19
Nationals
W 8-4
84-67
Sept. 20
Marlins
L 8-7
84-68
Sept. 21
Marlins
W 9-6
85-68
Sept. 22
Marlins
W 7-2
86-68
Sept. 23
Marlins
W 7-6
87-68
Sept. 24
Nationals
L 13-4
87-69
Sept. 25
Nationals
L 10-9
87-70
Sept. 26
Nationals
L 9-6
87-71
Sept. 27
Cardinals
L 3-0
87-72
Sept. 28
Marlins
L 7-4
87-73
Sept. 29
Marlins
W 13-0
88-73
Sept. 30
Marlins
L 8-1
88-74
SPONSORED HEADLINES
ESPN TOP HEADLINES
MOST SENT STORIES ON ESPN.COM
Max_Kellerman

Max Kellerman


RT @tylerbox12: @Max_Kellerman @BoxingInter I like watching Rigo and look forward to seeing him in there with a fighter that compliments hi…
3 minutes ago

Max_Kellerman

Max Kellerman


RT @_johncarlo: @Max_Kellerman @BoxingInter I love watching him fight.
4 minutes ago

Max_Kellerman

Max Kellerman


RT @Javii86: @Max_Kellerman @BoxingInter I enjoy watching Rigo
4 minutes ago

Max_Kellerman

Max Kellerman


.@BoxingInter wrong
6 minutes ago

Max_Kellerman

Max Kellerman


.@InkdUpGolfer after @THEREALBHOP beat Cloud he told @andreward ringside he'd never fight him for any amount of $. I was sitting right there
11 minutes ago

Max_Kellerman

Max Kellerman


.@CookDavidKatz @El_Joel_ @andreward Ward is willing to fight @gggboxing, it's GGG's camp that doesn't want it. Yet.
22 minutes ago

Max_Kellerman

Max Kellerman


.@El_Joel_ I think the winner's a good fight for @andreward, especially if it's Groves, who'd be best 168lber Andre hasn't already beaten.
about an hour ago

SportsNation

SportsNation


Just in case you were wondering why Phil Jackson decided to join the Knicks » http://t.co/duUaK4IYVg http://t.co/FmP4lXG8q3
about 6 hours ago

SportsNation

SportsNation


We're recapping the epic twitter feud between Richard Sherman and DeAngelo Hall. Here's Sherm's rant. ESPNEWS now! http://t.co/cnXgQ1Bolc
about 7 hours ago

SportsNation

SportsNation


EXCLUSIVE: Kobe was not happy after he heard the Knicks were scheduling major announcement for Tuesday » http://t.co/cvC9AJgqBG
about 8 hours ago

SportsNation

SportsNation


SportsNation #whaling in the ESPN newsroom https://t.co/oNkU951gEV
about 9 hours ago

Max_Kellerman

Max Kellerman


Admit it, @dmorey & the @HoustonRockets wanting @carmeloanthony makes you think more highly of Carmelo. ? is: what does @PhilJackson11 think
about 9 hours ago

SportsNation

SportsNation


It's Friday and @MichelleDBeadle is happy #TGIF http://t.co/r5wIybLuXp http://t.co/ug3KG19Jfv
about 10 hours ago

SportsNation

SportsNation


We're recapping the epic twitter feud between Richard Sherman and DeAngelo Hall. ESPN2 now! http://t.co/yptwJo6MaD
about 10 hours ago

Max_Kellerman

Max Kellerman


.@MichelleDBeadle very excited to go see the new #Muppets movie. http://t.co/UBqMHxul4h
about 10 hours ago

Max_Kellerman

Max Kellerman


Catch #sportsnation 6pm ET ESPNEWS see who won 4 tix to Blazers-Pelicans tonight. Just bought them for 27 cents each on stubhub. #truestory
about 11 hours ago

SportsNation

SportsNation


In New Orleans & want free tickets to the Pelicans game? Send us your best unibrow selfie. The best one will win @Max_Kellerman's 4 tickets!
about 11 hours ago

SportsNation

SportsNation


.@Max_Kellerman bought 4 tickets to tonight's Blazers/Pelicans game for $1.08. If you're in New Orleans & interested in going stay tuned!
about 11 hours ago

Max_Kellerman

Max Kellerman


#TwitterBeef Round 1: @DeAngeloHall23 ...10 @RSherman_25 ........9 @shotfighter26 (Harold Lederman) you agree? #sportsnation
about 11 hours ago

SportsNation

SportsNation


Happy Birthday @StephenCurry30! RT if you think he dominated pop-a-shot at his birthday parties at Chuck E. Cheese. http://t.co/8T1e8znwbX
about 12 hours ago
BEST OF THE BEST
Revis vs. Ware?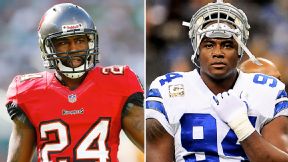 Which player has a brighter NFL future: Darrelle Revis, or DeMarcus Ware? Vote! »