Commentary
Face of the Franchise Results
Updated:
August 27, 2007, 9:21 AM ET
By
Joe DeMartino
| ESPN.com SportsNation
Ichiro received the highest percentage of votes, with 97 percent of fans naming him the Face of the Mariners.
Who is the Face of your favorite franchise? That's the question we posed to writers, bloggers and more than 1 million fans over the course of this week. We took into consideration skill, popularity, historical and future impact and a host of intangibles to determine which current player, manager, executive, mascot or symbol best represented each of Major League Baseball's 30 franchises.
With more than 650,000 votes in the first day alone, it was clear that fans had strong opinions on the Face of their favorite franchise. Many fans disagreed with the choices put forward by our panel of experts; others were chagrined at the omission of their preferred representative. While many of the eventual winners held comfortable leads over their opposition, fans debated heavily when choosing their runners-up.
So, what did the fans come up with? We've compiled a list of some of the more interesting trends below.
Click here to see the full results for each team.
Prime Time Of Your Life

Zimmerman
Twenty-five out of the 30 Faces chosen were players, with a good mix of both veterans and youngsters. Barry Bonds, at 43 years old, was the oldest player chosen, while 22-year-old Ryan Zimmerman was the youngest. The average age of the 25 players was 30.56 years, right in the middle of a player's traditional prime years. Fans may have been influenced to pick players performing at the peak of their abilities. 11 players were in their 20s, 12 were in their 30s, and two in their 40s. Obviously, no players were under 20 or over 50, although newly minted Brave Julio Franco has a chance to become the first over-50 Face of some lucky franchise late in 2008.
Positional Battles


Willis
Starting pitchers were the most commonly selected Faces, with five starters getting the nod. Shortstops (typically the most exciting players) and first basemen (typically the heaviest hitters) tied for second place with four apiece. Three left fielders won, while right fielders, center fielders and designated hitters tied with two apiece. One second baseman (Craig Biggio), third baseman (Ryan Zimmerman) and relief pitcher (Trevor Hoffman) won as well. No catcher was able to capture the fan vote, although young star Joe Mauer was chosen by three out of four panelists. Red Sox fans in the comments were clamoring to vote for Jason Varitek, although most admitted that eventual winner David Ortiz was the Face of the Red Sox.
Building Consensus


Sizemore
Three players were complete consensus picks; they won the votes of every single panelist, plus the fan vote. Center fielder Grady Sizemore beat out an Indians field littered with potential candidates, while Dontrelle Willis retained his place in the nation's consciousness as the face of the Marlins, despite a mediocre season. Barry Bonds, the rather obvious choice for Face of the Giants, was also a consensus pick. Vladimir Guerrero and Ichiro Suzuki were chosen by three out of their four respective panelists. Each won the fan vote by a huge margin; Vlad had over 92 percent of the vote, while Ichiro was the MLB leader with over 97 percent.
Agree To Disagree


Sweeney
Two teams had no consensus from our panelists on the Face of the Franchise. Pittsburgh Pirates fans were offered up Jason Bay, Jack Wilson, announcer Lanny Frattare and PNC Park as choices. Kansas City Royals supporters had GM Dayton Moore, Billy Butler, Mike Sweeney and Alex Gordon to choose from. Ultimately, fans went in for the veterans, choosing Bay for the Pirates and Sweeney for the Royals. In two cases, players not selected by the panel but included on the poll won out: Johan Santana of the Twins and Derek Jeter of the Yankees.
From The Dugout . . . And The Booth

Beane
Five non-players received the honor of being voted the Face of their franchise. Trendsetting GM Billy Beane took home that honor for the A's, as did managers Bobby Cox, Jim Leyland and Ozzie Guillen. Voice of the Dodgers Vin Scully can now add Face of the Dodgers to his accomplishments as he was the only non-player, non-executive, non-manager to be recognized. Scully has been broadcasting Dodger games for longer than many fans have been alive. GM John Schuerholz of the Braves was nominated, as were Pirates broadcaster Lanny Frattare, Royals GM Dayton Moore, Mets manager Willie Randolph, Nationals president Stan Kasten, Orioles owner Peter Angelos, Cubs manager Lou Piniella, Brewers broadcaster Bob Uecker, Cardinals manager Tony La Russa, Rockies manager Clint Hurdle, Angels owner Arte Moreno, Rangers owner Tom Hicks and the Boss himself, George Steinbrenner.
Oddities And Blemishes

Phanatic
Recognize this handsome gentleman? It's the Phillie Phanatic, nominated by two of our panelists for the Phillies. While unable to overcome Ryan Howard, the Phanatic did receive more than 10,000 votes. Other odd nominees: PNC Park for Pittsburgh, the Green Monster for Boston, utility infielder Juan Castro for Cincinnati and the Sausage Races for Milwaukee. For Castro, blogger JD Arney of RedReporter.com explained that "there is little redeeming about Castro as a player, just as there is little redeeming about a Reds franchise that seems adrift these days, with no clear plan of how to pull themselves out of the mess that has been the past seven years."
FACE OF THE FRANCHISE RESULTS!

Team

ESPN.COM WRITER

LOCAL WRITER

BLOGGER

BASEBALL TONIGHT

SPORTSNATION

Anaheim
Angels

Vladimir Guerrero
Jerry Crasnick

Arte Moreno
Doug Padilla

Vladimir Guerrero
HalosHeaven.com

Vladimir Guerrero
Eric Young

Vladimir Guerrero

Atlanta
Braves

John Schuerholz/
Bobby Cox
Jayson Stark

John Smoltz
David O'Brien

Bobby Cox
BravesJournal.com

John Smoltz
Eric Young

Bobby Cox

Arizona
Diamondbacks

Eric Byrnes
Jerry Crasnick

Brandon Webb
Nick Piecoro

Brandon Webb
AZSnakepit.com

Eric Byrnes
Eric Young

Brandon Webb

Baltimore
Orioles

Peter Angelos
Jayson Stark

Brian Roberts
Roch Kubatko

Peter Angelos
Oriole Magic!

Miguel Tejada
Eric Young

Miguel Tejada

Boston
Red Sox

David Ortiz
Jayson Stark

David Ortiz
Amalie Benjamin

Tim Wakefield
SurvivingGrady.com

Green Monster
Eric Young

David Ortiz

Chicago
Cubs

Lou Piniella
Rob Neyer

Derrek Lee
Paul Sullivan

Derrek Lee
TheCubReporter.com

Carlos Zambrano
Eric Young

Carlos Zambrano

Chicago
White Sox

Ozzie Guillen
Rob Neyer

Ozzie Guillen
Mark Gonzalez

Mark Buehrle
SoxMachine.com

Mark Buehrle
Eric Young

Ozzie Guillen

Cincinnati
Reds

Ken Griffey Jr.
Rob Neyer

Ken Griffey Jr.
C. Trent Rosecrans

Juan Castro
RedReporter.com

Ken Griffey Jr.
Eric Young

Ken Griffey Jr.

Cleveland
Indians

Grady Sizemore
Rob Neyer

Grady Sizemore
Anthony Castrovince

Grady Sizemore
LetsGoTribe.com

Grady Sizemore
Eric Young

Grady Sizemore

Colorado
Rockies

Todd Helton
Jerry Crasnick

Todd Helton
Troy Renck

Clint Hurdle
PurpleRow.com

Todd Helton
Eric Young

Todd Helton

Detroit
Tigers

Jim Leyland
Rob Neyer

Jim Leyland
Jon Morosi

Curtis Granderson
BlessYouBoys.com

Gary Sheffield
Eric Young

Jim Leyland

Florida
Marlins

Dontrelle Willis
Jayson Stark

Dontrelle Willis
Clark Spencer

Dontrelle Willis
FishStripes.com

Dontrelle Willis
Eric Young

Dontrelle Willis

Houston
Astros

Craig Biggio
Rob Neyer

Craig Biggio
Brian McTaggart

Craig Biggio
Astros Dugout

Lance Berkman
Eric Young

Craig Biggio

Kansas City
Royals

Dayton Moore
Rob Neyer

Billy Butler
Joe Posnaski

Mike Sweeney
RoyalsReview.com

Alex Gordon
Eric Young

Mike Sweeney

Los Angeles
Dodgers

Vin Scully
Jerry Crasnick

Vin Scully
Ken Gurnick

Russell Martin
DodgerThoughts.com

Vin Scully
Eric Young

Vin Scully

Milwaukee
Brewers

Prince Fielder
Rob Neyer

Prince Fielder
Rick Braun

Bob Uecker
BrewerFan.net

Sausage Races
Eric Young

Prince Fielder

Minnesota
Twins

Joe Mauer
Rob Neyer

Torii Hunter
Kelsi Smith

Joe Mauer
SethSpeaks.net

Joe Mauer
Eric Young

Johan Santana

New York
Mets

Jose Reyes
Jayson Stark

Jose Reyes
Steven Goldman

Willie Randolph
MetsBlog.com

Jose Reyes
Eric Young

Jose Reyes

New York
Yankees

George Steinbrenner
Jayson Stark

Andy Pettitte
Tim Marchman

Alex Rodriguez
ReplacementLevel.com

George Steinbrenner
Eric Young

Derek Jeter

Oakland
A's

Billy Beane
Jerry Crasnick

Nick Swisher
Susan Slusser

Billy Beane
AthleticsNation.com

Billy Beane
Eric Young

Billy Beane

Philadelphia
Phillies

Chase Utley
Jayson Stark

Philly Phanatic
Todd Zolecki

Ryan Howard
PhilliesFlow.com

Philly Phanatic
Eric Young

Ryan Howard

Pittsburgh
Pirates

Jason Bay
Rob Neyer

Lanny Frattare
Jenifer Langosch

Jack Wilson
BucsDugout.com

PNC Park
Eric Young

Jason Bay

San Diego
Padres

Trevor Hoffman
Jerry Crasnick

Trevor Hoffman
Tom Krasovic

Trevor Hoffman
GasLampBall.com

Jake Peavy
Eric Young

Trevor Hoffman

San Francisco
Giants

Barry Bonds
Jerry Crasnick

Barry Bonds
Andrew Baggarly

Barry Bonds
McCoveyChronicles.com

Barry Bonds
Eric Young

Barry Bonds

St. Louis
Cardinals

Tony La Russa
Rob Neyer

Albert Pujols
Bernie Miklasz

Albert Pujols
VivaElBirdos.com

Albert Pujols
Eric Young

Albert Pujols

Seattle
Mariners

Ichiro Suzuki
Jerry Crasnick

Ichiro Suzuki
David Andriesen

Felix Hernandez
USSMariner.com

Ichiro Suzuki
Eric Young

Ichiro Suzuki

Tampa Bay
Devil Rays

Carl Crawford
Jayson Stark

Carl Crawford
Marc Lancaster

Carl Crawford
DRaysBay.com

Delmon Young
Eric Young

Carl Crawford

Texas
Rangers

Michael Young
Jerry Crasnick

Michael Young
Richard Durrett

Michael Young
LoneStarBall.com

Tom Hicks
Eric Young

Michael Young

Toronto
Blue Jays

Roy Halladay
Jayson Stark

Alex Rios
Cathal Kelly

Roy Halladay
Jays Nest

Roy Halladay
Eric Young

Roy Halladay

Washington
Nationals

Ryan Zimmerman
Jayson Stark

Ryan Zimmerman
Bill Ladson

Stan Kasten
Capitol Punishment

Chad Cordero
Eric Young

Ryan Zimmerman
SPONSORED HEADLINES
ESPN TOP HEADLINES
MOST SENT STORIES ON ESPN.COM
Max_Kellerman

Max Kellerman


The state of Indiana not represented in the Tournament is like finding out there are no Dominican shortstops in MLB. #MarchMadness
41 minutes ago

Max_Kellerman

Max Kellerman


.@ESPNU @marcelluswiley @SportsNation #Embiid injury changes things. #MarchMadness
about an hour ago

Max_Kellerman

Max Kellerman


@ESPNU @marcelluswiley @SportsNation #Embiid injury changes things. #MarchMadness
about an hour ago

SportsNation

SportsNation


RT if you know you have the PERFECT bracket.
about an hour ago

marcelluswiley

Marcellus Wiley


Djokovic just picked out Federer's coffin!
about 2 hours ago

marcelluswiley

Marcellus Wiley


RT @BNPPARIBASOPEN: On hand for the #BNPPO14? Former NFL standout @marcelluswiley, a big-time tennis fan. Our Q&A: http://t.co/2RWxcKcbPI h…
about 2 hours ago

SportsNation

SportsNation


Who will be this year's Florida Gulf Coast? #DunkCity
about 2 hours ago

SportsNation

SportsNation


Wichita State finishes 31-0. Gets Michigan, Louisville, Kentucky, and Duke in their region. Oh boy.
about 2 hours ago

marcelluswiley

Marcellus Wiley


In the Emirates Suite watching Federer vs Djokovic in the finals.… http://t.co/gkkm2BuBqB
about 3 hours ago

marcelluswiley

Marcellus Wiley


@JacobOB23haha that's why "I'm" here! 👀
about 4 hours ago

marcelluswiley

Marcellus Wiley


Pennetta is pulling out that triple OG card on Radwanska #Tennis #BNPPO14FINAL
about 4 hours ago

marcelluswiley

Marcellus Wiley


"I ain't no criminal...I can read" #DoughboyVoice http://t.co/UKUmkTfRPd
about 8 hours ago

marcelluswiley

Marcellus Wiley


Couldn't agree more...listen to the lyrics #djdatdude #oneofmyfavorites http://t.co/dLtYADxePu
about 17 hours ago

Max_Kellerman

Max Kellerman


(Cont'd) In ideal world, probably at least 4-1 against. In boxing, odds near 100%
about 21 hours ago

Max_Kellerman

Max Kellerman


Even if you accept 116-112 Garcia score b/c of close rounds, what are odds, given honest judges, that 2 of 3 cards have it that way?...
about 21 hours ago

Max_Kellerman

Max Kellerman


Through 6 rounds of Garcia-Herrera, @KarimMayfield1 up big. #boxing #GarciaHerrera #IknowIknowstylesmakefights
about 22 hours ago

marcelluswiley

Marcellus Wiley


In the Emirates Suite at the BNP Paribas Open Hydrating! http://t.co/OqviBmEMF2
1 day ago

SportsNation

SportsNation


BREAKING: Aaron Craft has severed ties with sponsor » http://t.co/CtmrQ41YPd
1 day ago

marcelluswiley

Marcellus Wiley


Hanging with my favorite player Rafa Nadal at the BNP Parinas Open. Your boy is in Heaven! #Tennis http://t.co/qoeoGlaFDB
1 day ago

marcelluswiley

Marcellus Wiley


With the hypest out right now @2chainz #2Chainz http://t.co/a5iHHc53pB
1 day ago
BEST OF THE BEST
Revis vs. Ware?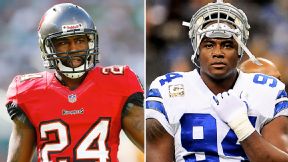 Which player has a brighter NFL future: Darrelle Revis, or DeMarcus Ware? Vote! »