Freeze Frame: Week's most memorable images
Updated:
October 10, 2008, 9:08 AM ET
Every Wednesday night on "SportsCenter," the most memorable images of the week are presented as part of Bud Light's Freeze Frame. In addition to presenting the week's top images, "SportsCenter" wants help from SportsNation to pick the one that is the most memorable. That photo, along with the best comment of the week, will be revealed during the show.
This week's choices include Manny being a Dodger, an acrobatic race car driver, Brett Favre in limbo and cyclists dealing with pollution.
1. Manny's new duds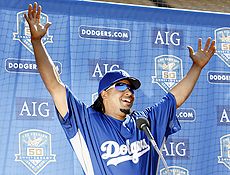 AP Photo
The newest Los Angeles Dodger, Manny Ramirez, talks to the media before the team's baseball game against the Arizona Diamondbacks in Los Angeles. Comment on this photo
3. Favre in limbo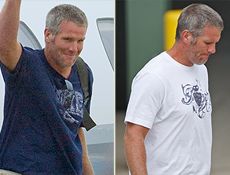 AP Photo
Packers QB Brett Favre arrives at and leaves practice. Favre's return from retirement has stirred controversy in Green Bay. Comment on this photo
2. Edwards' flip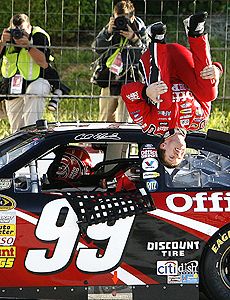 AP Photo
NASCAR driver Carl Edwards celebrates after winning the NASCAR Sprint Cup Series Pennsylvania 500 auto race in Long Pond, Pa. Comment on this photo
4. Masked cyclists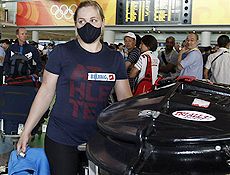 Reuters/Landov
U.S. Olympic cyclists arrive in Beijing wearing masks that will protect them from pollution in the city. Comment on this photo
SPONSORED HEADLINES
ESPN TOP HEADLINES
MOST SENT STORIES ON ESPN.COM