The Pulse: Senior Bowl Watch
Updated:
January 30, 2006, 3:53 PM ET
Thursday, Jan. 26
Welcome to The Pulse, the place to find out what the sports world is thinking. Every day on ESPN.com, SportsNation registers its opinion on a wide range of topics by casting votes and chatting with experts in The Show. We collect the daily highlights and put them in The Pulse.
Story of the Day: Quarterback Debate
How much will Michael Robinson be throwing in the NFL?
Michael Robinson helped revitalize Penn State football this season, showing a steady hand as the quarterback on a team that went 11-1 and beat Florida State in the Orange Bowl. But at this week's Senior Bowl (Saturday, 4 ET, ESPN), it's starting to look like Robinson's 52 percent completion percentage will have a greater impact on his future than those 11 wins.
Robinson is quickly becoming this year's face for an annual debate in which mobile and successful college quarterbacks measure up against NFL expectations, but he's not alone. Former college stars D.J. Shockley (also at the Senior Bowl), Brad Smith and Reggie McNeal all face similar scrutiny. Scouts, Inc.'s Todd McShay is among the experts at the Senior Bowl, and he told chatters he thinks Robinson is wasting the week by not shifting to other positions.
As for SportsNation, voters have good news and bad news for Robinson. While former Vanderbilt quarterback Jay Cutler is overwhelmingly seen as the position's best pro prospect at the game in Mobile, Ala., Robinson fares just as well as Shockley and local hero Brodie Croyle. The bad news is that may be faint praise, as more voters think Robinson will have to change positions than think he'll make a successful NFL signal caller.
The Seniors Speak
Who's your favorite NFL QB right now?

Darrell Hackney (UAB QB): Peyton Manning. He's a real student of the game. He makes all the right calls at the line. I just like him. That's the power you want to have as a QB.
Which Senior Bowl QB will be the best pro? (24,936 votes)
40.4% Jay Cutler, Vanderbilt
17.4% Michael Robinson, Penn State
17.1% D.J. Shockley, Georgia
16.7% Brodie Croyle, Alabama
8.1% Charlie Whitehurst, Clemson


Which QB do you think has the best chance of playing the position in the NFL? (50,479 votes)
34.1% All will need to change positions
31.4% Michael Robinson, Penn State
18.3% Reggie McNeal, Texas A&M
16.0% Brad Smith, Missouri


Is That Good?
Is there any WR in the NFL who you could compare your style/skill to?

Maurice Stovall (Notre Dame WR): Hmm, probably Terrell Owens.
Where will Penn State QB Michael Robinson have the most professional success? (3,184 votes)
47.0% Wide receiver
28.0% Quarterback in CFL
16.0% Quarterback
9.0% Running back


Who is the biggest QB bust since Ryan Leaf? (1,418 votes)
36.0% Akili Smith
28.0% Tim Couch
19.0% Joey Harrington
17.0% Cade McNown



Voice of the Fan
I think Todd McShay's criticism of Michael Robinson as a quarterback is unjustified. I watched every Penn State game this year and thought Michael did a great job. Considering JoePa only gave him one year to play full time at the QB position, I thought he was outstanding. If he still had another year to play it, I think he would grow by leaps and bounds just like Vince Young did at Texas. Teams that write him off at the QB position are making a mistake.
Rick (Charleston, W.V.)
Sorry Rick, if you watched all the PSU games this year, how did you miss all of the wide open wide receivers Robinson missed? The guy is a great athlete, but he has no chance of being a QB in the NFL. You'll see Jeff George back before you see Robinson starting at QB.
Andy (Madison, Wisc.)
The Seniors Speak
What do you think separates you from your two other highly ranked peers: Leinart and Young?

Jay Cutler (Vanderbilt QB): I think I'm a mixture of both of those guys. Leinart's strengths are as a pocket passer and VY is a runner. I'm a blend of the two.
Anyone remember Eric Crouch from Nebraska? We'll be saying the same about Michael Robinson if he doesn't start working hard at a different position.
Dave (Hollywood)
There is no measurement for the amount of heart, desire and drive that Michael Robinson has.
Shawn (Tempe)
But there is a measurement of throwing accuracy and throwing strength.
Ben (Oakland)
Robinson will not be a QB in the NFL, unless he is the same type of player Seneca Wallace is in Seattle. A third QB who can help with trick plays and at WR and returner. He's a great athlete for sure!
DC (New York)
Robinson is a lot smaller and nowhere near the passer that Vince Young is. He is a nice runner though; I'd definitely give him a look elsewhere.
Erich (Toledo, Ohio)

Click here for the Morning Quickie chat
SportsNation's Show: McShay vs. Michael
Eric: What round do you think Michael Robinson will be drafted in?
Scout's Inc.'s Todd McShay: He's been one of the big disappointments this week, simply because he hasn't moved around to other positions outside of QB. He clearly shows no upside as an NFL QB. I think Robinson will come off the board in the middle of Day 2 as a versatile athlete. It's too bad that he hasn't taken advantage of this opportunity to show NFL personnel scouts what he can do at WR or RB.


The Seniors Speak
What do you think about people saying you might have to switch to WR or another position?

D.J. Shockley (Georgia QB): Every team I have spoken with since I've been here have had me high on their board as a QB. I asked some teams where all this talk about me as a WR came from, and they didn't know. I feel like I can produce at the next level just like I did in college. People questioned me in college, but I produced there and I just want to take another step up.
Ricky (Houston): So what team will draft Michael Robinson, and do you see him playing QB in the NFL?


Todd McShay: I don't see any chance he plays QB in the NFL. He's wasting his time here. It's really too bad. It's a borderline travesty because he has a whole week to take advantage of everyone being here and to show what he can do as a receiver or RB. He's doing a little bit as a return guy, which is another area he could contribute at. But to make an NFL team and make a career of it, it would have to be at WR or RB.


Michael (Stillwater, Okla.): Is Reggie McNeal at the Senior Bowl this week?


Todd McShay: No, but McNeal had a phenomenal week at the East-West Shrine game. He actually was the game's MVP. McNeal showed a strong arm and helped his cause as a QB prospect, but I still think his future is as a WR/return specialist in the NFL. Robinson, McNeal, D.J. Shockley and Brad Smith (Mizzou) may all be forced to switch positions at the next level.

Click here for Tuesday's Senior Bowl transcript
Kristin (Huntington Beach, Calif.): Would you prefer to go higher in the draft to a team that wants to convert you to a WR/RB, or drop lower for the chance to be an NFL QB?


Michael Robinson: I would definitely want to go higher in the draft. This is a good chance for me to show people my versatility. I just want a shot at QB, and I can go from there.


Jason (Baltimore, Md.): Please defend yourself against the people who think that you "project" to a WR or a RB in the NFL. What skills do you have that would translate into the NFL at the QB position?


Michael Robinson: My ability to make plays outside of the pocket, to change things up when the play doesn't go as planned and my ability to read defenses. Most people automatically label me as not being accurate or not being able to read defenses, and I have no idea why.

Click here for Wednesday's Senior Bowl transcript
---
More Senior Bowl: Future Starters
Few in SportsNation doubt DeAngelo Williams is the real deal.
Robinson's story may spark the most heated debate among fans this week, but it's likely far from the most important development at the Senior Bowl.

The event gives NFL scouts an opportunity to get up close and personal with some of the best talent available in this year's draft, but it's about much more than marquee names like DeAngelo Williams, Tamba Hali and D'Brickashaw Ferguson. The Seahawks and Steelers are proof championship contenders are built through every round of the draft, and somewhere on the field, the next Anquan Boldin or Jason Witten may be making an impression on scouts. Boldin and Witten were rated by SportsNation voters as the best second- and third-round picks, respectively, of the last three drafts.

So which players on the field in Alabama will eventually go on to become successful NFL starters? Check out the players who received at least 25 percent support when we asked SportsNation voters to do their own scouting.



SN Stat: Seniorbowl.com reports 26 players in this year's Pro Bowl are Senior Bowl alums.



The Seniors Speak

The media is constantly comparing you with Barry Sanders. Who's running style do YOU feel you have the most?

DeAngelo Williams: I would classify myself as unique. The media can't compare me to just one guy. I've been compared to probably a dozen guys. My style just came from the style of our offense at Memphis.

SportsNation Offense
78.1% DeAngelo Williams, RB, Memphis
55.7% Jay Cutler, QB, Vanderbilt
44.7% D'Brickashaw Ferguson, OL, Virginia
41.8% Marcedes Lewis, TE, UCLA
40.3% Sinorice Moss, WR, Miami
39.4% Maurice Stovall, WR, Notre Dame
35.4% Dominique Byrd, TE, USC
34.3% Eric Winston, OL, Miami
31.0% Will Allen, OL, Texas
29.7% Jason Avant, WR, Michigan
28.9% D.J. Shockley, QB, Georgia
27.2% Skyler Green, WR, LSU
26.7% Derek Hagan, WR, Arizona State
26.3% Brodie Croyle, QB, Alabama
26.1% Joseph Addai, RB, LSU
25.5% Jonathan Scott, OL, Texas



The Seniors Speak

Who is the best receiver that you have had to cover this week?

Cedric Griffin (Texas CB): To be honest, I haven't covered anyone that was tough to cover. I haven't had the chance to go up against Sinorice Moss yet. Hopefully I'll get the chance.

SportsNation Defense
43.3% Tamba Hali, DE, Penn State
42.3% DeMeco Ryans, LB, Alabama
40.9% Cedric Griffin, CB, Texas
39.5% Mathias Kiwanuka, DE, Boston College
35.8% Elvis Dumervil, DE, Louisville
34.6% Chad Greenway, LB, Iowa
28.6% Darryl Tapp, DE, Virginia Tech
27.0% Greg Blue, S, Georgia
26.3% Abdul Hodge, LB, Iowa

Click here to make your picks from the Senior Bowl
Who is the best second-round pick in the last three drafts? (15,406 votes)
40.9% Anquan Boldin, WR, Arizona
36.2% Lofa Tatupu, LB, Seattle
10.8% Julius Jones, RB, Dallas
9.1% Bob Sanders, S, Indianapolis
2.8% L.J. Smith, TE, Philadelphia


Who is the best third-round pick in the last three drafts? (8,984 votes)
35.9 Jason Witten, TE, Dallas
19.9 Chris Simms, QB, Tampa Bay
17.8 Lance Briggs, LB, Chicago
17.5 Chris Cooley, TE, Washington
8.7 Nate Burleson, WR, Minnesota



SportsNation's Show: Draft Chatter
Jake (Grass Valley, Calif.): I think that Vince Young is the most overrated player in the draft. Everyone was so worried about the run that they didn't drop anyone in pass coverage. I wouldn't be surprised if they made him a wide receiver. He is not a very accurate passer, and Matt Leinart is a better quarterback.
The Seniors Speak
Brick, did anyone make fun of your name growing up? If so, what are you going to do them once you get your signing bonus?

D'Brickashaw Ferguson (Virginia OT): They were more in awe of the name because it's so long. They would ask me how long it took to learn how to spell it. But I'm not a mean guy. I just let it go. I'm cool.
Chris Mortensen: Everybody's going to have an opinion. I see good things in both guys, but I believe the best NFL QB prospect is Jay Cutler of Vanderbilt. I've felt that way for a while, and I think more and more teams believe that, too. This is going to a be one of the most fun drafts in recent history.


James (Nashville): Jay Cutler over Leinart and Young is something we agree on. He had Vandy in games they had no business being in. He could be a Favre-McNair-type player.


Chris Mortensen: Absolutely. Cutler is more of a lock in my mind to be a big-timer in the NFL than the other two guys. But I think Young and Leinart will have success.

Click here for Mortensen's transcript
Chris (Lacey, Wa.): Better NFL QB: Aaron Rodgers or Jay Cutler?


Todd McShay: Cutler. He's bigger, stronger and smarter. His arm strength is excellent, and his accuracy will only improve with better coaching and polished mechanics. Cutler is clearly the best QB at the Senior Bowl this week, and it's safe to say that he's making ground on Matt Leinart and Vince Young, the top two QB prospects in this year's class right now. I think Cutler will be off the board in the top 15. I don't see him necessarily as a top-15 pick in terms of overall talent, but the lack of depth in this year's QB class has pushed him into that range. I'm impressed by his arm strength and he's relatively mobile. He's intelligent, competitive and tough. He'll need some good coaching and a lot of work on his mechanics. He's a little up and down in terms of his accuracy and consistency.
Click here for Tuesday's Senior Bowl transcript
Chris (Baltimore): Where do you see Sinorice Moss falling in the draft? He has first-class speed, but can he overcome his height? Did he continue to impress in Wednesday's practice?


Fun With Kickers
Do kickers have to run sprints when the rest of the team does? What's your favorite cookie?

Deric Yaussi (Wyoming K): Yes, I have to run sprints with the team, and my favorite cookie is chocolate chip.

Do punters get a lot of ladies?

John Torp (Colorado P): I'm trying to revolutionize the position.
Todd McShay: Moss has been the most impressive WR at the Senior Bowl this week. He is easily the quickest and fastest player on the field for the South team. The only defensive back that has come close to matching up with Moss is his teammate, Kelly Jennings, who runs in the 4.40's and also knows his tendencies after practicing opposite him the last few years. I think Moss' height will keep him out of the top-20 or so picks, but I think he has solidified a spot in the late-first round with his excellent play this week.


Knox (Tucson): The Cardinals need a running back badly; do you see them taking a back in the first round?


Gary Horton: I do think that Denny Green is obsessed with finding a back that can give them 25 carries a game to take the pressure off their one-dimensional pass offense, which is really good, but would be even better with a running game. Last year's second-round pick, J.J. Arrington, can be effective but more in a nickel role. Although it's early, LenDale White would be the perfect guy to give them the power back they need. And as bad as their OL is, which they can't fix in one offseason, a really good back would make that better.

SPONSORED HEADLINES
ESPN TOP HEADLINES
MOST SENT STORIES ON ESPN.COM
SportsNation

SportsNation


We've got rapper The Game on our show tomorrow. If you're in LA you can get tickets here > http://t.co/aETayFwOez http://t.co/5qZFRkmMVh
about 13 hours ago

SportsNation

SportsNation


Right or wrong move for the Bears to start Jay Cutler? Here was Jay Cutler's response. ESPN2 now. http://t.co/EG2Fsu67u8
about 16 hours ago

SportsNation

SportsNation


How everyone is reacting to Russell Wilson being drafted by the Texas Rangers. http://t.co/gEjnUdoPAg
about 18 hours ago

SportsNation

SportsNation


Michael Jordan's '97 NBA Finals Flu Game shoes sold this morning for $100K+. Here was his reaction (via @astroashb) http://t.co/5qywVkOT1Y
about 20 hours ago

SportsNation

SportsNation


Steph Curry tho!!!!
1 day ago

marcelluswiley

Marcellus Wiley


RT @SportsNation: Congrats WK14 Dat Dude's Dudes @Mr_CooperRU12, @TheMalikJackson, Ryan Shazier, @JuniorG93, & @Ky1eLong http://t.co/jVjaH5…
1 day ago

SportsNation

SportsNation


Congrats WK14 Dat Dude's Dudes @Mr_CooperRU12, @TheMalikJackson, Ryan Shazier, @JuniorG93, & @Ky1eLong http://t.co/jVjaH5ppnh
1 day ago

SportsNation

SportsNation


LeBron looks like a wealthy pirate in this pic (via @Droppin.com) http://t.co/TlasraSfsA
1 day ago

SportsNation

SportsNation


Should the Lakers' be happy that Kobe is back? We heard Kobe wasn't happy with his comeback video. ESPN2 now. http://t.co/S3iKhNl7RI
1 day ago

kevinwildes

Kevin Wildes


whoa - American football takes step toward Olympics, could be medal sport in 2024 http://t.co/wpigSuDhwS
1 day ago

kevinwildes

Kevin Wildes


Good read from Sally Jenkins - Redskins are being undermined by Dan Snyder's corrosive star culture http://t.co/NvfNcNZe0J
1 day ago

SportsNation

SportsNation


BREAKING: Kirk Cousins will start in place of RG3 for the Redskins this Sun. RG3 fantasy owners look like this now. http://t.co/5NBQhdaE10
1 day ago

SportsNation

SportsNation


The Pacers beat the Heat 90 - 84 last night. Bandwagon fans be like... http://t.co/BaClLGF2BU
1 day ago

SportsNation

SportsNation


Should Jerry Jones be calling out the Cowboys? ICYMI here is a recap of MNF last night. ESPN2 now. http://t.co/mr3sYIvujY
2 days ago

SportsNation

SportsNation


Here is the current state of the NBA right now. http://t.co/n90SeEeqHO
2 days ago

SportsNation

SportsNation


.@deandrejordan had a bootleg Clippers jersey on last night. http://t.co/VRHmbaO02u
2 days ago

marcelluswiley

Marcellus Wiley


"@marcusstroud99: @marcelluswiley look what I found! http://t.co/8YZALutxY2" $Wow, that's hilarious! Classic!
2 days ago

SportsNation

SportsNation


DeMarcus Cousins might have just created the best offensive foul poster ever (via @SacramentoKings) http://t.co/ryQJR7FA9b
2 days ago
BEST OF THE BEST
Heat vs. Pacers?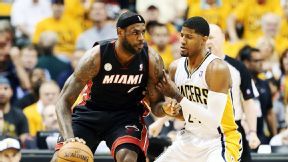 Which team has a better shot at making the NBA Finals -- the Heat, or the Pacers? Vote! »