Discussion
Photo Gallery: Athlete travel musts
To beat the road blues, jocks pack loads of personal treasures
Updated:
May 20, 2010, 2:11 PM ET
By
Sam Alipour
| ESPN The Magazine
« PREVIOUS: D.J. Carrasco's fishing pole
HUGGIES NATURALLY REFRESHING BABY WIPES
Kirk Morrison, Jacksonville Jaguars, LBPhoto by Ture Lillegraven
Why I pack it: "For a clean freak with safe-toilet syndrome, baby wipes bring the calm of home. They work wonders in planes, hotels and unfamiliar bathrooms with unfriendly toilet paper. If I'm out of my Huggies, I always have backup wet naps from restaurants."
NEXT: David Ragan's lucky tickets »
Read full story
ESPN The Magazine's Travel Issue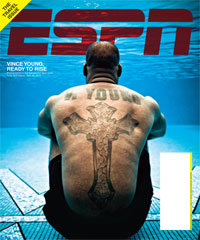 Check out all the content from ESPN The Magazine's May 31, 2010, issue (The Travel Issue). Where noted, the content is for ESPN Insiders.
Editorial Content