Commentary
DeForge the star but Catchings the catalyst in Game 2 win
Updated:
August 26, 2007, 11:06 AM ET
By
Graham Hays
| ESPN.com
Tamika Catchings is not as omnipresent in the endorsement world as her Indianapolis peer who quarterbacks the Colts, but she's a TiVo commercial waiting to happen.
As she proved yet again Saturday in a 78-59 Fever win that evened their first-round series against the Sun at 1-1, you really need to be able to pause and rewind to appreciate her. Catchings always looks like she plays basketball at a slightly faster speed than everyone else on the court. Occasionally that works to her detriment, playing two beats ahead of teammates unsure where she's going or even a beat ahead of herself. But most of the time, even when she's playing on one healthy foot after partially tearing her plantar fascia and missing the final 13 games of the regular season, it's that boundless energy and perpetual motion that set her apart as one of the two or three best players in the league. Even less than 48 hours after a triple-overtime heartbreaker played four states to the east.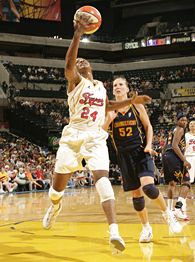 Ron Hoskins/NBAE via Getty ImagesTamika Catchings had 15 points and 13 rebounds in her second game back from an injury that sidelined her for 13 games.
Like most of the playoff action so far in the first round, Game 2 in Indianapolis was effectively over at halftime, with the home team leading by 19 points. Wondering just how much of the Sun's woeful performance was of their own doing and how much could be chalked up to Indiana's team defense, I backed up the action to the run they made from down 11-9 in the first quarter to up 23-13 at the first break. Watching it live, Anna DeForge had been the star, once again impersonating Reggie Miller with her jump-shooting theatrics. Her effort certainly lost no luster on closer inspection, but Catchings emerged like a key movie character coming into focus in flashback after flashback at the end of the film -- the one you're made to realize was lurking just out sight all along. In the span of a few minutes, Catchings put on a show that was both brilliant and easy to overlook.
3:38:
Screening a somewhat listless Nykesha Sales, Catchings signals for Tamika Whitmore to throw the ball over her head to DeForge, who drifted open in the corner when her defender got caught in the screen. DeForge hits the uncontested baseline jumper to tie the score at 11 (Catchings, having beaten both Sales and Kristen Rasmussen to the basket when the ball left DeForge's hands, catches it coming through the net).
2:56:
A missed jumper from Sales and a transition layup from Sheri Sam gives Indiana a 13-11 lead. On the Fever's next defensive set, Catchings drops off her assignment on Rasmussen to help Tully Bevilaqua and stall a Lindsay Whalen drive to the basket. Whalen is forced to kick out to Rasmussen, the lesser of two evils in this case, who misses an 18-foot jumper.
2:27:
After defusing another pick-and-roll, Catchings boxes out Rasmussen and corrals the rebound on a missed 3-pointer from Katie Douglas.
DEFORGE GETTING
BEST OF SUN DEFENSE
Katie Douglas is one of the best perimeter defenders in the WNBA, a tireless worker who sticks with the best guard or wing the opponent has to offer on a nightly basis. So how is it that DeForge, who scored 26 points in Game 2 and 31 points in Game 1, is lighting Douglas up?
Well, for one thing, it's not Douglas getting beat a lot of the time. Douglas did routinely draw DeForge in Connecticut's man-to-man defense in Game 2, but she was actually guarding the Fever sharpshooter on only a handful of her baskets. The Fever jumped all over the Sun on Saturday, making a tired team look positively lethargic by pushing the ball up the court at almost every opportunity. Caught in transition, Douglas and her teammates had to scramble to stop the ball and match up on the fly, often leaving the Sun's best defender far from DeForge. Even one-on-one defense has a lot to do with team defense, and DeForge is punishing everyone in a Connecticut uniform equally. If the Sun are going to win on the road in Game 3, it's going to be in part because of a team effort that allows Douglas to put the one-on-one clamps on DeForge.
-- ESPN.com's Graham Hays
2:15:
Fumbling an entry pass from Sam that comes in at her shoelaces, Catchings, bad foot and all, doesn't hesitate to dive to her knees to recover the ball and fire a bounce pass through traffic to the top of the key that Whitmore swings to Bevilaqua for a wide-open 3-pointer and an 18-11 lead.
1:42:
Seven seconds after a Douglas jumper cuts the lead to 18-13, Catchings, who brought the ball up court, drives the middle of the lane against Rasmussen. With neither Evanthia Maltsi nor Erica Desouza able to react quickly enough in support as they set up in half-court defense, Catchings draws the blocking foul on Rasmussen and converts both free throws for a 20-13 lead.
0:56:
Douglas soundly beats Tan White off the dribble on the right side, turning the corner on the baseline with an open path to the basket, only to see Catchings drop from the other side of the lane and fill the void. Trying to change direction at the last second and slide past Catchings, Douglas hop-steps and is called for a travel.
0:38:
Catchings again appears to have Rasmussen beat on a drive from the top of the key, but Douglas drops off DeForge to try and swipe away the ball. Catchings drops a bounce pass to the suddenly open DeForge, who hits a 3-pointer for a 23-13 lead. "When she gets the ball at the top of key, I know that she finds me in the corners a lot," DeForge said in her postgame interview with WNDE radio in Indiana. "We work really well in a two-man game. It's tough to guard both of us on one side of the court, because it's either a one-on-one for her or an open shot for me." In the span of three minutes of game time, Catchings made eight plays that contributed directly to the Fever turning a two-point deficit into a 10-point lead, a lead that would remain in double digits for all but a few brief moments for the remainder of the game. And it's entirely possible that not a single one of them would have made a highlight reel. Trying to win a playoff series for just the second time in franchise history when they tip off at home against the Sun on Monday in a decisive Game 3, the Fever are lucky to have Catchings, who finished with 15 points and 13 rebounds, in the lineup. And we're lucky to have rewind buttons.
Graham Hays is a regular contributor to ESPN.com's women's basketball coverage. E-mail him at Graham.Hays@espn3.com.
espnW.com
Graham Hays covers college sports for espnW, including softball and soccer. Hays began with ESPN in 1999.
SPONSORED HEADLINES
MORE WOMEN'S BASKETBALL HEADLINES
MOST SENT STORIES ON ESPN.COM
WNBA PLAYOFFS

The Mercury won their first league championship, beating Detroit 3-2 in the WNBA Finals.
WNBA Finals
•
Voepel: Trio in perfect harmony for Phoenix
•
Game 5: Phoenix 108, at Detroit 92
|
Watch

•
Voepel: Different styles to clash in Game 5
•
Voepel: Finals to go distance again
•
Voepel: Ford's status questionable
•
Game 4: At Phoenix 77, Detroit 76
|
Watch

•
Voepel: Mercury's back against the wall
•
Voepel: The big hit (or not)
•
Voepel: Smith, Nolan up to challenge again
•
Voepel: As the Finals turn …
•
Game 3: Detroit 88, at Phoenix 83
|
Watch

•
Voepel: Taylor-made Mercury
•
Voepe: 6-8 Feenstra finds right fit with Shock
•
Voepel: Detroit lacks heart, willpower in Game 2
•
Voepel: Shock can't keep up with Mercury, Miller
•
Game 2: Phoenix 98, at Detroit 70
|
Watch

•
Voepel: Finally, Nolan knows how good she is
•
Voepel: Tangela Smith still making impact
•
Voepel: Detroit makes big opening statement
•
Voepel: Frustrated Phoenix must regroup
•
Game 1: At Detroit 108, Phoenix
|
Watch

•
Lieberman: Katie Smith vs. Diana Taurasi
•
Experts: Mercury will win championship
•
Voepel: Bad Girls vs. Desert Dynamos
Conference Finals
•
Experts: Smith, Nolan keys to Detroit Game 2 win
•
Voepel: Pondexter points Phoenix to WNBA Finals
•
Voepel: Hammon's special season comes to end
•
Voepel: Shock frustrated with Game 1 officials
•
Voepel: Silver Stars seek to slow down Mercury
•
Voepel: Crossley no stranger to controversial end
•
Lieberman: Why Indiana can beat Detroit
•
Hays: Rebounding, treys to determine East
•
Experts split on East finals favorite
•
Lieberman: West finals X factors
•
Experts: Mercury are West finals favorite
First Round
•
Voepel: Shock take fight out of Liberty
•
Voepel: Fantastic fights to the finish
•
Hays: Fever pull off greatest playoff comeback
•
Voepel: Lots of star power left in Ferdinand-Harris
•
Hays: DeForge the star, Catchings the catalyst
•
Voepel: McCarville leads Liberty past Shock
•
Hays: Sun just good enough to win Game 1
•
Voepel: 'Hammon Effect' leads San Antonio
•
Experts split on Shock, Mercury as favorites
•
Hays: Shock-Liberty preview
•
Hays: Fever-Sun preview
•
Lieberman: First-round X factors
Results
•
Complete schedule
WNBA.com
•
Complete playoff coverage
•
Playoff player blogs