A lot to like about Mike, Sun
Originally Published:
October 3, 2004
By
Nancy Lieberman
| Special to ESPN.com
Connecticut's Taj McWilliams-Franklin played outstanding against New York on Sunday as the Sun swept the Liberty to earn their first trip to the WNBA finals.
As expected, New York had no answer for Connecticut's posts.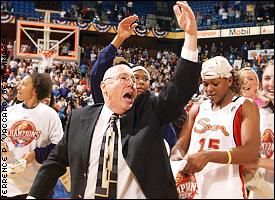 Getty ImagesAfter guiding the Sun to their first playoff series victory in 2003, Mike Thibault and Connecticut are headed to their first WNBA finals.
Back in May, however, no one expected the Sun to do much this season. In fact, nearly every analyst -- including this one -- predicted Connecticut would finish last in the Eastern Conference. Four and a half months ago, Connecticut's defense was suspect. Chemistry was a question mark, too, after several players missed most of training camp to finish up their overseas playing commitments. And with Olympian Shannon Johnson gone, just how much of an immediate impact could rookie point guard Lindsay Whalen make? Turns out -- and let's just get this out of the way -- we were flat-out wrong. The Sun not only have what it takes to compete in the ever-competitive East, but also to win the regular-season division title and put themselves in position to challenge for the their first WNBA championship. That series will start Friday against either Seattle and Sacramento, which are locked at 1-1 and meet Tuesday in a decisive Game 3 of the Western Conference finals. In May, perhaps we should have put more faith in Whalen, or in Nykesha Sales, or the post duo of McWilliams-Franklin and Wendy Palmer. But in hindsight, Sun coach Mike Thibault deserved better, too. His coaching résumé is long and accomplished. During his tenure in Los Angeles as the team's assistant coach and director of scouting, the Lakers won two NBA titles (1980 and '82). Before he joined Connecticut on May 7, 2003, he also coached the Omaha Racers to the CBA championship, the U.S. national team to gold (world championship qualifying tournament), and scouted for the Seattle Sonics and the Milwaukee Bucks. Back in 1984, when he was an assistant coach and director of scouting for the Chicago Bulls, Thibault was one of the guys responsible for deciding to draft Michael Jordan.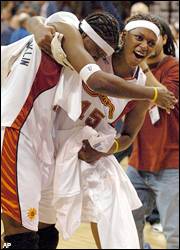 Taj McWilliams Franklin, left, and Ashja Jones celebrate the victory.
Turns out, 20 years later, Thibault still knows how to dominate a draft. In April, he resolutely hung onto Whalen, the Sun's top pick, bypassing what must have been some very lucrative trade offers from Minnesota. If only we had had the same expectations for Thibault that he had for Whalen. By the end of the regular season, Whalen had the Sun on a tear, and Thibault was the easy choice for WNBA Coach of the Year. While Connecticut has a fantastic head coach who really studies the game and understands the Xs and Os, the Sun's other big strength is their balance. The starting five are difficult to guard, and on any given day, each of them can hurt you. No one player has to be the star. On Sunday, McWiliams-Franklin came through, scoring 18 points, including the go-ahead free throw with 48 seconds remaining, in a 60-57 victory. Before that, McWilliams-Franklin also had a key defensive rebound -- she had nine total boards -- with less than 1½ minutes left that led to a fastbreak layup from Whalen to tie the score at 54. New York really had no answer inside for McWilliams-Franklin. The Liberty's veteran posts are out with injuries, Bethany Donaphin and DeTrina White are young and inexperienced, and La'Keshia Frett isn't a true low-block defender. In the end, the Sun outrebounded the Liberty 29-23 and scored 30 points in the paint. The more telling stat, however, was New York's 4-for-14 performance from the 3-point line. The Liberty -- who had no fastbreak points on Sunday -- have lived by the 3-pointer this season, and it finally betrayed them. Becky Hammon, Crystal Robinson and Elena Baranova combined for a 2-for-10 performance from downtown after combining for 165 treys in the regular season. Hammon's two-point performance was especially costly. The Liberty's leading scorer in the regular season didn't sink a shot until about seven minutes remained. Hammon finished 1-for-5 from the field, including 0-for-2 on 3-pointers, and failed to get to the free-throw line. Sometimes players just have an off night, but Connecticut's defense deserves some credit, too. The Sun did an excellent job of disrupting the Liberty's offense, trapping players and taking away the shooters. Connecticut knew New York wouldn't mount a major inside game, so the Sun looked to take away the 3-pointer and force the Liberty to put the ball on the floor. The Sun's Katie Douglas (14 points, four assists, four rebounds, 6-for-6 at the foul line) went just 4-for-13 from the field, but as we said after the first round, don't overlook the importance of her presence on the court. She continues to take her game to a different level and had the poise and confidence to nail her free throws down the stretch. Also, Asjha Jones came off the bench for some solid defense. Once again, Thibault knew who to turn to when the game was on the line.
Nancy Lieberman, an ESPN analyst and Hall of Famer, is a regular contributor to ESPN.com's women's basketball coverage. Contact her at www.nancylieberman.com.
Basketball analyst / Writer
Nancy Lieberman, one of the most recognized individuals in women's basketball, is a men's and women's basketball analyst for ESPN. She works on ESPN and ESPN2's coverage of men's and women's college basketball, plus the WNBA and writes for ESPN.com.
SPONSORED HEADLINES
MORE WOMEN'S BASKETBALL HEADLINES
MOST SENT STORIES ON ESPN.COM