Losing Stepanova could halt Mercury success
Updated:
August 8, 2005, 2:23 PM ET
By
Nancy Lieberman
| Special to ESPN.com
In the first month and a half of the WNBA season, Phoenix won just three games. But in the month that has passed since the All-Star break, the Mercury went 7-2. Only conference leaders Connecticut (eight wins) and Sacramento (nine) won more games in that time span.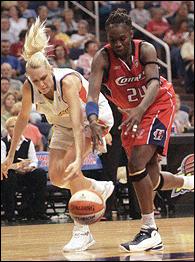 AP PhotoRussian Maria Stepanova has helped turn around the Mercury, but how much longer will she remain in Phoenix?
As a result, Phoenix (12-13 overall) has climbed from last place in the West to tied with Los Angeles for fourth. In fact, if the season ended today, the Mercury would beat out the perennial power Sparks for the West's final playoff spot by tiebreaker in lieu of Phoenix's 2-1 mark against L.A. this season.
But don't credit just Diana Taurasi or Anna DeForge or Penny Taylor for the turnaround. Yes, they've been instrumental. Yes, they're the Mercury's top three scorers and one of them has led the team in scoring in all but four games this season.
But 6-foot-8 Russian center Maria Stepanova has been the true difference-maker since arriving just more than five weeks ago. Since she joined the roster, the Mercury have gone 9-3.
Phoenix's fifth-leading scorer at 10.1 points per game, Stepanova also is averaging 5.3 rebounds and ranks fourth in the league with 2.08 blocks per game. Her presence both offensively and defensively has completely changed the Mercury's dynamic, and taken a lot of pressure off her teammates. Opponents can no longer cheat toward the perimeter to try to shut down Phoenix's great guard play, or solely focus on 6-4 post Kamila Vodichkova inside. As a result, each of the Mercury's starters are averaging double figures in scoring, and it's no coincidence that Phoenix's overall average is up almost six points per game.
Defensively, Taurasi, DeForge and Taylor can play much more aggressively and take more chances because they know Stepanova is behind them backing them up. "Maria, help!" is now probably the most often-used phrase on the court in Phoenix. Defensively, the Mercury also have improved in every statistical category across the board, and are giving up 4.8 fewer points per game since she arrived.
Through Monday, only two games separate second and fourth place in the West standings, and it's conceivable that Phoenix not only is playoff bound, but could also finish as high as the division's second or third seed when the first round of the playoffs opens Aug. 30. The big question, however, is what happens to the Mercury if Stepanova returns to Russia before the season ends?
Since she signed with Phoenix, rumors have circulated that Stepanova's contract was a short-term deal, perhaps running only through the end of the month. Though no one in Phoenix's front office will confirm whether Stepanova would be available for the playoffs, the most likely scenario is that the Russian Federation would prefer her to return home either right before or shortly after the Mercury's final regular-season game on Aug. 27. Russia's first qualifying game for the World Championships is Sept. 2, and the Russian Federation undoubtedly hopes to have its star player back on the court.
All indications from Stepanova are that she's enjoying her time in Phoenix and hopes to stay through the end of the season, including the playoffs should the Mercury reach the postseason. Also, it would appear to be a win-win for both Phoenix and the Russian national team if Stepanova could stay. She'll be more fit from playing 26 minutes per game (as she is averaging now in the WNBA) as opposed to undergoing two-a-days back home, and has the benefit in the WNBA of playing against the best competition in the world.
General Manager Seth Sulka had tried to get Stepanova to return to the WNBA for three years, and scored one of the best and gutsiest moves of the season when he signed her in late June. But if she leaves, the Mercury simply won't be the same team, and will struggle in the playoffs without her, especially if Phoenix meets Sacramento and its potent inside game in the first round. Though second-year player Ashley Robinson has gained some good experience coming off the bench behind Stepanova, her 3.1 points and 3.4 rebounds per game will not have the same impact.
That's not to say the Mercury will revert back to the way they played in June, when they won just three games. Phoenix seems to be hitting its stride and is playing well.
The road gets tougher, of course, with six games in a 10-day span Aug. 12-21. The Mercury, who are 5-9 away from home this season, do have the good fortune of playing all but one of those games at the America West Arena. But five of Phoenix's remaining nine games are against West teams who currently are ahead of the Mercury in the division standings, and only three upcoming opponents have inferior records.
The bottom line is that Phoenix must keep winning -- something the Mercury haven't proved they can do on a consistent basis without Stepanova.
Nancy Lieberman, an ESPN analyst and Hall of Famer, is a regular contributor to ESPN.com's women's basketball coverage. Contact her at www.nancylieberman.com.
Basketball analyst / Writer
Nancy Lieberman, one of the most recognized individuals in women's basketball, is a men's and women's basketball analyst for ESPN. She works on ESPN and ESPN2's coverage of men's and women's college basketball, plus the WNBA and writes for ESPN.com.
SPONSORED HEADLINES
MORE WOMEN'S BASKETBALL HEADLINES
MOST SENT STORIES ON ESPN.COM

ESPN.COM PARTNER: NBA.COM