Strong second half gives Shock their second title
Updated:
September 10, 2006, 12:34 AM ET
By
Nancy Lieberman
| Special to ESPN.com
DETROIT -- The WNBA Finals might not have been the most compelling championship series we've seen in the league's 10-year history.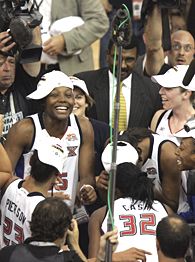 Carlos Osorio/AP PhotoCheryl Ford and the Shock outscored trhe Monarchs 22-9 in the pivotal third quarter.
But Detroit played as well as it has all season in the final 20 minutes of Game 5, winning its second WNBA title in four seasons with an 80-75 victory over Sacramento on Saturday.
At halftime, though, it looked like the Monarchs might be celebrating their second consecutive championship. In the first two quarters, Sacramento dominated Detroit inside and led 44-36 at the break. Yolanda Griffith, DeMya Walker and Rebekkah Brunson had their way in the paint, combining for 20 points on 8-of-16 shooting. Detroit failed to take care of the ball, and Sacramento absolutely fed off Detroit's 10 turnovers. The Monarchs dominated almost every aspect, beating the Shock in points in the paint (18-10) and bench points (16-8).
But the second half was a completely different story, and I still can't believe how quickly the Shock turned the game around. The Monarchs missed their first seven shots of the third quarter, including three misses from Ticha Penicheiro, and Detroit scored 10 unanswered points en route to an 18-3 run. Detroit's Deanna Nolan put on a show, scoring 10 of her game-high 24 points in that span. I was surprised Sacramento failed to get a stop and ultimately finished the quarter with just nine points to the Shock's 22.
So what caused Sacramento's total collapse? Detroit's defense came out much more intense and aggressive in the second half, playing like the team that ranked as the league's second-best defense in the regular season.
The Shock also turned the ball over just seven times in the second half (that's one more than they had in the first quarter alone), and that was perhaps the biggest X-factor. The Monarchs rely on their defense to jump-start their offense. But with Detroit knocking down 54 percent (14-of-26) of their second-half shots, dominating the glass (20 rebounds to the Monarchs' 15) and taking better care of the ball, Sacramento was forced to rely on its halfcourt offense. We've said all along that the Monarchs would have a hard time generating enough points purely on their offense against the more athletic and talented Shock, and on Saturday, that was the case.
Detroit also had good balance -- Cheryl Ford had another double-double, Katie Smith was brilliant down the stretch and Nolan came up big, finishing 10-for-23 from the field despite her 4-of-13 effort in the first half.
While Nolan deservedly won WNBA Finals MVP honors -- she lifted the Shock when they were down and has the most phenomenal jump shot this league has ever seen -- Plenette Pierson was a huge factor for Detroit. In the best game of her WNBA career, Pierson came off the bench to score 16 points, going 10-for-13 at the foul line. She was just marvelous and was simply more aggressive than Brunson or Walker inside.
This was a bizarre series, with four of the five games being decided by double figures, including three wins by at least 20 points and each team routing the other on its home court. But in the end, Detroit won because the Shock played like a team with five All-Stars and three Olympians. Give Detroit credit. The Shock could have folded in Sacramento. Instead, with the help of the home fans, who seemed to fuel the Shock's energy level, they withstood two elimination games and capped a heck of a 10th anniversary season. As for Sacramento, I think the Monarchs ran out of gas. The physical nature of the game appeared to wear them out.
Also, I think they found it's tough sometimes to play 4 vs. 5. Penicheiro is a tremendous player, but she has to knock down shots. That's why we saw so much of Kristin Haynie this series.
Nancy Lieberman, an ESPN analyst and Hall of Famer, is a regular contributor to ESPN.com's women's basketball coverage. Nancy coached the Shock from 1998-2001. Contact her at www.nancylieberman.com.
Basketball analyst / Writer
Nancy Lieberman, one of the most recognized individuals in women's basketball, is a men's and women's basketball analyst for ESPN. She works on ESPN and ESPN2's coverage of men's and women's college basketball, plus the WNBA and writes for ESPN.com.
SPONSORED HEADLINES
MORE WOMEN'S BASKETBALL HEADLINES
MOST SENT STORIES ON ESPN.COM

STORIES FROM HUFFINGTON POST