Commentary
Mercury might have too much firepower for Silver Stars
Updated:
August 29, 2007, 11:06 AM ET
By
Nancy Lieberman
| Special to ESPN.com
Top-seeded Phoenix had second-seeded San Antonio's number in the regular season, winning three of their four matchups. Will the story stay the same in the Western Conference finals? A look at how the teams match up heading into Thursday's opener (ESPN Classic, 8 p.m. ET):
In Phoenix's favor
Westhead's future

Paul Westhead is 100 percent focused on the Phoenix Mercury as they head into the Western Conference finals. But that doesn't mean he won't at least address his future, especially with all the recent speculation that he might be headed to join the staff of longtime friend and new Seattle SuperSonics coach P.J. Carlesimo. "My contract with the Mercury is up at the season's end, and I'm going to be a free agent," said Westhead, who has known Carlesimo for three decades and was on the Golden State Warriors staff when Carlesimo was choked by Latrell Sprewell in 1997. "I've been in a place where I didn't have a job before. I've done that. I just have to see who might be interested in me, if anyone." On Thursday, Carlesimo added Scott Brooks, Mark Bryant and Ralph Lewis to his Sonics coaching staff.
-- ESPN's Nancy Lieberman
First and foremost, Paul Westhead's philosophy gets the Mercury off on the right foot. He tells his players to shoot the ball whenever they can. If the point guard delivers the ball, they basically have the green light to hoist it up -- there is no bad shot, he says. That's an unbelievably relaxed mind-set for a shooter, and it pays off -- in the regular season, Phoenix shot 44 percent from the field, and Diana Taurasi, Penny Taylor and Cappie Pondexter each ranked among the league's top-10 scorers, a triple no team had accomplished before. Most teams that run and gun end up averaging a higher number of turnovers, but that's not the case for the Mercury, who in the past two years have committed the least amount of giveaways in the league. Whereas other teams emphasize ball movement, Westhead values possessions and field goal attempts. A lesser amount of ball movement means fewer chances for mistakes. Again, that's a unique way to play, but the Mercury make it work. Plus, Kelly Miller has done an unbelievable job taking care of the ball in the postseason, committing just two turnovers in 70 minutes of action in the first round. Westhead's rover defense also has been successful and enabled the Mercury to limit leading MVP candidate Lauren Jackson in the first round. If they can keep that up, and if Taurasi can continue to play such stunning defense, San Antonio's arsenal is likely in trouble, too. Taurasi -- who, in the rover defense, goes to the opponent Phoenix deems most dangerous -- was just amazing against Jackson, beating the Storm star physically and mentally. She is the heart of this team, and the Mercury thrive on her confidence and drive. In the regular season, Pondexter and Taylor averaged between 17 and 18 points apiece per game. In this regular-season series, however, both were below their average. Expect both Pondexter (13.0 ppg) and Taylor (12.0 ppg) to score more in the West finals.
In San Antonio's favor
Like Seattle, San Antonio has a lot of offensive firepower and can spread the floor and knock down shots. In the one game the Silver Stars won in the series, they outshot the Mercury (48.6 percent from the field to Phoenix's 37.3 percent, plus the Mercury were a woeful 19 percent on 3-pointers). San Antonio might win if it can keep pace or shoot better than Phoenix.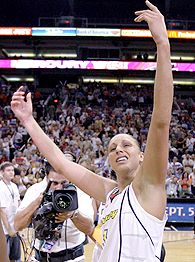 AP Photo/Paul ConnorsDiana Taurasi helped limit Storm star Lauren Jackson and averaged 21 ppg in the first round sweep of Seattle.
Becky Hammon has had an amazing season and will continue to key San Antonio's success. But the Silver Stars' bench play will play a vital role in this series, as well. Marie Ferdinand-Harris could start on any team in this league, but in San Antonio she comes off the bench and fills whatever role the Silver Stars need, whether it be going to the rim aggressively or playing defense. In this up-tempo matchup, it's imperative that Ferdinand-Harris and Shanna Crossley contribute off the bench. Crossley, in particular, must keep her confidence high even if she doesn't knock down her first couple of attempts. Passing is one of the Silver Stars' biggest strengths, and that's a huge factor against the Mercury's rover defense. Phoenix presents a 3-2 when the ball starts at the top, but when it drops below the foul line to the baseline, the defense becomes a 2-3. That makes it hard to read where the gaps are, but San Antonio must find them in the zone. Again, this is where Hammon comes in. Although she slid to the 2 after the All-Star break as Helen Darling began starting at the point, Hammon is a master at reading angles and is tough to guard with and without the ball. She has incredible change of pace and direction, footwork and countermoves. Hammon is at her best with that drag-dribble-back, when she gets the defender's momentum coming forward then pushes right by her to the front foot. There's no way a defender can recover from that.
X factors
For once, rebounding in general isn't a huge factor. The Silver Stars outrebounded the Mercury in three of four regular-season meetings, and ironically, San Antonio still won the one game in which Phoenix had the rebounding advantage. That said, if there's one series this season in which the Silver Stars must get on the offensive boards, this is it. The Mercury thrive on getting more possessions than the opponent, and San Antonio obviously will benefit if it dominates the offensive glass and makes Phoenix take the ball out of the net. The Mercury likely won't outrebound San Antonio, but if the numbers are close, that favors Phoenix. And it will allow the Mercury to get in transition more often. San Antonio's ability to take away the Mercury's 3-point shots and play transition defense also will determine this series. If the scores are in the 80s, that also favors the Silver Stars.
Who wins
The Mercury in three games. I have yet to see anybody who can match the Mercury consistently. They just have so many offensive weapons, and their scoring puts so much pressure on the opponent to either try to match Phoenix or find a way to stop it. Plus, Phoenix has played pretty much flawless basketball the past 16 games and is riding a tremendous wave of momentum.
Nancy Lieberman, an ESPN analyst and Hall of Famer, is a regular contributor to ESPN.com's women's basketball coverage. Contact her at www.nancylieberman.com.
Basketball analyst / Writer
Nancy Lieberman, one of the most recognized individuals in women's basketball, is a men's and women's basketball analyst for ESPN. She works on ESPN and ESPN2's coverage of men's and women's college basketball, plus the WNBA and writes for ESPN.com.
SPONSORED HEADLINES
MORE WOMEN'S BASKETBALL HEADLINES
MOST SENT STORIES ON ESPN.COM
WNBA PLAYOFFS

The Mercury won their first league championship, beating Detroit 3-2 in the WNBA Finals.
WNBA Finals
•
Voepel: Trio in perfect harmony for Phoenix
•
Game 5: Phoenix 108, at Detroit 92
|
Watch

•
Voepel: Different styles to clash in Game 5
•
Voepel: Finals to go distance again
•
Voepel: Ford's status questionable
•
Game 4: At Phoenix 77, Detroit 76
|
Watch

•
Voepel: Mercury's back against the wall
•
Voepel: The big hit (or not)
•
Voepel: Smith, Nolan up to challenge again
•
Voepel: As the Finals turn …
•
Game 3: Detroit 88, at Phoenix 83
|
Watch

•
Voepel: Taylor-made Mercury
•
Voepe: 6-8 Feenstra finds right fit with Shock
•
Voepel: Detroit lacks heart, willpower in Game 2
•
Voepel: Shock can't keep up with Mercury, Miller
•
Game 2: Phoenix 98, at Detroit 70
|
Watch

•
Voepel: Finally, Nolan knows how good she is
•
Voepel: Tangela Smith still making impact
•
Voepel: Detroit makes big opening statement
•
Voepel: Frustrated Phoenix must regroup
•
Game 1: At Detroit 108, Phoenix
|
Watch

•
Lieberman: Katie Smith vs. Diana Taurasi
•
Experts: Mercury will win championship
•
Voepel: Bad Girls vs. Desert Dynamos
Conference Finals
•
Experts: Smith, Nolan keys to Detroit Game 2 win
•
Voepel: Pondexter points Phoenix to WNBA Finals
•
Voepel: Hammon's special season comes to end
•
Voepel: Shock frustrated with Game 1 officials
•
Voepel: Silver Stars seek to slow down Mercury
•
Voepel: Crossley no stranger to controversial end
•
Lieberman: Why Indiana can beat Detroit
•
Hays: Rebounding, treys to determine East
•
Experts split on East finals favorite
•
Lieberman: West finals X factors
•
Experts: Mercury are West finals favorite
First Round
•
Voepel: Shock take fight out of Liberty
•
Voepel: Fantastic fights to the finish
•
Hays: Fever pull off greatest playoff comeback
•
Voepel: Lots of star power left in Ferdinand-Harris
•
Hays: DeForge the star, Catchings the catalyst
•
Voepel: McCarville leads Liberty past Shock
•
Hays: Sun just good enough to win Game 1
•
Voepel: 'Hammon Effect' leads San Antonio
•
Experts split on Shock, Mercury as favorites
•
Hays: Shock-Liberty preview
•
Hays: Fever-Sun preview
•
Lieberman: First-round X factors
Results
•
Complete schedule
WNBA.com
•
Complete playoff coverage
•
Playoff player blogs