Swoopes terrific on opening weekend
Updated:
June 17, 2005, 1:31 PM ET
By
Mechelle Voepel
| Special to ESPN.com
Sunday evening, I was talking to San Antonio top draft pick Kendra Wecker, whose rookie season ended a day earlier, after just one half of basketball because of an ACL injury. It was the "feel-bad" story of the WNBA's opening weekend, and Wecker acknowledged that, obviously, she was still trying to absorb what had happened.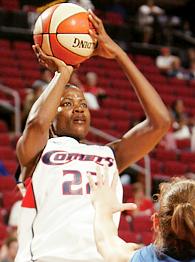 Bill Baptist/Getty ImagesHouston's Sheryl Swoopes was a bright spot in an opening weekend marred by shooting woes and an ACL injury.
"Did you see it?" she asked me. "What did I do?"
Yes, I did see it while watching the game on NBA-TV. She was just driving to the basket, and the knee went. It happened like so many ACL injuries. They occur on plays you've seen people make a thousand times. In this case, I mean that literally, because I witnessed almost every game Wecker played at Kansas State while covering the team for The Kansas City Star.
In nine years of writing for ESPN.com, I've called the ACL every printable name I can think of, but the "bogeyman of women's basketball" is probably the most appropriate non-profane one. Every ACL injury makes all of us women's hoops junkies feel sick – but some are crushers. Having watched this kid grow up the past four years, for me, this was at the top of the list.
However, Wecker is a monumentally tough competitor, a weight-room demon (she'll "attack" rehab) – and she had a determined resolve in her voice Sunday: "I'll get past this and be back on the floor next season." And I pointed out to her that in the same game where she got hurt was a great example of just how well you can come back from an ACL injury: Houston's Sheryl Swoopes.
The WNBA's opening weekend had its lowlights. The list was topped by Seattle-Los Angeles, which was supposed to be the showcase game to tip off the season Saturday on ABC. Apparently, though, the rims needed to be about four times larger than normal to actually allow for the expected process of the ball going through them. In second place on the lowlights list was Charlotte, clanking its way to 42 points in a loss to Washington.
It would be very cool if we didn't see shooting percentages in the 20s. (The Storm were 23.7, the Sting were 29.4. Gross.) The trifecta almost came in the late show with the Mercury "rising" to 30 percent from the field in their loss to Sacramento at Phoenix.
Saturday also had highlights, though, including rookie Kara Braxton's 8-of-10 shooting for Detroit on the way to a debut 18 points. Braxton was just 1-for-4 from the field for two points on Sunday against New York, but that's understandable. Rookies have to adjust to the back-to-back-games situations, and of course Braxton is still getting back into playing shape. When she gets there and Swin Cash returns – provided the rest of the Shock stay healthy – I don't know how anybody will beat Detroit. Even the Sparks.
The best show was Swoopes being Swoopes against San Antonio (26 points) on Saturday and Minnesota (27 points) on Sunday.
Swoopes suffered a torn ACL back in 2001, the season after she was named the WNBA Player of the Year and led the Comets to their fourth consecutive championship. Swoopes' ACL injury was another "crusher." There has always been so much grace, athleticism, artistry and confidence in Swoopes' game that she truly is a "signature" player in the sport. A season of Swoopes on the sidelines took away one of the WNBA's most dependably entertaining players to watch.
Now Swoopes is 34. Sure, there were all the trade rumors before this season. There has been talk she's not as quick, that her first step isn't the same, that age is catching up. Whatever. At least so far – with the Comets really needing a great performance, as Tina Thompson recovers from having her child – Swoopes has been terrific.
The other familiar "theme" of opening weekend was, "Well, so-and-so won't join the team until June," or "Well, she just flew in from Europe three minutes ago" or "Well, she's really not 100 percent because she's kind of banged up after playing in (fill-in-name-of-country)." The tipoff of the WNBA season overlapping the finish of various seasons overseas remains a deterrent to the league being as good a product as it could be from the start.
I've griped about this once or twice (or maybe 100,000 times) and I know there's no simple solution. It's on WNBA president Donna Orender's try-to-fix list.
Of course, if she can add "find a way to prevent any further ACL injuries," I'd really like that, too.
Mechelle Voepel of The Kansas City Star is a regular contributor to ESPN.com. She can be reached at mvoepel@kcstar.com.
espnW.com
Mechelle Voepel joined ESPN.com in 1996 and covers women's college hoops, the WNBA, the LPGA, and additional collegiate sports for espnW.
SPONSORED HEADLINES
MORE WOMEN'S BASKETBALL HEADLINES
MOST SENT STORIES ON ESPN.COM