Acronym different, but leagues very similar
Updated:
September 13, 2005, 9:27 PM ET
By
Mechelle Voepel
| Special to ESPN.com
With the WNBA Finals about to get under way, I'm still feeling a little "Solheim Cup hangover." Golf is one of the things that I cover for my newspaper, and I've been at the USA-Europe women's team competition four of the five times it has been held in the United States. It's great fun to watch and write about.
The Cup competition was in Indianapolis this past weekend, and by fortunate circumstance, I got to catch the first game of the Fever-Sun Eastern Conference Finals last Thursday in Indy, too.
Yet, the WNBA and LPGA are often linked in my mind anyway, because I'm always thinking about both the parallels and differences between them.
In the general scheme of things in the sports world, the Solheim Cup gets lost. That was the case this past weekend, with college and pro football and U.S. Open tennis. But the people who are interested know where to find it. They're plugged in. Others "accidentally" find it, and they might plug in as well.
And that's the case for the WNBA, too. This year, the league expands to a best-of-five finals. There will be a new champion in Connecticut or Sacramento. There will be interesting individual stories, and adversity to overcome because of injuries.
While the WNBA is still a youngster, the LPGA is the "grandmother" of women's professional sports, founded in 1950 by 13 women, including the legendary Babe Didrikson Zaharias.
Have you ever done anything -- maybe a term paper, a home-improvement project, an athletic endeavor -- where, once you finally finished, you looked back and said, "Wow, I'm SO glad I fought through that. But I'm also glad I didn't know when I began just how difficult it was going to be -- or I might not have had the fortitude to start it."
I've always thought about that with the LPGA. If the founders had spent much time being awed by the enormity of the long-term challenge they faced in 1950 -- economically and socially -- they might not have tried. However, they were thinking more day-to-day, let's do what we can now and see what happens.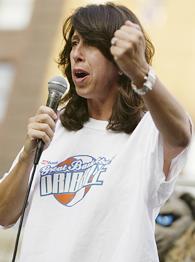 David Sherman/Getty ImagesLike first-year LPGA head Carolyn Bivens, Donna Orender is in her first year as WNBA president.
At that point, golf was one of the few socially acceptable sports for women to compete in. There are several reasons for that. But part of it, I think, was its background atmosphere as leisure for the rich.
Even for the most articulate social scientists, it can be difficult to precisely describe why societal attitudes develop toward things -- not to mention how those attitudes are reinforced differently depending on geography and economics.
But golf is a sport that still radiates privilege, specifically male privilege. In 1950 (and to a certain extent, still today) women playing golf was an extension of male privilege. It was seen in general terms as a status symbol, an activity of wives and daughters of men who could afford it. That's one of the things that made it less threatening to rigid ideas about "women's place" in sports.
However, many of the LPGA's best players of the last half-century were anything but silver-spoon born. Although there still is not even a semblance of racial diversity in terms of African-Americans (who remain virtually invisible in women's golf), the tour has always had some economic-background diversity.
For many years, golf drew white female athletes from different economic classes simply because it was one of the few competitive options. Many might have focused on other sports had there been more opportunities in them. This was the case much later than some people now probably think; I would say well into the 1970s.
I recall that after leading the United States to the 1998 Solheim Cup, Dottie Pepper, born in 1965, talked about how the Solheim was so important to her because it meant being on a team. And when she was growing up in New York state, that's what she wanted most, but didn't see much opportunity in team sports.
That's all changed, of course. And, in fact, now golf is one of those sports that misses out on some potential great players because they do other things, such as basketball or soccer or softball.
Because of how long a golf career can last, there were several players 40 and over in this past weekend's Solheim Cup competition, and they talked about "team," too. But so did the youngsters who did have multiple sports opportunities.
It's the neatest part of watching this event -- and you see this on the men's side in the Ryder Cup, too -- how much many of these individual athletes relish the chance to be "we" instead of "me" for a few times in their careers. In fact, many of them get so emotional about it, that it makes you realize that it comes from something deep in the core of humans: a desire to work together.
So ... you're wondering when I'm going to get back to hoops. Well, again, it's the "parallels and differences" stuff that's fascinating.
The LPGA is dependant upon sponsorships and fan interest, and so is the WNBA. But the LPGA has had to go it alone from the start. The WNBA has had the financial backing and marketing tools of the NBA. It's an "off-shoot" that strives to become its own full tree someday.
The LPGA was dealing with the continuing "issues" of women's sports decades before the WNBA got started. Both organizations will be doing that for the foreseeable future. Those include the lesbian issue, the "should we market by using sex appeal" issue, the "how do we tap into corporate America more" issue and the "how do we get the mainstream media to cover us responsibly and professionally" issue.
Both the LPGA and WNBA have energetic new leaders. Donna Orender is in her first year as WNBA president after spending much of her career in men's golf, helping the PGA Tour greatly increase its television exposure. This summer, Carolyn Bivens has been in the process of taking the LPGA handoff from Ty Votaw, becoming the organization's first female commissioner. Her background is in the business and marketing side of media.
As much as we always talk about athletes being role models for girls, it's worth noting that those in athletic administration are important role models for young women preparing for careers. Especially those who are transitioning from competing in athletics to the "real world" and want to stay involved some way with sports. Hint: Consider studying economics and marketing.
Finally, both the LPGA and WNBA have niche audiences with occasional forays into wider exposure. It's important not to underestimate those niches while reaching for new viewers. And it's essential not to waste time worrying about segments of the sports-viewing audience that will never be open to being interested.
Both sports continue to have breakthrough moments. The breakthroughs don't radically change things. But they do allow for more people to get exposed in a short time. And out of that group there will always be a portion that then joins the "niche" -- and makes it just keep growing bigger.
Mechelle Voepel of The Kansas City Star is a regular contributor to ESPN.com. She can be reached at mvoepel@kcstar.com.
espnW.com
Mechelle Voepel joined ESPN.com in 1996 and covers women's college hoops, the WNBA, the LPGA, and additional collegiate sports for espnW.
SPONSORED HEADLINES
MORE WOMEN'S BASKETBALL HEADLINES
MOST SENT STORIES ON ESPN.COM

STORIES FROM HUFFINGTON POST