Playoffs to pick up a notch with star-studded Finals
Updated:
August 30, 2006, 10:31 PM ET
By
Mechelle Voepel
| Special to ESPN.com
Inadvertently keeping with the theme of how injuries have impacted this WNBA season, I managed to incur one myself on the eve of the league finals.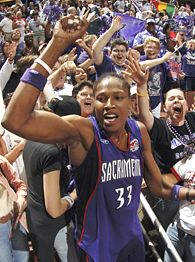 Noah Graham/NBAE via Getty ImagesThe march to the WNBA Finals for Yolanda Griffith and Sacramento has been a snooza-palooza, with the exception of one game.
I would like to say it happened during some important and strenuous test of endurance and athleticism. Such as a triathlon, or marathon, or mountain climbing, or even playing catch with my wild-throwing nephew …
Alas, I just dropped something on my foot while cleaning. The first slightly histrionic self-diagnosis was "fatal." After ice application, I cautiously upgraded myself to "critical," then "guarded," then "day-to-day."
And by around 6 p.m. Sunday, it was "game-time decision."
Thus, like a weary but resigned gunslinger of the old West, I limped to the couch at tip-off, ready to watch Game 3 of the Eastern Conference finals. There are just times when you have to play hurt.
And today, in what some fools might call a coincidence if they scoff at the strange ways of fate, my left big toe is a mixture of Sacramento Monarchs purple and Detroit Shock red and blue.
Here we go. Now the real battle begins.
With the exception of one game, Sacramento's march in the playoffs has been a snooza-palooza. In the first round, Sacramento pounded Houston as if the Comets were my toe and the Monarchs were "heavy falling object."
Then in the most exciting quarter of the playoffs thus far, Sacramento rallied against Los Angeles in Game 1 of the Western Conference finals. In Game 2, the Monarchs kept their momentum going and finished off the Sparks.
What would have happened if L.A. had a completely healthy Chamique Holdsclaw for that series? Almost certainly, things offensively would have come a little easier for Lisa Leslie. And rebounds would have come harder for the Monarchs.
But that's just the way it goes. The Sparks had a fine season; they did a lot better than I thought they would. Leslie's playoff performance was not anywhere near her standards, but that doesn't take away from another phenomenal season for her.
However, the Monarchs were clearly the superior team in both their playoff series. And you could say the same thing in the East for Detroit.
The Shock were the most disappointing team in the league in 2005, in terms of how the talent didn't add up to the results it could have. Sure, Swin Cash was not fully back from her knee injury last season, but Detroit still was better than how it actually played.
What we've seen thus far in this postseason is the real Shock. And even though Detroit ran away from Connecticut in Game 3, making for dull viewing competition-wise, the Shock's talent and persistence made the game worth watching. It's fun seeing a team reach its peak at the right time.
Sometimes, you examine things at the beginning of a season, make a projection … and it turns out absolutely nothing like you thought. For instance, in May, I believed Minnesota was going to be a playoff contender. Might as well have been hitting a tee shot into the wrong fairway -- or even a different golf course -- for how accurate that assumption was.
However, Detroit on paper added up as a potential champion back in May. Which is why in these infernal "pick-the-winner" things we have to do, I chose the Shock to win it all in 2006.
One of the hardest things about projections, of course, is that you have no idea how injuries/illness will affect each team. There's always a bit of luck that goes along with winning any championship in any sport, stuff like no one turning an ankle at the wrong time. In the case of the Shock, all the key parts have stayed relatively healthy throughout the summer and now into the playoffs.
In one of the more amusing moments of Game 3 -- unless you are a Sun fan -- the Shock's Deanna Nolan went the length of the court for a layup just before halftime. She has some hip issues, and yet zoomed end-to-end in cartoon-character speed. Yeah, that was the "hobbled" version of Nolan.
Meanwhile in Sacramento, DeMya Walker has worked very hard to come back from giving birth in April. And while she can't be expected to be at the same level she was in last season's playoffs, Walker is so confounding to guard inside that even at less-than 100 percent, she can be quite effective.
Defenders have a difficult time knowing just how Walker is going to attack the basket because she often doesn't know until she does it.
Somehow, Sacramento center Yolanda Griffith keeps forgetting her knees are about 20 years older than she is, and so she continues getting those big rebounds. Yet Detroit provides the biggest challenge in that department of any team in the league.
There's a lot of experience and "want-to" with both of these starting lineups. And a great deal of past success. All five of the Monarchs were on last season's championship team. Four of the Shock's starting five played for the 2003 WNBA champs; the one who didn't, Katie Smith, won two ABL titles and has two Olympic gold medals.
So will this series come down to how each team's bench performs? That's certainly a possibility.
For Detroit, 6-foot-6 Kara Braxton can be a devastating force when she's emotionally dialed in and playing hard. That was very evident in Game 3, and it was great to see. In college, Plenette Pierson was one of the most effective defenders in the country because her size and lateral mobility combined to allow her to match up with posts and guards equally well. Now in the WNBA, that's an even bigger asset, and Pierson is also a very capable offensive threat. She has to be careful, though, of trying to do too much in situations and not being careful with the ball.
Meanwhile, the Monarchs have Erin Buescher, who was selected as the league's most improved player, Scholanda Dorrell, Rebekkah Brunson, Hamchetou Maiga-Ba and Kristin Haynie -- who returns to familiar territory for Games 1 and 2 after four years at Michigan State -- as players who potentially will have impact off the bench. Considering that rebounding might be the single biggest deciding factor in this series, the 6-3 Brunson, especially, really has to maximize her ability on the boards any time she's on the court.
As a whole, the playoffs have been so-so, at best, in terms of compelling games. But I think that will change in the finals. The two teams playing the best at season's end are the ones that made it through.
Mechelle Voepel of The Kansas City Star is a regular contributor to ESPN.com. She can be reached at mvoepel123@yahoo.com.
espnW.com
Mechelle Voepel joined ESPN.com in 1996 and covers women's college hoops, the WNBA, the LPGA, and additional collegiate sports for espnW.
MORE WOMEN'S BASKETBALL HEADLINES

MOST SENT STORIES ON ESPN.COM