Detroit's Lady Dogs need to impact Game 2
Updated:
September 2, 2006, 2:00 AM ET
By
Mechelle Voepel
| Special to ESPN.com
AUBURN HILLS, Mich. -- Detroit Shock center Kara Braxton recently called her former college coach, Georgia's Andy Landers, and asked if he was coming to watch the WNBA playoffs.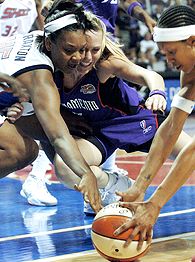 AP Photo/Jerry S. MendozaDetroit's Kara Braxton, left, has struggled with consistency and needs to make an impact when she gets her minutes.
Landers teased her, saying, "Well, everybody's in the playoffs. Make the finals and maybe I'll think about it."
You might be thinking, "Wait a second … Braxton and Landers still talk?"
Yes, they do. Braxton had a rocky time at Georgia; she was suspended four times in three seasons. The last one was permanent, coming in February 2004. In January of the next year, Braxton gave birth to a son, and then Detroit selected her in the 2005 WNBA draft a few months later.
There was never any doubt Braxton had a ton of ability to go along with the advantage of being 6-foot-6. And Landers says it wasn't that he and Braxton didn't get along.
"We had a good relationship, and we didn't differ on how things ought to be done," Landers said. "In fact, I'm not sure we ever did differ on that. But the tough thing for her was the thing that was always Kedra's strength: focus."
He's referring to one of the other former Georgia players on the Shock, Kedra Holland-Corn. The third is Deanna "Tweety" Nolan.
Nolan starts for the Shock, and if she's not the most athletic player in the WNBA, she's at least tied for that honor. Braxton is an important player off the bench, but she has been inconsistent. Holland-Corn averaged 8.1 points for the Shock during the 2003 playoffs when Detroit won the WNBA title. She then went to Houston in 2004, didn't play in the WNBA last season and signed on as a free agent with the Shock for 2006. She's in a reserve roll now.
Detroit certainly could use a lift from its Georgia connection in Game 2 of the finals. Nolan simply has to play well for the Shock to win. Braxton needs to make an impact when she gets her minutes. And whether Holland-Corn plays, she's an emotional spark plug for the team, a veteran who tries to keep her teammates in a positive mind-set.
For Landers, there's a certain amount of pride in watching his former Georgia players who have made it at the pro level. The two greatest players he has had, Teresa Edwards and Katrina McClain, were at their post-collegiate peaks before the WNBA existed. Edwards played in the league near the end of her competitive career.
"I have a really deep appreciation for the opportunities that these women have now, because the others didn't," Landers said. "The foreign opportunities they had back then were truly foreign to us. We went totally on the word of agents. It was a telephone hookup with the players, who agreed to go someplace sight unseen. Their courage was great, and they pursued basketball wherever it took them. They didn't know the language or the people or the customs a lot of the time, but they wanted to play."
"People say it all the time now about a lot of players, but [Deanna Nolan] really is like a female Michael Jordan. She needs to play that way."
-- Andy Landers, who coached Nolan in college at Georgia
Now, obviously, Landers has the chance to watch the development of several of his former players in the WNBA. Along with the trio in Detroit, the following Georgia alums played in the WNBA this season: twins Kelly Miller (Indiana) and Coco Miller (Washington), Sherill Baker and Kiesha Brown (both New York), and Christi Thomas (Los Angeles).
And, Landers added, his first All-American, Bernadette Locke Mattox, is an assistant coach for the Connecticut Sun. Plus, Lady Hardmon Grooms is a scout for Sacramento, having played seven seasons with the Monarchs.
Georgia has never won an NCAA title. No program has gotten closer more times -- five trips to the NCAA Final Four -- and not won it all. But if that's the "hole" in Landers' coaching career, it has been more than compensated for by the impact his players have made and continue to make in the basketball world. And by how he maintains ties with them.
"My relationship with Andy is really good; he's a great guy," Braxton said. "When he's on the court, he means business. He's a mentor to me, still."
Braxton said she told Landers that if she doesn't go overseas right away after the WNBA season ends, she wants to come to Georgia and work out.
"When I was there, I was in top shape," Braxton said. "Coming off not playing for a year, and then having my son, I'm still not where I want to be even after playing two seasons [in the WNBA]. I know he can put me in the place I need to be."
Braxton was talking about this after the Shock's practice Thursday, and Holland-Corn walked past her. Braxton joked about the "three-mile runs" at Georgia, to which Holland-Corn said, "Yeah, we all puked as freshmen."
What Landers remembers, though, is that in the summer between Holland-Corn's freshmen and sophomore seasons, she worked as hard as any player he has ever had.
"Kedra was like Elvis," Landers said. "There were sightings of her everywhere."
Landers said people around the athletic department were constantly commenting to him that they'd seen "one of his players" out running far from campus, playing pickup, on the track, in the weight room.
"I'd say, 'Who was it?' And every time, it was Kedra," he said.
Holland-Corn was part of that great Georgia group in the mid-1990s, which included La'Keshia Frett, Tracy Henderson and Saudia Roundtree. They went to the Final Four in 1995 and '96. It really should have been "their" year in 1996, but a little obstacle called Tennessee got in the way in the title game, just as it had the year before in the national semifinals.
"Coach is someone who stays on you and stays on you, and that prepared me for the challenges I've faced as a professional player," Holland-Corn said of Landers. "He also instilled in me to never take the game for granted. It's a gift and a blessing to play this game. If you're going to play, play as hard as you can. I give him a lot of credit for that."
The next Georgia team to make the Final Four, in 1999, included Nolan. The Miller twins were also on that team. Landers said Nolan came to college with a world of potential.
"There were two things that Tweet needed when she got here to Georgia," Landers said. "First was an improved work ethic, to embrace 'tough.' She made strides in that. And, second, she needed to extend her range. In high school, she took it to the rack a lot because, hey, who was going to stop her then? Her range wasn't very good. But she had the nice stroke, so you knew it was just a matter of her doing it.
"You run into that with great athletes a lot. So we worked hard on shooting and range. Not form, because she had that naturally. I've seen it develop over the years to the point where I think she uses it too much. Sometimes she settles for something when she could go to the rim.
"People say it all the time now about a lot of players, but Tweet really is like a female Michael Jordan. She needs to play that way."
Obviously, Landers would be thrilled to see the Shock win another title. But overall, just seeing former players in the WNBA provides him with something he relishes.
"The best part is you're watching people live their dream," he said. "To play in the WNBA was what these players strived for, and now they're doing it."
Mechelle Voepel of The Kansas City Star is a regular contributor to ESPN.com. She can be reached at mvoepel123@yahoo.com.
espnW.com
Mechelle Voepel joined ESPN.com in 1996 and covers women's college hoops, the WNBA, the LPGA, and additional collegiate sports for espnW.
MORE WOMEN'S BASKETBALL HEADLINES

MOST SENT STORIES ON ESPN.COM