Commentary
A lot of questions for Detroit as the season ends
Updated:
September 17, 2007, 2:10 PM ET
By
Mechelle Voepel
| Special to ESPN.com
AUBURN HILLS, Mich. -- Cheryl Ford had the giant bags of ice taped on her knees. Swin Cash hadn't gotten the cold stuff affixed to her back yet, but it was coming.
All season, two of Detroit's stars played through pain. And when the end came Sunday -- a 108-92 loss on their home court to Phoenix in Game 5 of the WNBA Finals -- it hurt worse than ever. Ford had left knee problems of one kind or another all season. She sat out much of the second half of the regular season and returned for the playoffs. She was never 100 percent or close to it, and after spraining the knee in Thursday's Game 4 loss, Ford was not at all certain to play Sunday. She did, coming off the bench for 11 minutes, getting four points and two rebounds. And a technical, as she let loose a few words on one of the officials. Cash played nearly 25 minutes and had nine points, three rebounds and two assists. Now, neither is completely sure what the next several months will bring. Both need to rest their injuries the next several weeks. But they want a chance to make the U.S. Olympic team next summer. However, neither is sure she will be involved with the national team's college tour from Oct. 31 to Nov. 15. "Disappointed, mad, angry, all of the above," Ford said of what she was feeling in a quiet Detroit locker room Sunday. "I don't know what else to say. We didn't get the job done." Ford described her knee as "pretty painful," but said she knew she was needed by her teammates.
| | | |
| --- | --- | --- |
| | " | The one struggle with Bill [Laimbeer] and I is that he sees how usually I'm really physical or how I attack. And if I'm not that quick to do that, I know that frustrates him. But at the same time, you know, you have to imagine what's going on inside of me, the frustration I'm dealing with. But I'm giving my all any time I'm out there. … But please believe every time I step on that floor, it's to help my team win. " |
| | | — Detroit's Swin Cash |
"I couldn't help them a lot," Ford said. "But I tried." Laimbeer had said after Thursday's game he was "extremely pessimistic" about Ford's chances of playing Sunday, and he praised her effort. "She went out there and did what she did and played through it," he said. "She's got the biggest heart in the world, and I give her a tremendous amount of credit. She can play on my team any day of the week." Meanwhile, Cash has a herniated disk, and it causes pain to shoot down her leg. She said early in this series, "There are scary moments, because you don't want it to flare up now where you can't really move. That concerns me, but I keep pushing." She acknowledged, though, that it did cut back to some degree on the physical style she is accustomed to playing. She will need at least six weeks of complete rest now, and if that doesn't work, she'll have to look at other options. With neither Ford nor Cash near her best, the inside "advantage" that Detroit seemed to have coming into the Finals against Phoenix never fully panned out. It was a factor in Game 1, really the only contest of this series when it seemed 6-foot-6 center Kara Braxton truly exploited her size and talent. The 6-8 Katie Feenstra did a reasonable job with the minutes she got. Sixth woman of the year Plenette Pierson was very good in the first and fourth games, nearly winning the latter by herself. She also performed well in the third game. But Sunday, Pierson just never seemed in the flow, finishing with four points and four rebounds. And the elbow to the forehead she got late in the game from a rebounding Diana Taurasi -- it did seem inadvertent -- was both insult and injury. These Finals will burn with Pierson, you can be sure of that.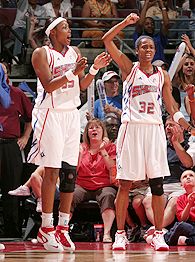 D. Lippitt/Einstein/NBAE via Getty ImagesCheyrl Ford (knee) and Swin Cash (back) were both limited in the playoffs by injuries.
Phoenix's Penny Taylor said coach Paul Westhead told his team that Detroit would not be able to win Game 5 with its perimeter game alone, and he was right. Deanna Nolan finished with 27 points and Katie Smith 18 -- they combined for nine of Detroit's 13 3-pointers -- but the interior didn't come through. "We weren't aggressively posting up and just saying, 'Give me the basketball,'" Laimbeer said. "[When] we got the basketball, we didn't attack the rim. Or we didn't convert when we
did
attack the rim." And that will be a lingering frustration for Ford and Cash, in particular. Cash was in her second season in the league and Ford was a rookie when the Shock won their first title, in 2003. Last year, Ford blossomed enough to get an invitation to join the U.S. national team at the World Championship. She went to the event in Brazil soon after the Shock won the WNBA title. And Cash survived an obviously tumultuous relationship with Laimbeer as she helped Detroit secure its second trophy. Cash is a team captain, owns a home in Detroit and has strong ties to the community here … but the word is that "Trader Bill" has tried hard to deal Cash. Her salary is a big part of what made it difficult to do so, and Cash came back with the Shock for another title run. She and Laimbeer are really no closer to seeing eye to eye, though. Laimbeer thinks Cash does not produce as consistently as she should. Cash thinks Laimbeer doesn't respect her. She talked about that earlier in the Finals. "The one struggle with Bill and I is that he sees how usually I'm really physical or how I attack. And if I'm not that quick to do that, I know that frustrates him," Cash said last week of the effects of her back problems. "But at the same time, you know, you have to imagine what's going on inside of me, the frustration I'm dealing with. "But I'm giving my all any time I'm out there. Sometimes, that's not enough for what our team needs right now … but please believe every time I step on that floor, it's to help my team win." Cash joked, ruefully, that her back pain had been debilitating enough that she has rarely even been shopping this summer. "I'm usually up-to-date on all the newest fashion," she said. "But I haven't been able to just go to the mall and look around. I have to rest. So my social life has been messed up, but if we win this championship, it will be all worthwhile." That didn't happen, and Cash looked forlorn after Sunday's loss. Detroit had come so close. The one-point loss Thursday, which would have given the Shock the title, now seemed all the more anguishing. And the aches of the season weighed more heavily on her than they had all summer. "I can deal with the physical pain," Cash said. "But the emotional pain I've had to deal with this season … winning the championship could make everything OK. But now, it makes it all worse. "I think this is the best organization in the league, the best fans, and I feel like the city adopted me when I came here in 2003. I'll never forget that. I want to thank the people here … and I feel this is like my home. But at the same time, you have to be happy, and it was emotional this year. If you aren't respected by the people above you, the happiness is not there, and you have to re-evaluate your situation." How much of this entire team will return in 2008 is up for speculation. Laimbeer didn't want to get into that, understandably, after Sunday's loss. "I told our players we have no idea what's going to happen because of the collective bargaining agreement," Laimbeer said. "Every team in this league has multiple free agents. We happen to have three unrestricted free agents [Nolan, Smith and Cash] and two restricted free agents [Ford and Pierson]. And they are all starters. "So it's a wide-open situation … not only what our team will look like, but other teams. Also, is there an expansion? There are so many questions marks out there for next season. However, we do have a great nucleus of very talented players. And I think our future is very bright."
Mechelle Voepel of The Kansas City Star is a regular contributor to ESPN.com. She can be reached at mvoepel123@yahoo.com.
espnW.com
Mechelle Voepel joined ESPN.com in 1996 and covers women's college hoops, the WNBA, the LPGA, and additional collegiate sports for espnW.
WNBA PLAYOFFS

The Mercury won their first league championship, beating Detroit 3-2 in the WNBA Finals.
WNBA Finals
•
Voepel: Trio in perfect harmony for Phoenix
•
Game 5: Phoenix 108, at Detroit 92
|
Watch

•
Voepel: Different styles to clash in Game 5
•
Voepel: Finals to go distance again
•
Voepel: Ford's status questionable
•
Game 4: At Phoenix 77, Detroit 76
|
Watch

•
Voepel: Mercury's back against the wall
•
Voepel: The big hit (or not)
•
Voepel: Smith, Nolan up to challenge again
•
Voepel: As the Finals turn …
•
Game 3: Detroit 88, at Phoenix 83
|
Watch

•
Voepel: Taylor-made Mercury
•
Voepe: 6-8 Feenstra finds right fit with Shock
•
Voepel: Detroit lacks heart, willpower in Game 2
•
Voepel: Shock can't keep up with Mercury, Miller
•
Game 2: Phoenix 98, at Detroit 70
|
Watch

•
Voepel: Finally, Nolan knows how good she is
•
Voepel: Tangela Smith still making impact
•
Voepel: Detroit makes big opening statement
•
Voepel: Frustrated Phoenix must regroup
•
Game 1: At Detroit 108, Phoenix
|
Watch

•
Lieberman: Katie Smith vs. Diana Taurasi
•
Experts: Mercury will win championship
•
Voepel: Bad Girls vs. Desert Dynamos
Conference Finals
•
Experts: Smith, Nolan keys to Detroit Game 2 win
•
Voepel: Pondexter points Phoenix to WNBA Finals
•
Voepel: Hammon's special season comes to end
•
Voepel: Shock frustrated with Game 1 officials
•
Voepel: Silver Stars seek to slow down Mercury
•
Voepel: Crossley no stranger to controversial end
•
Lieberman: Why Indiana can beat Detroit
•
Hays: Rebounding, treys to determine East
•
Experts split on East finals favorite
•
Lieberman: West finals X factors
•
Experts: Mercury are West finals favorite
First Round
•
Voepel: Shock take fight out of Liberty
•
Voepel: Fantastic fights to the finish
•
Hays: Fever pull off greatest playoff comeback
•
Voepel: Lots of star power left in Ferdinand-Harris
•
Hays: DeForge the star, Catchings the catalyst
•
Voepel: McCarville leads Liberty past Shock
•
Hays: Sun just good enough to win Game 1
•
Voepel: 'Hammon Effect' leads San Antonio
•
Experts split on Shock, Mercury as favorites
•
Hays: Shock-Liberty preview
•
Hays: Fever-Sun preview
•
Lieberman: First-round X factors
Results
•
Complete schedule
WNBA.com
•
Complete playoff coverage
•
Playoff player blogs

MOST SENT STORIES ON ESPN.COM