Commentary
Monarchs lose despite Penicheiro's best efforts
For all she has brought to her team over the years, Sacramento's Ticha Penicheiro still has one particular way of really surprising people. Um … that would be when she hits a 3-pointer.
[+] Enlarge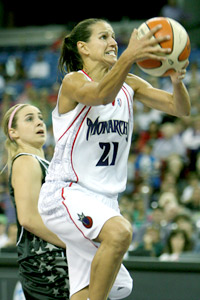 AP Photo/Steve YeaterTicha Penicheiro doubled her scoring average (8.6 ppg) with 19 points. But the Monarchs still fell 85-78 to San Antonio.
She did it Thursday in the Monarchs' playoff opener against San Antonio. Such a rarity usually prompts the question, "Am I in dire need of optical attention … or did Ticha really just make a 3?"
Yes, she did; it was her ninth all season. But San Antonio's Becky Hammon made six Thursday; her total this season is 83. And the Silver Stars won 85-78 in what could be the Monarchs' last game of the season at Arco Arena. The series shifts to San Antonio, where Hammon's crew lost just twice during the regular season.
Meanwhile for those Big Apple fans who still feel an affinity for Hammon, it was a particularly good night. Because earlier, New York beat Connecticut 72-63 and put the Sun on the defensive for their series.
While Hammon's performance -- 30 points on 9-of-14 shooting and four assists -- was the finest of the first night of the WNBA playoffs, Penicheiro's effort was one of the most character-showing games of her career.
On her 34th birthday, she had 19 points -- 11 coming in a fourth quarter, when the Monarchs almost yanked away what had appeared a certain victory for the Silver Stars. Penicheiro also added seven assists, which is not so easy to do when the post player you found for so many years (Yolanda Griffith) is now with Seattle and the top one you currently have on your team (Rebekkah Brunson) is hurt and out of the playoffs.
Liberty Take Lead On Sun
The Liberty were in this same position a year ago -- having won the first game of the conference semifinals. Then in the second and third games, New York was oh-so-close to upsetting the Shock in the series, but lost 76-73 and 71-70 at The Palace at Auburn Hills.
All that indicated maturation for a New York team that, a season later, is still young. And drawing on that experience could be enough for the Liberty, who neutralized Connecticut's guard play in the opener.
-- Mechelle Voepel
With DeMya Walker doing the best she can after coming back from a knee injury, the Monarchs are a patchwork post team. And the scoring tandem of forward Nicole Powell (16 points) and guard Kara Lawson (7) wasn't effective enough. Which meant that Penicheiro had to do what she doesn't necessarily do best: score herself.
For her career, of course, she has been Ticha Tablesetter, often with that extra flair akin to being able to expertly yank the cloth out from under the plates and utensils. She now has 2,030 assists in 11 seasons. At 5 feet, 10 inches and with court vision that ranks among the upper echelon in women's hoops history, Penicheiro's value is measured by the fact that she always does well some of everything.
Assists, of course, but also rebounds and steals, deflections and defensive stops. And some points, too.
But she's not the player you expect to see very often as Sacramento's scoring leader. And, in fact, when she is that, it's often an indicator that something's not quite right with the Monarchs.
[+] Enlarge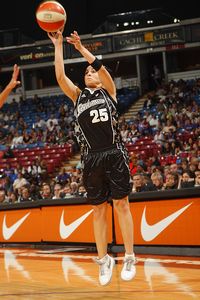 Rocky Widner/Getty ImagesBecky Hammon hit six 3-pointers en route to 30 points and a Game 1 win for San Antonio, which will host Game 2 and, if necessary, Game 3.
In contrast is Hammon, a true scorer who had to hone better point-guard skills to fit in that role. Hammon's 3-point shot is to Penicheiro's what the solid chocolate rabbit is to the hollow bunny. One you just see as smooth, silky sweetness … and the other, unfortunately, usually looks pretty junky. None of this is meant to be disparaging toward Penicheiro. To the contrary, her longevity in a starting role for more than a decade in the WNBA is a testament to how much she brings in so many different ways.
Thursday, though, it wasn't enough against a Silver Stars team that now goes back to Texas looking to put a quick end to the Monarchs.
Still, this game was a reminder of what has been so admirable about Penicheiro, the passer who on this night did the best she could "passing" as a big scorer.
Mechelle Voepel of The Kansas City Star is a regular contributor to ESPN.com. She can be reached at mvoepel123@yahoo.com.
espnW.com
Mechelle Voepel joined ESPN.com in 1996 and covers women's college hoops, the WNBA, the LPGA, and additional collegiate sports for espnW.
SPONSORED HEADLINES
MORE WOMEN'S BASKETBALL HEADLINES
MOST SENT STORIES ON ESPN.COM
WNBA Playoffs

Mechelle Voepel tracks Detroit's sweep of San Antonio and run to the 2008 WNBA title, the franchise's third crown.
WNBA Finals
•
Shock overcome odds for third title in six years
•
Hammon keeps head up after loss
•
Silver Stars look to even WNBA Finals
•
Season already a win-win for Wauters
•
Ford, Pierson press on from bench
•
Detroit stymies San Antonio comeback
•
Game 1 notebook
•
WNBA Finals features fantastic matchup
Video Highlights
•
Shock sweep Silver Stars for third crown

•
Shock top Silver Stars for 2-0 lead in finals

•
Shock steal homecourt advantage in finals

•
Shock advance to third straight WNBA Finals

•
Silver Stars nip L.A. to reach first WNBA Finals

Conference Finals
•
Taj, Shock knock off New York
•
Hammon's heroics lead to WNBA Finals
•
Young's buzzer-beater lifts San Antonio
•
Depleted post game helps sink Detroit
•
LSU grads give Los Angeles the edge
Conference Semifinals
•
Unlikely heroes step up
•
Swoopes, Catchings rise to occasion
•
Does New York have next?
•
Detroit hot, Indiana not in East opener
•
Monarchs lose despite Penicheiro's play
Results
•
Complete schedule
WNBA.com
•
Complete playoff coverage