Commentary
Hammon, Silver Stars keep heads up after loss
YPSILANTI, Mich. -- It was about this time a year ago that Becky Hammon was sitting just like this with her feet in a bucket and ice on her legs, her eyes showing weariness. That was in Phoenix at the 2007 Western Conference finals.
This time, it was in Eastern Michigan's Convocation Center. Her Silver Stars had just been defeated 76-60 by Detroit in a WNBA Finals sweep, and Hammon didn't have to deny the obvious anymore. Yes, she was exhausted, and the injury factor at guard -- going all the way back to May, when the Silver Stars had lost their other big 3-point threat, Shanna Crossley, for the season -- really did hurt San Antonio.
"You could sit there and say you've got gas in the tank all you want," said Hammon, who soon will head to Russia for her next season there. "But there is a part of reality you can't deny."
That said, Hammon stressed giving Detroit its due, especially veterans Taj McWilliams-Franklin and Katie Smith. "I thought Taj and Katie were sensational for them," Hammon said. "Taj completely changes the dynamics for that team, her ability to step out and hit 17-footers. They've got all-stars everywhere."
Still, no matter how good the Shock were, the Silver Stars' offensive shortcomings and their inability to stop big runs by Detroit were weaknesses that bothered Hammon.
"We just did not play well enough to win the series," she said. "It's about peaking at the right time, and we might have peaked a little too early. We had a great end of the [regular] season. We had our hands full with Sacramento and L.A. [in earlier rounds of the playoffs]. We had to work extremely hard just to get here."
Then Hammon smiled, remembering that a year ago, she'd been talking about "next year" after losing in the Western Conference finals. This year, the Silver Stars had gone one round further.
[+] Enlarge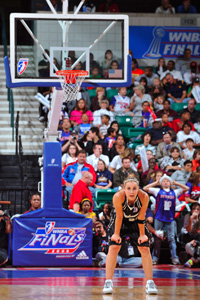 David Dow/Getty ImagesBecky Hammon shot 1-for-10 for five points in Sunday's decisive Game 3 loss.
"It looks like we're going to have to do this thing in stages," she said of her hope of the Silver Stars winning a WNBA title. "This was another step."
Then Hammon laughed a little, despite her sadness that this season had ended short of a championship.
"Maybe Katie Smith wants to retire," she said.
Sunday's loss ended one more chapter in the riveting book that has been Hammon's year thus far. Her decision to play for Russia in the Olympics earned her a lot of media scrutiny and some criticism. But she'll look back on 2008 as a time she cherishes.
"Honestly, it's been one long growth process for me," she said. "There have been lots of lessons, lots of grace. It's all about becoming the woman that you're supposed to be, really. And I'm a work in progress. But I believe that is the bigger picture."
A parallel, she added, could be made to the Silver Stars, a franchise trying to build toward the ultimate success.
They made further progress this season with the continued blossoming of Sophia Young, the return to the WNBA of Ann Wauters, the return of Erin Buescher from an ACL injury that cut short her 2007 season, the continued effectiveness of Vickie Johnson at age 36 and the coaching philosophy of Dan Hughes, which instills confidence in his players.
San Antonio had the greatest single moment of the WNBA season (short of winning the title) when Young hit an improbable last-second shot to beat Los Angeles in Game 2 of the West finals. Such moments of misery-to-joy-in-a-heartbeat are the true gold of an athletic career.
"To play with these players has been very inspiring," Young said. "I have next season to look forward to. There is always something you can add to your game, and there are things I'm going to work on overseas.
"It's been a tremendous season, and I had fun. I love the league and the competition. I love my job. I love going to work every day."
You observe the Silver Stars on the court and in the locker room, and in terms of team chemistry, friendship and bonds, they remind you more of a college team than a pro team. And, yes, that's a big compliment.
"There's a way to step off the court gracefully and hold your head high," Hammon said. "They beat us. Does it stink? Yeah. But in no way can you let a loss take your character or your integrity."
One little moment at the end of Sunday's game told a lot about what Hammon was referring to. A pass was kicked out of bounds, one of those weird ricochets that zinged into press row and could have left somebody with a stinging shot to the face.
And Buescher, despite being at the end of a disappointing game and series for her team, still went over to the guy the ball had flown at and asked, "Are you OK?"
She wasn't even the one who had kicked it.
"I love this team," Hammon said. "I believe this team does things right."
Mechelle Voepel of The Kansas City Star is a regular contributor to ESPN.com. She can be reached at mvoepel123@yahoo.com.
espnW.com
Mechelle Voepel joined ESPN.com in 1996 and covers women's college hoops, the WNBA, the LPGA, and additional collegiate sports for espnW.
WNBA Playoffs

Mechelle Voepel tracks Detroit's sweep of San Antonio and run to the 2008 WNBA title, the franchise's third crown.
WNBA Finals
•
Shock overcome odds for third title in six years
•
Hammon keeps head up after loss
•
Silver Stars look to even WNBA Finals
•
Season already a win-win for Wauters
•
Ford, Pierson press on from bench
•
Detroit stymies San Antonio comeback
•
Game 1 notebook
•
WNBA Finals features fantastic matchup
Video Highlights
•
Shock sweep Silver Stars for third crown

•
Shock top Silver Stars for 2-0 lead in finals

•
Shock steal homecourt advantage in finals

•
Shock advance to third straight WNBA Finals

•
Silver Stars nip L.A. to reach first WNBA Finals

Conference Finals
•
Taj, Shock knock off New York
•
Hammon's heroics lead to WNBA Finals
•
Young's buzzer-beater lifts San Antonio
•
Depleted post game helps sink Detroit
•
LSU grads give Los Angeles the edge
Conference Semifinals
•
Unlikely heroes step up
•
Swoopes, Catchings rise to occasion
•
Does New York have next?
•
Detroit hot, Indiana not in East opener
•
Monarchs lose despite Penicheiro's play
Results
•
Complete schedule
WNBA.com
•
Complete playoff coverage
MORE WOMEN'S BASKETBALL HEADLINES

MOST SENT STORIES ON ESPN.COM