Commentary
Defending champ Shock still on top
Originally Published:
June 5, 2009
By
Mechelle Voepel
| Special to ESPN.com
UConn coach Geno Auriemma has said it's hard not to look back with a bit of "greedy" regret at a national semifinal loss in 2001. Because that kept his Huskies program from a chance at winning five NCAA tournament titles in a row.
For Detroit Shock coach Bill Laimbeer, the year that still bugs him a little is 2007. The Shock had two chances to close out their WNBA finals series with Phoenix, but ended up losing the championship to the Mercury.
[+] Enlarge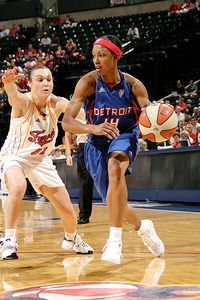 Ron Hoskins/NBAE via Getty ImagesDeanna Nolan and Detroit won their third WNBA title in 2008.
If Detroit had won, last year would have been a three-peat. And this year, the Shock would be trying to match the now-defunct Houston franchise with four titles in a row.
Now, having brought up that coaching comparison … wouldn't it be fun to see Auriemma go against Laimbeer? Don't know what kind of parallel universe such a matchup could be in, but it's kind of amusing to think about nonetheless.
Giant Bill vs. um, no-so-giant Geno. Lots of moves and countermoves. Constant chess-playing. A fair amount of yelling. If you were sitting near the benches, you'd probably need to cover your ears if you were allergic to any naughty words.
If things got too heated, assistants Chris Dailey and Rick Mahorn would calm everyone down. (Pause.) OK, maybe not Mahorn … he might want to sit out future attempts at peacekeeping. Oh, and Laimbeer would need to avoid any snarky comments about former Shock player Swin Cash, or he'd see the tiger come out in Dailey. She's pretty protective of her UConn girls.
Of course, Auriemma and Laimbeer exist in different worlds, but they're alike in several ways. They're both instinctive judges of talent. They're very good at figuring out beneficial matchups and adjusting strategies several times, if needed, during games. And they like to talk, you know, just a little bit.
Oh, and they also never shy away from the "favorite" tag. Neither tries to cloak his team in the "underdog" armor or lower expectations. It's more like "Yeah, sure we're good. See if you can beat us."
Auriemma is the coach of the reigning Division I champions and Laimbeer has that mantle in the WNBA, with the pro league set to start its 13th season this weekend. Laimbeer and his dear friend, Sparks coach Michael Cooper, face off in Los Angeles on Saturday (ABC, 2:30 p.m. ET).
Detroit-L.A. is the closest thing the WNBA has to UConn-Tennessee … except the Shock and Sparks actually have to play each other.
One of the amusing things about the Shock-Sparks rivalry is that Laimbeer and Cooper dislike each other just the right amount that they actually talk openly about it. Sometimes if people utterly loathe each other to the point of distraction, both tend to deny and avoid it. Or if they only mildly dislike each other, they fib and claim they're friends.
With Laimbeer and Coop, it's pretty much a mutual sneer, and that's when they're trying to be nice to each other. Last season's on-court Detroit-L.A. fracas came as a total surprise to … no one, and it's not likely there will be any hugs exchanged between the two teams this season, either.
The league's general managers picked the Shock and Sparks to meet for the WNBA championship. If so, it would be Detroit's fifth trip to the finals, all under Laimbeer.
"Every year I've been in the league, it's gotten bigger, faster, stronger," he said. "The depth is bursting on every team."
Yet even so, Laimbeer has kept the Shock as a consistent contender. He has been both coach and architect of the franchise. And he has kept a nucleus together that returns this season, led by the guard play of Deanna Nolan and Katie Smith, the inside power of Cheryl Ford and Kara Braxton, and the intensity of sixth woman Plenette Pierson.
(Although Ford and Braxton are both currently sidelined to start the season. According to the Detroit Free Press, Ford has had a setback with her knee injury, and Braxton is serving a league-ordered six-game suspension for an undisclosed issue.)
After Ford was injured last season while trying to calm things down in the fight with L.A., Detroit made a trade with Washington for Taj McWilliams-Franklin. One of the league's veteran favorites who had never previously won a WNBA title, McWilliams-Franklin became a key part of the team that ended up sweeping San Antonio in the finals.
It was yet another brilliant move by Laimbeer, who robbed Minnesota blind in 2005 when he traded to get Smith. But the other aspect of that move was how Laimbeer was able to inspire Smith to drop pounds and improve her endurance after she arrived in Detroit. She embraced that, and credits her ultra-fitness for her play last season, when she was the finals MVP and looked fresh even after competing in the Olympics.
Smith, who turned 35 this week, is in her 11th WNBA season. Nolan, who turns 30 in August, has spent all eight years of her WNBA career in Detroit. They have young guards to mentor in second-year player Alexis Hornbuckle, who was an important contributor to the title last season, and rookie Shavonte Zellous.
"Anybody who wins a championship, you do have a target on your back," Smith said. "It's something you have to deal with, and the key is consistency, coming to play every night.
"Every team in this league is talented, and mentally, you have to not get too high and not too low when you face that."
Hmmm … that sounds a lot like what the UConn Huskies said this past college season, when they took one consistent step after another toward eventual perfection.
The Shock aren't looking for a perfect season, of course. And Detroit's not the prohibitive favorite, the way UConn was. But the Shock are definitely one of the favorites -- again -- and ready for all comers.
Mechelle Voepel, a regular contributor to ESPN.com, can be reached at mvoepel123@yahoo.com. Read her blog at http://voepel.wordpress.com or follow her at http://www.twitter.com/MechelleV.
espnW.com
Mechelle Voepel joined ESPN.com in 1996 and covers women's college hoops, the WNBA, the LPGA, and additional collegiate sports for espnW.
SPONSORED HEADLINES
MORE WOMEN'S BASKETBALL HEADLINES
MOST SENT STORIES ON ESPN.COM