Commentary
Fever now 5-0 vs. Mystics in '09
Catchings' 26 points, 12 rebounds help carry Indiana to 1-0 lead in East semifinals
Originally Published:
September 17, 2009
By
Mechelle Voepel
| Special to ESPN.com
Tamika Catchings talked earlier this summer about having her kettle on "boil" all of the time. It would be that way no matter what had happened in her basketball career, because that's just the way she is wired.
Still, some sense of unfinished business always fuels Catchings. She has an NCAA championship, but that was 11 years ago, when she was just a freshman at Tennessee. The seasons that followed brought an upset loss to Duke in the Elite Eight, a national title game loss to UConn and an ACL injury that ended her senior season prematurely.
She has two Olympic gold medals, and has won titles overseas in Korea. But the WNBA championship would mean a great deal to Catchings, who has never even had the chance to play in the league finals.
Thursday, she and the Indiana Fever took the first step in that direction in the 2009 postseason, putting together a powerful fourth quarter to beat Washington 88-79.
It sends the Fever back to Indianapolis -- a city hit Wednesday by the deaths of Pacers/Fever co-owner Mel Simon and NCAA president Myles Brand -- to try to close out the first-round series Saturday (7 p.m. ET).
Catchings, one of the top candidates for MVP this season, had the kind of game that has been her signature: doing everything well. She had 26 points, 12 rebounds, three assists, one steal and one block.
She's perennially a favorite for defensive player of the year, and led the way when the Fever needed to knuckle down in the final quarter. It was almost as if top-seeded Indiana remembered, "Hey, we're the favorites here," and acted that way. A 17-3 Fever run turned the game to Indy's favor.
[+] Enlarge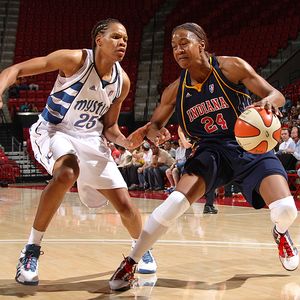 Ned Dishman/NBAE/Getty ImagesTamika Catchings' 26 points and 12 rebounds helped Indiana improve to 5-0 against the Mystics this season.
And when the Terps … er, Mystics got back to within three points of the lead with just less than two minutes left, Catchings' three-point play held off the charge.
It wasn't just Catchings who got the job done, but her spirit, as always, set the tone for Indiana. Katie Douglas had 19 points and four rebounds. Rookie guard Briann January, who from an intensity/energy factor definitely seems to have some Catchings in her, had 16 points, three rebounds and three assists off the bench.
Meanwhile, the Mystics were away from the Verizon Center but playing in a building that used to be home to Crystal Langhorne and Marissa Coleman: Maryland's Comcast Center.
The ex-Terps were back where they played their college ball. It didn't feel too odd to D.C.'s other former ACC players -- Duke's Alana Beard, Monique Currie and Lindsey Harding and NC State's Chasity Melvin -- either, since they had their annual visits to College Park while they were in college.
About the only thing that might have seemed strange to them about being in the home of the Terps was that fans there were actually cheering for them instead of against them.
Mystics fans are a special breed of resilient, but the team has given them some hope this summer. Sure, the Mystics have had an up-and-down season, but just being in the playoffs and building a positive foundation under first-year coach Julie Plank means 2009 has been a success for D.C.
That said, the No. 4 seed Mystics wished they could have broken through against the team they haven't been able to beat this season. Indiana won all four regular-season meetings, and there really isn't a big mystery about why it went to 5-0 Thursday: Indiana is a better team.
It's not that the Mystics don't have promise. Harding, who was the No. 1 draft pick in 2007, had her rookie season with Minnesota shortened by a knee injury and never quite seemed up to her potential last season with the Lynx. Now in D.C., she seems to have returned to the form she was in before the injury.
Langhorne was announced as winner of the league's most improved player award earlier Thursday and led the Mystics with 18 points and 10 rebounds against Indy. Coleman, who had a good rookie season outside of dealing with a painful high ankle sprain that cost her six games, had 16 points and eight rebounds.
Alana Beard was an All-Star this season, but a recent ankle injury has bothered her, and she had just nine points Thursday.
The biggest thing the Mystics need is consistent direction, which Plank looks well-positioned to continue giving, and more time to develop.
While we're not closing the 2009 book on Washington yet, it seems likely Catchings & Co. will officially do that Saturday.
Mechelle Voepel, a regular contributor to ESPN.com, can be reached at mvoepel123@yahoo.com. Read her blog at http://voepel.wordpress.com.
espnW.com
Mechelle Voepel joined ESPN.com in 1996 and covers women's college hoops, the WNBA, the LPGA, and additional collegiate sports for espnW.
SPONSORED HEADLINES
MORE WOMEN'S BASKETBALL HEADLINES
MOST SENT STORIES ON ESPN.COM
WNBA Playoffs
Phoenix beat Indiana 94-86 Friday in Game 5 to win its second WNBA title in three years. Diana Taurasi was named Finals MVP.
WNBA Finals
•
Voepel: Phoenix, Finals even better in '09
•
Voepel: Taurasi's season ends on high note
•
Voepel: Catchings' hoop dream on hold again
•
Blog: Pondexter worthy of MVP consideration
•
Voepel: Finals redefining "fall classic"
•
Voepel: Pondexter focused on helping others
•
Voepel: Merc accomplish mission in Game 4
•
Voepel: Smith helps lift Mercury
•
Voepel: Pressure doesn't put off Taurasi
•
Voepel: Strong start a must for Phoenix
•
Voepel: Finals feature Aussie influence
•
Voepel: Time to put head-butt behind us
•
Voepel: Hard work pays off for Hoffman
•
Voepel: January is postseason's top rookie
•
Voepel: Fever win Game 3 in final seconds
•
Voepel: 3-point struggles hurt Mercury most
•
Voepel: Indy is where the heart is for Douglas
•
Voepel: Fever know Taurasi will turn it around
•
Voepel: Taylor plans to play in Game 3
•
Voepel: Could Game 2 be played even faster?
•
Voepel: Rookies make big impact at Finals
•
Voepel: Taurasi won't re-watch instant classic
•
Voepel: Game 1 a great start to Finals
•
Voepel: "I let my team down," Catchings says
•
Game 1: By the numbers
•
Voepel: Taurasi finds healing in hoops
•
Voepel: Point guards play pivotal roles
•
Voepel: X's and O's finals breakdown
•
Voepel: Depth (not stars) leads Merc, Fever
Video
•
Mercury win 94-86 for second WNBA title
•
Mercury's 90-77 win forces Game 5
•
Indiana takes 2-1 lead with 86-85 victory
•
Fever even series with 93-84 Game 2 win
•
Phoenix tops Fever in OT, 120-116
Lisa Leslie
•
Voepel: Leslie retires with no regrets
•
Voepel: Business as usual for Leslie, Sparks
•
Voepel: Leslie looks forward to retirement
Results
•
Complete schedule
WNBA.com
•
Complete playoff coverage