Commentary
Nolan is the key in the East finals
Fever must try to limit Shock star, while Detroit depends on her postseason prowess
Originally Published:
September 21, 2009
By
Mechelle Voepel
| Special to ESPN.com
Detroit is in the Eastern Conference finals again. And this time, Bill Laimbeer isn't coaching and cajoling the Shock (because he's in the NBA now). Katie Smith isn't hitting 3-pointers and playing muscle-up defense (because she's sidelined with a bad back). Eminently quotable Taj McWilliams-Franklin isn't looking for her first WNBA title (because she got that last year).
[+] Enlarge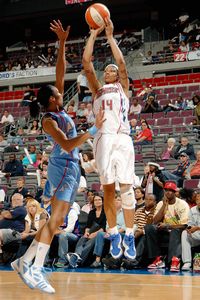 Allen Einstein/NBAE/Getty ImagesDeanna Nolan averaged 23.5 points in Detroit's first two playoff games.
Swin Cash isn't feeling disrespected by Laimbeer (because she went to Seattle in 2008). Plenette Pierson isn't coming in as Sixth Woman Extraordinaire (because she suffered a season-ending shoulder injury in the Shock's season opener). Cheryl Ford having a famous NBA dad isn't a big story anymore (because it has been told enough). Kara Braxton isn't proving to be as much a distraction as she is a contributor (because despite missing the first six games of the season while suspended after a DUI incident, she has had her best showing statistically).
All of which is to say that guard Deanna Nolan isn't being overshadowed by the fact that there's something else to focus on with regard to the Shock (because this time, no two ways about it, she is the story).
This is not to say that Nolan has been ignored or anything in the past. It's just that what the Shock have done in the past few weeks -- clinch a playoff spot and knock off Atlanta in the first round -- has been a testament to Nolan.
Her college coach at Georgia, Andy Landers, always said Nolan could be the most unstoppable player in the league when she put her mind to it. Laimbeer said much the same thing when he was coaching her. It's not that Nolan has ever been underestimated … yet perhaps she has been underappreciated.
It might be in part because she has never seemed to show much interest in cultivating "fame." She appears to approach basketball as both a joy and a job -- but not as a jumping-off spot for being a big personality in the sport. Or even being a small personality, for that matter. Nolan just isn't after glory in that sense.
NOLAN VS. INDIANA
Detroit's Deanna Nolan, one of just two players in WNBA history with at least 800 career playoff points (Lisa Leslie is the other), has averaged just fewer than 20 points in eight career playoff games against the Indiana Fever. ESPN Research pulls the numbers together:
| | |
| --- | --- |
| Games | 8 |
| Points | 158 |
| Points per game | 19.8 |
| Field goal percentage | 46.5 (60-129) |
| 3-point percentage | 52.5 (21-40) |
Which also might help explain why Nolan has not been involved in playing for the national team. Observers often wonder about that, but it really isn't because there's a lack of recognition about Nolan's talent on the part of USA Basketball. Rather, it's because players really do have to make some significant time commitments to the program, and the organization has never felt that Nolan is truly interested in doing that.
For her part, Nolan won't come right and out say that, but she acknowledges that her overseas commitments have been her main priority. Whenever I've talked to Nolan about it, she has said she's not against playing on the national team. It's just that it's really not a goal of hers, and she has been focused on maximizing her income from basketball.
And there's nothing wrong with that; each player has to make her own decisions in that regard.
Nolan has definitely been committed, though, to winning championships in the WNBA. She has been a key part of all three Detroit titles, including as finals MVP in 2006.
But this season, what the Shock have done is so linked to Nolan's desire that this -- more than any previous one -- is the "Tweety season." Pierson was gone after the first game, Laimbeer after the first week of the season. Smith's back ailment has kept her out since Aug. 27.
So it has been up to Nolan to be the go-to player, time and again, for coach Rick Mahorn. She has gotten help, of course, including from promising rookie Shavonte Zellous and second-year player Alexis Hornbuckle. Plus, McWilliams-Franklin is still plugging away, as is Ford. And Braxton, despite her ups and downs, actually has posted slightly better numbers -- across the board -- than in any previous season.
REGULAR-SEASON SERIES
The Fever went 3-1 against the Shock in the regular season.
| Date | Result |
| --- | --- |
| June 19 | Indiana 66, at Detroit 54 |
| June 21 | At Indiana 82, Detroit 70 |
| Aug. 15 | At Indiana 82, Detroit 59 |
| Sept. 4 | At Detroit 70, Indiana 63 |
Ultimately, though, the Shock's fate is tied to Nolan. Admittedly, she has always been at her best in the playoffs; her scoring average is consistently up in the postseason. This year, however, she also needed to be stalwart at the end of the regular season or Detroit would not have made it into the playoffs.
In the nine games Smith has been out, Nolan has averaged 22.8 points. The past two games, in the first-round playoff series against Atlanta, Nolan had 25 and 22 points. She dealt with a head knock in the first game that forced her to the bench at the end, but she still got the job done in the series-clinching game.
Now, Nolan will try to get the Shock into the WNBA Finals for the fourth year in a row. Once again, the foe will be Indiana. Can the Fever finally solve the Shock in the postseason? To do that, Indy will have to try to limit Nolan's effectiveness.
In four games against the Fever this season, Nolan had 13, 16, four and 22 points as the Shock went 1-3 against Indy. That's in chronological order -- the 22 points came Sept. 4 in a 70-63 Shock victory in overtime in Detroit.
And that's the Shock team Indy has to prepare to face. Never mind the No. 3 seed or the 18-16 record. The defending champion Shock have won 11 of their past 13 games, and Nolan is the biggest reason why.
Mechelle Voepel, a regular contributor to ESPN.com, can be reached at mvoepel123@yahoo.com. Read her blog at http://voepel.wordpress.com.
espnW.com
Mechelle Voepel joined ESPN.com in 1996 and covers women's college hoops, the WNBA and additional collegiate sports for espnW. Born in Los Angeles, she grew up 40 miles north of St. Louis and is a lifelong Cardinals fan still basking in amazement over their 2011 World Series title.
SPONSORED HEADLINES
MORE WOMEN'S BASKETBALL HEADLINES
MOST SENT STORIES ON ESPN.COM
WNBA Playoffs
Phoenix beat Indiana 94-86 Friday in Game 5 to win its second WNBA title in three years. Diana Taurasi was named Finals MVP.
WNBA Finals
•
Voepel: Phoenix, Finals even better in '09
•
Voepel: Taurasi's season ends on high note
•
Voepel: Catchings' hoop dream on hold again
•
Blog: Pondexter worthy of MVP consideration
•
Voepel: Finals redefining "fall classic"
•
Voepel: Pondexter focused on helping others
•
Voepel: Merc accomplish mission in Game 4
•
Voepel: Smith helps lift Mercury
•
Voepel: Pressure doesn't put off Taurasi
•
Voepel: Strong start a must for Phoenix
•
Voepel: Finals feature Aussie influence
•
Voepel: Time to put head-butt behind us
•
Voepel: Hard work pays off for Hoffman
•
Voepel: January is postseason's top rookie
•
Voepel: Fever win Game 3 in final seconds
•
Voepel: 3-point struggles hurt Mercury most
•
Voepel: Indy is where the heart is for Douglas
•
Voepel: Fever know Taurasi will turn it around
•
Voepel: Taylor plans to play in Game 3
•
Voepel: Could Game 2 be played even faster?
•
Voepel: Rookies make big impact at Finals
•
Voepel: Taurasi won't re-watch instant classic
•
Voepel: Game 1 a great start to Finals
•
Voepel: "I let my team down," Catchings says
•
Game 1: By the numbers
•
Voepel: Taurasi finds healing in hoops
•
Voepel: Point guards play pivotal roles
•
Voepel: X's and O's finals breakdown
•
Voepel: Depth (not stars) leads Merc, Fever
Video
•
Mercury win 94-86 for second WNBA title
•
Mercury's 90-77 win forces Game 5
•
Indiana takes 2-1 lead with 86-85 victory
•
Fever even series with 93-84 Game 2 win
•
Phoenix tops Fever in OT, 120-116
Lisa Leslie
•
Voepel: Leslie retires with no regrets
•
Voepel: Business as usual for Leslie, Sparks
•
Voepel: Leslie looks forward to retirement
Results
•
Complete schedule
WNBA.com
•
Complete playoff coverage