Commentary
Sparks' Leslie retires with no regrets
Originally Published:
September 26, 2009
By
Mechelle Voepel
| Special to ESPN.com
PHOENIX -- Lisa Leslie was smiling not long after it was over. She'd hugged her husband, waved to the opposing fans, gotten dressed, talked to the media … and then was soon fussing over a little baby.
Her former teammate on the U.S. national squad, Ruthie Bolton, was at Phoenix's US Airways Center and had her 4-month-old daughter, Hope, with her. Leslie, who has her own little girl, 2-year-old Lauren, took tiny Hope in her arms.
[+] Enlarge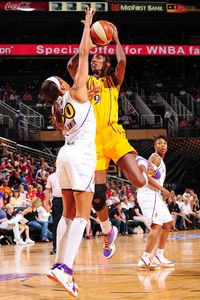 P.A. Molumby/NBAE/Getty ImagesBefore the 2009 season started, Lisa Leslie said it would be her last. The 12-year WNBA veteran tallied 22 points and nine rebounds in her final game.
And it was as if the game that had just ended was put into perspective right there: The athletic world that Hope will grow up in will be a much better and brighter place thanks in large part to Leslie.
"I feel great, because I have no regrets," Leslie said. "Every time I stepped out on the court, I played as hard as I could. I fought hard, I crashed the boards, I didn't back down from anybody, I shared the ball and I was a great team player. You do your best and try to be the best role model you can be.
"Today is my last day of playing basketball professionally, but I have a wonderful husband and family. This is my retirement, but it's just my transition, really, into life. I'm going to stay close to the game."
A legend of women's sports said goodbye Saturday, and she did it without remorse. Leslie joked earlier this season that she wasn't going to "pull a Favre" and change her mind. One of the founding players of the WNBA has retired at age 37 after 12 seasons of pro basketball and a lifetime of making the right moves.
"She's been the face of the league for a long time, and it's well deserved," Phoenix guard Cappie Pondexter said. "Legendary, without question."
Pondexter's whole goal, though, was for her Mercury team to put an end to the legend. That's what happened Saturday. Leslie is finished after Phoenix's 85-74 victory over her Los Angeles Sparks in Game 3 of the Western Conference finals.
"

The game is going to miss [Lisa Leslie]. But she's such a light, she's going to make a difference whatever she does and wherever she goes.

"

-- Former Olympics teammate Ruthie Bolton
Leslie wanted the perfect ending, obviously, a third WNBA title to go with her four Olympic gold medals. A player who first became nationally known when she scored 101 points in one half for Morningside High School in her native California, Leslie became a dominant force in the sport when the WNBA needed signature players as it launched and began to grow.
The WNBA started on June 21, 1997, three years after Leslie had graduated from Southern Cal and a year after she'd helped lead the U.S. women's basketball team to a gold medal in the 1996 Summer Olympics in Atlanta. That was a landmark event in regard to the interest in women's sports.
Phoenix star Diana Taurasi, a California kid who'd just finished her freshman year in high school then in '97, remembers attending that first WNBA game at L.A.'s Great Western Forum.
"It was an incredible scene of going to where the Lakers played -- but not to see the Lakers. To see Lisa," said Taurasi, who since has played on two Olympic teams with Leslie. "I've learned more from her in the last [several] years -- how to prepare, how to be a professional, mentally and physically.
"No one in the hundred years of women's basketball has represented it like Lisa has on and off the court. She's one that is so hard to compete against, because she fights and wants to win so bad. I think that's the ultimate respect that she gives to the game."
[+] Enlarge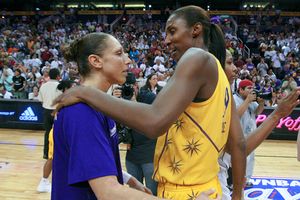 AP Photo/Aaron J. LathamDiana Taurasi played alongside Lisa Leslie in the past two Olympic Games as Team USA won gold in Athens and Beijing.
That respect came back to her, even if it was grudging from some fans. Her last game came with almost everyone in the building cheering against her. It's not how Leslie wanted it to be, but in some ways that said everything about her remarkable career.
She was popular and unpopular at the same time because she was so hard for other teams to beat. Her No. 9 jersey was a perennial best-seller, yet as her friend and former Olympic teammate Dawn Staley has said, "She got booed in every gym she walked into."
Every enemy gym, of course. At home in Los Angeles, where she'd spent her high school, college and pro careers, they loved the player who often was treated like Darth Vader everywhere else.
"She was all over the place, and she was so good she'd make you not like her," Bolton said, laughing. "I work a lot with kids, and I always tell them, 'You want to be like Lisa Leslie.' She can bring the ball up the court, she can rebound, she can shoot outside and inside.
"People would say to me, 'Is Lisa Leslie mean?' And I'd say, 'She plays tough, but she's a sweetheart of a person. She's just as competitive as it comes.'"
"

[Leslie has] been a mentor to me. We talked about how we're always going to stay in touch, and how our kids are going to play doubles in Wimbledon together. … She's taken me under her wing, and I am going to miss her like crazy. … She's at a place now where she's happy with her decision.

"

-- Sparks' teammate Candace Parker
Saturday, Leslie had 22 points and nine rebounds before fouling out with 1 minute, 39 seconds left. She walked to the bench and hugged Sparks coach Michael Cooper, the former Lakers standout who later broke down in tears when asked about having the chance to work with Leslie. She high-fived her husband, Michael Lockwood, who was right behind the Sparks' bench. And she embraced young teammate Candace Parker, who is the heir apparent as the Sparks' leader.
Parker, who at 23 has many seasons ahead of her, said learning from Leslie has been a priceless experience. Not just about basketball but also about balancing being a pro athlete with being a mom. Parker and her husband, Celtics player Shelden Williams, had a daughter in May.
"I was upset tonight, because I felt like I let Lisa down," said Parker, who was held to six points Saturday. "It's hard, because she's been a mentor to me. We talked about how we're always going to stay in touch, and how our kids are going to play doubles in Wimbledon together.
"Our paths aren't done crossing; we're going to be friends for life. She's taken me under her wing, and I am going to miss her like crazy. I fortunately had the pleasure of playing with a legend. And at the end, I felt like she was consoling me more than I was her, because she's at a place now where she's happy with her decision."
Leslie wants to run a basketball academy for girls and work in broadcasting. She won't entirely rule out coaching someday and will remain a strong advocate for women's sports. And she's resolute in her belief that a pro athlete has many responsibilities other than just winning games.
"I hope to come in and talk to [WNBA] rookies in the future," Leslie said. "There's no kid that I've passed up and not signed an autograph for. It's our duty. Also another important message is how we represent ourselves and how we carry ourselves."
Saturday, after Leslie handed little Hope back to her mom, Bolton watched her walk away.
"The game is going to miss her," Bolton said. "But she's such a light, she's going to make a difference whatever she does and wherever she goes."
Mechelle Voepel, a regular contributor to ESPN.com, can be reached at mvoepel123@yahoo.com. Read her blog at http://voepel.wordpress.com.
espnW.com
Mechelle Voepel joined ESPN.com in 1996 and covers women's college hoops, the WNBA, the LPGA, and additional collegiate sports for espnW.
SPONSORED HEADLINES
MORE WOMEN'S BASKETBALL HEADLINES
MOST SENT STORIES ON ESPN.COM
WNBA Playoffs
Phoenix beat Indiana 94-86 Friday in Game 5 to win its second WNBA title in three years. Diana Taurasi was named Finals MVP.
WNBA Finals
•
Voepel: Phoenix, Finals even better in '09
•
Voepel: Taurasi's season ends on high note
•
Voepel: Catchings' hoop dream on hold again
•
Blog: Pondexter worthy of MVP consideration
•
Voepel: Finals redefining "fall classic"
•
Voepel: Pondexter focused on helping others
•
Voepel: Merc accomplish mission in Game 4
•
Voepel: Smith helps lift Mercury
•
Voepel: Pressure doesn't put off Taurasi
•
Voepel: Strong start a must for Phoenix
•
Voepel: Finals feature Aussie influence
•
Voepel: Time to put head-butt behind us
•
Voepel: Hard work pays off for Hoffman
•
Voepel: January is postseason's top rookie
•
Voepel: Fever win Game 3 in final seconds
•
Voepel: 3-point struggles hurt Mercury most
•
Voepel: Indy is where the heart is for Douglas
•
Voepel: Fever know Taurasi will turn it around
•
Voepel: Taylor plans to play in Game 3
•
Voepel: Could Game 2 be played even faster?
•
Voepel: Rookies make big impact at Finals
•
Voepel: Taurasi won't re-watch instant classic
•
Voepel: Game 1 a great start to Finals
•
Voepel: "I let my team down," Catchings says
•
Game 1: By the numbers
•
Voepel: Taurasi finds healing in hoops
•
Voepel: Point guards play pivotal roles
•
Voepel: X's and O's finals breakdown
•
Voepel: Depth (not stars) leads Merc, Fever
Video
•
Mercury win 94-86 for second WNBA title
•
Mercury's 90-77 win forces Game 5
•
Indiana takes 2-1 lead with 86-85 victory
•
Fever even series with 93-84 Game 2 win
•
Phoenix tops Fever in OT, 120-116
Lisa Leslie
•
Voepel: Leslie retires with no regrets
•
Voepel: Business as usual for Leslie, Sparks
•
Voepel: Leslie looks forward to retirement
Results
•
Complete schedule
WNBA.com
•
Complete playoff coverage