Commentary
Catchings: "I let my team down"
Originally Published:
September 29, 2009
By
Mechelle Voepel
| Special to ESPN.com
PHOENIX -- On a night when the WNBA had one of its greatest games … Tamika Catchings didn't.
The league's defensive player of the year and a perennial all-star, Catchings did not pile up the points the way her fellow Indiana starters Katie Douglas, Ebony Hoffman and Tammy Sutton-Brown did. She had eight points on 2-of-7 shooting, six rebounds and five assists. And the number that irked her the most was her six fouls, the last of which came with 2 minutes, 42 seconds to play in overtime.
"Ebony had a great game, Tammy had a great game, Katie did her thing," Catchings said after the Fever's 120-116 overtime loss to the Phoenix Mercury on Tuesday. "The only missing factor, really, was me. I have to do a better job. I felt I let my team down. … I know I let my team down.
"I'm sitting on the bench with six fouls, and it's overtime. That just shouldn't happen. Whether the calls are calls that I don't like, it doesn't matter. I was sitting on the bench."
[+] Enlarge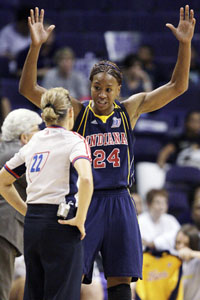 AP Photo/Ross D. FranklinTamika Catchings fouled out with eight points, her third-lowest-scoring game in postseason play.
Catchings couldn't say much about the officials' calls, of course, but you could guess that the fifth one -- in a loose-ball scramble on the floor near the end of regulation -- really got on her nerves.
This season has been very important to Catchings, who at age 30 feels a lot of aches and pains but is still plugging away. This is her first time playing in the WNBA Finals, and a game like Tuesday's would have seemed like a showcase for a player of her skills.
But the foul trouble hurt her, and she played in tentative fashion more than we're used to seeing from her.
"I was trying not to foul, to play off them," Catchings said. "Even then, they were calling fouls. You just have to play through that."
Catchings also said that although the 116 points far eclipsed Indy's previous best total this season (94), she doesn't think the offensive show is really all that out of character for the Fever.
"I think people underestimate our team, as far as our ability to get up and down the court," she said. "I think in the East, a lot of teams slow it down more than in the West. So it is our style of game, but maybe not as much because we don't get to do it as much.
"Phoenix is known for that, of course. We can do it, too, but we also do have to slow it down more times next game."
Along with her fouls, the other thing that really bothered Catchings was the rebounding margin: Phoenix had 34 to Indy's 27.
"It's very disappointing that they outrebounded us, because that's one of our keys," Catchings said. "We have been talking every series about rebounding; we have to do a better job.
"Of course, we're disappointed about the loss. But the great thing about this series is it's best-of-five instead of best-of-three. Next time, I've got to have a better game for this team."
Mechelle Voepel, a regular contributor to ESPN.com, can be reached at mvoepel123@yahoo.com. Read her blog at http://voepel.wordpress.com.
espnW.com
Mechelle Voepel joined ESPN.com in 1996 and covers women's college hoops, the WNBA, the LPGA, and additional collegiate sports for espnW.
SPONSORED HEADLINES
MORE WOMEN'S BASKETBALL HEADLINES
MOST SENT STORIES ON ESPN.COM
WNBA Playoffs
Phoenix beat Indiana 94-86 Friday in Game 5 to win its second WNBA title in three years. Diana Taurasi was named Finals MVP.
WNBA Finals
•
Voepel: Phoenix, Finals even better in '09
•
Voepel: Taurasi's season ends on high note
•
Voepel: Catchings' hoop dream on hold again
•
Blog: Pondexter worthy of MVP consideration
•
Voepel: Finals redefining "fall classic"
•
Voepel: Pondexter focused on helping others
•
Voepel: Merc accomplish mission in Game 4
•
Voepel: Smith helps lift Mercury
•
Voepel: Pressure doesn't put off Taurasi
•
Voepel: Strong start a must for Phoenix
•
Voepel: Finals feature Aussie influence
•
Voepel: Time to put head-butt behind us
•
Voepel: Hard work pays off for Hoffman
•
Voepel: January is postseason's top rookie
•
Voepel: Fever win Game 3 in final seconds
•
Voepel: 3-point struggles hurt Mercury most
•
Voepel: Indy is where the heart is for Douglas
•
Voepel: Fever know Taurasi will turn it around
•
Voepel: Taylor plans to play in Game 3
•
Voepel: Could Game 2 be played even faster?
•
Voepel: Rookies make big impact at Finals
•
Voepel: Taurasi won't re-watch instant classic
•
Voepel: Game 1 a great start to Finals
•
Voepel: "I let my team down," Catchings says
•
Game 1: By the numbers
•
Voepel: Taurasi finds healing in hoops
•
Voepel: Point guards play pivotal roles
•
Voepel: X's and O's finals breakdown
•
Voepel: Depth (not stars) leads Merc, Fever
Video
•
Mercury win 94-86 for second WNBA title
•
Mercury's 90-77 win forces Game 5
•
Indiana takes 2-1 lead with 86-85 victory
•
Fever even series with 93-84 Game 2 win
•
Phoenix tops Fever in OT, 120-116
Lisa Leslie
•
Voepel: Leslie retires with no regrets
•
Voepel: Business as usual for Leslie, Sparks
•
Voepel: Leslie looks forward to retirement
Results
•
Complete schedule
WNBA.com
•
Complete playoff coverage