Commentary
Buckle up -- Game 2 has need for speed
After frenetic Game 1, Taurasi wants Thursday's pace even faster
Originally Published:
September 30, 2009
By
Mechelle Voepel
| Special to ESPN.com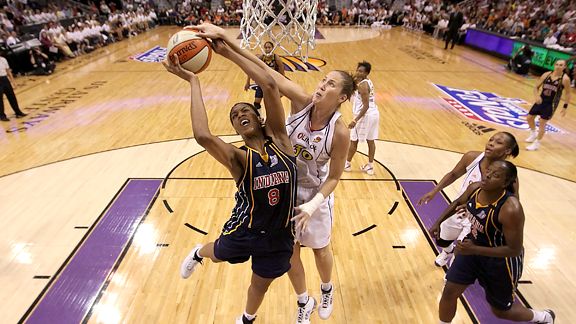 Christian Petersen/Getty ImagesTuesday's game, the highest scoring in WNBA history, was fast-paced and hard-hitting.
PHOENIX -- OK, if I can sometimes pretend to know about the hip-hop/rap lyrics (which I actually have to look up on the Internet) that players sometimes reference, I can throw out some lines from a song we fossils know.
Beep, beep
beep, beep,
his horn went beep, beep, beep.
That's from the Playmates' 1958 hit -- OK, I'm not that ancient, but I listen to oldies stations -- "Beep, Beep (The Little Nash Rambler)." It came to mind when trying to describe Phoenix's famed pedal-to-the-metal offense and how Indiana insists there's really no worry about Game 2 of the WNBA Finals moving at too quick a pace.
While riding in my Cadillac,
What to my surprise.
A little Nash Rambler was following me,
About one-third my size.
Admittedly, the analogy to "Beep, Beep" isn't perfect. Although Phoenix is used to being shorter than most teams, the Mercury aren't anywhere near as small compared with the Fever as the Rambler is to the Cadillac.
And, obviously, the Fever aren't at all surprised at how fast the Mercury are going; it's exactly what everyone expects.
Still, in the song, the narrator is determined to show his Cadillac is "not a car to scorn," and he's really getting irritated at the Nash Rambler behind him tooting his horn. The song starts slowly … then gets faster … and faster … and faster and …
Can a game ever be at too fast a pace for Phoenix, you ask MVP Diana Taurasi?
[+] Enlarge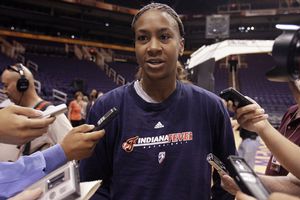 AP Photo/Paul ConnorsTamika Catchings says Indiana's offense is underestimated, but acknowledges that the Fever must slow down the pace should Phoenix start scoring successive baskets in transition.
"Nah," she said Wednesday. "Last night, we didn't get to even play at the speed we wanted to. We want it faster."
That's right, after the highest-scoring game in WNBA history -- a 120-116 Mercury victory in overtime -- Taurasi was lamenting that it wasn't really fast enough.
"We have to get in that mode where it wears on them a little bit more," Taurasi said of the Fever. "Because last night, they were as fresh as daisies."
Well, that's an exaggeration. By game's end, the Fever's players didn't quite look as if they'd just been put in the vase. There was some drooping. Still, Fever coach Lin Dunn and her players say they aren't worried about wilting.
"I don't get it -- this is our pace," Dunn said of the suggestion that Indiana must slow things waaaaaaaaaaaaay down to have a chance to win Game 2. "We push the ball. We don't usually play other teams that push the pace, too, like we do. So, therefore, when you get the two of us together, you can expect a higher-scoring game. Why would we change the pace when we shoot 55 percent from the field?"
Um … perhaps because you can't count on shooting 55 percent all the time? Nonetheless, Dunn maintains that the Fever's biggest concern is not the tempo of the game.
"What we've got to do is defend better," Dunn said. "I was not disappointed in our pace or our offense. I was disappointed in our attention to detail defensively. We should have scored 116 points, but they should have had about 95. I thought we gave up 20 points we shouldn't have."
Now we're doing a hundred and ten,
This certainly was a race.
"They hurt us with our own medicine" is how Taurasi describes what the Fever did in running with the Mercury in Game 1. "They weren't shying away from it."
Phoenix coach Corey Gaines is an expert on the "Paul Ball" style, having played for and coached with Paul Westhead, who led the Mercury to the 2007 WNBA title. Gaines knows all the ways opponents try to slow down a team like Phoenix.
"Touch the ball after it goes through the net, call all your timeouts, foul in the open court just to foul," he said. "But then you get us in the bonus early, and we shoot free throws very well.
[+] Enlarge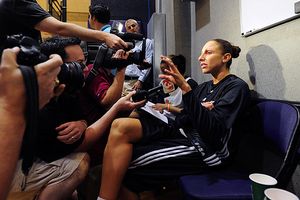 Barry Gossage/NBAE via Getty Images"We didn't get to even play at the speed we wanted to," Diana Taurasi said of Game 1. "We want it faster."
"So there's no problem. You want to do the European foul-early thing? No problem. We'll just go to the line and knock them down. What did we have, 32 points from the line [Tuesday]?"
Of course, that was a sore spot for the Fever, who insist they certainly weren't trying to foul that much. Tamika Catchings was particularly unhappy after fouling out with just eight points.
Just as Dunn said, Catchings has no qualms about the pace Thursday being too quick for the Fever.
"I feel like we have the speed, we have the experience -- people underestimate us and think we have to play with the score in the lower numbers," Catchings said. "In the East, we're an up-tempo team -- we run off turnovers, off steals, even off scores if we get the ball out quickly.
"Phoenix is known for up-tempo, that's what you see every game. You're used to seeing them in the 100s and 90s or high 80s. But I feel like we can be right there with them."
However, Catchings did acknowledge there are going to be stages in any game against the Mercury when Indiana really will want to hit the brakes.
"When they score a couple of baskets in a row off of transition, we do have to slow it down a little bit," Catchings said. "Run our half-court sets, get the ball inside, get Tammy [Sutton-Brown] the ball, let her score, get to the free throw line."
Now we're doing a hundred and twenty
As fast as I can go.
The Rambler pulled alongside of me
As if we're going slow.
The joke at the end of "Beep, Beep" is that the Nash Rambler doesn't even think it's really racing the Cadillac … the driver knows he can go faster.
The fellow rolled down his window, and yelled for me to hear:
"Hey, buddy, how can I get this car out of second gear?"
So, will the Fever be playing into the Mercury's hands if Thursday's game is at least as fast as Tuesday's? Or can the Fever find the balance that Dunn insists her team is perfectly capable of: being very up-tempo but still defending the way Indiana is known for?
Well, the Mercury players in no way want to come off as if they're "tooting their own horns," but … they're ready to fly again. Taurasi reiterated that, the score notwithstanding, Tuesday's game wasn't that fast.
"With the timeouts and stoppage in play -- combined, there were like 75 free throws," Taurasi said, although actually the number was 57. "Every chance we did have to get the tempo going, there was some stoppage. Hopefully, [Thursday] we can get that tempo going even more and earlier."
Beep, beep.
Mechelle Voepel, a regular contributor to ESPN.com, can be reached at mvoepel123@yahoo.com. Read her blog at http://voepel.wordpress.com.
espnW.com
Mechelle Voepel joined ESPN.com in 1996 and covers women's college hoops, the WNBA, the LPGA, and additional collegiate sports for espnW.
WNBA Playoffs
Phoenix beat Indiana 94-86 Friday in Game 5 to win its second WNBA title in three years. Diana Taurasi was named Finals MVP.
WNBA Finals
•
Voepel: Phoenix, Finals even better in '09
•
Voepel: Taurasi's season ends on high note
•
Voepel: Catchings' hoop dream on hold again
•
Blog: Pondexter worthy of MVP consideration
•
Voepel: Finals redefining "fall classic"
•
Voepel: Pondexter focused on helping others
•
Voepel: Merc accomplish mission in Game 4
•
Voepel: Smith helps lift Mercury
•
Voepel: Pressure doesn't put off Taurasi
•
Voepel: Strong start a must for Phoenix
•
Voepel: Finals feature Aussie influence
•
Voepel: Time to put head-butt behind us
•
Voepel: Hard work pays off for Hoffman
•
Voepel: January is postseason's top rookie
•
Voepel: Fever win Game 3 in final seconds
•
Voepel: 3-point struggles hurt Mercury most
•
Voepel: Indy is where the heart is for Douglas
•
Voepel: Fever know Taurasi will turn it around
•
Voepel: Taylor plans to play in Game 3
•
Voepel: Could Game 2 be played even faster?
•
Voepel: Rookies make big impact at Finals
•
Voepel: Taurasi won't re-watch instant classic
•
Voepel: Game 1 a great start to Finals
•
Voepel: "I let my team down," Catchings says
•
Game 1: By the numbers
•
Voepel: Taurasi finds healing in hoops
•
Voepel: Point guards play pivotal roles
•
Voepel: X's and O's finals breakdown
•
Voepel: Depth (not stars) leads Merc, Fever
Video
•
Mercury win 94-86 for second WNBA title
•
Mercury's 90-77 win forces Game 5
•
Indiana takes 2-1 lead with 86-85 victory
•
Fever even series with 93-84 Game 2 win
•
Phoenix tops Fever in OT, 120-116
Lisa Leslie
•
Voepel: Leslie retires with no regrets
•
Voepel: Business as usual for Leslie, Sparks
•
Voepel: Leslie looks forward to retirement
Results
•
Complete schedule
WNBA.com
•
Complete playoff coverage
MORE WOMEN'S BASKETBALL HEADLINES

MOST SENT STORIES ON ESPN.COM