Commentary
Playoff race is on after All-Star break
Seattle is separating itself in the West, but it's a logjam in the East
Originally Published:
July 12, 2010
By
Mechelle Voepel
| Special to ESPN.com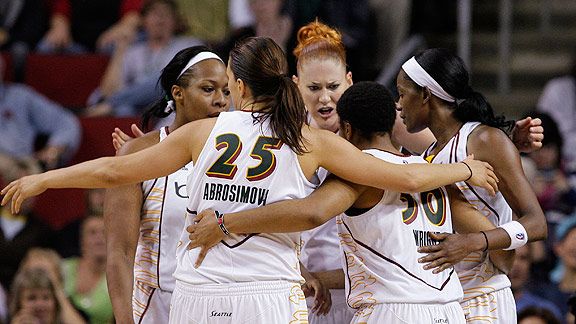 AP Photo/Elaine ThompsonLauren Jackson and the Storm, winners of seven straight, are 16-2.
It would be neat to come up with something piercingly insightful to say about how the second half of the WNBA season will play out. Something that would expertly dissect what will be the difference between the eight teams that will advance to the postseason and the four that won't.
However, making such projections is an endeavor that is both simplistic and complex. The simple part is pointing out two very basic factors: injuries (the uncontrollable X factor in every sport) and how the schedule happens to break in the last few weeks of the season (because the weariness produced by travel can come at very inconvenient times).
Here's the complex part: There is no precise recipe for what makes the difference in the outcome of games when there is a lot of parity in the WNBA.
Admittedly, Seattle's 16-2 record would indicate the Storm have risen above the "parity" of the league. And to a large degree, that's right. But as Seattle guard Sue Bird says, it's not as though her team has simply cruised in and out of every game. Even double-digit victories don't mean the Storm wasn't taxed during the effort.
Bird also points out that while talent is a must to win, that alone isn't necessarily going to do it.
[+] Enlarge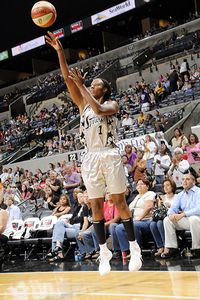 D. Clarke Evans/NBAE/Getty ImagesSan Antonio could be playoff-bound if Becky Hammon is healthy and Chamique Holdsclaw (above) keeps playing the way she has been.
"Look at a team like San Antonio the year they went to the finals," Bird said of the 2008 Silver Stars, who eventually fell to Detroit. "Yeah, they had Becky Hammon, and a good rest of their roster, but it wasn't this group of superstars. They just fit, and they played well together."
The Storm definitely have done that, too, this season, albeit with some more star power than the '08 Silver Stars had. Lauren Jackson is recovering from a concussion, and Bird did miss a game with lower-back pain. But healthwise, the Storm have been in pretty good shape, and there's no substitute for that.
Swin Cash, who has dealt with serious knee and back injuries in her pro career, can attest to the difference between attempting to play through pain and not having to navigate through debilitating health issues.
"I really feel good," Cash said. "I'm in a great place, physically and mentally. It feels good to be on this team.
"I feel every game we play, we are going to have the opportunity to win it. Even when we're down, I feel like we have the pieces that can get it done. It's just about what it is that each person who comes in can bring to the table."
We know what can go wrong for the Storm -- or anybody else -- and that's injuries. But other than that, the rest of the regular season for Seattle should just be about Coach Brian Agler balancing his players' opportunities to rest and the need to stay sharp.
Especially considering Bird and Cash both played on an undefeated team in college that kept up its intensity until the final minute of the season, there is really not much worry that the Storm might get into any lull of complacency.
So if the Storm are in maintenance mode, what about the rest of the West? No other team in the conference even has a winning record, which means the back door to the playoffs is standing wide open. Except for …
The one team that would seem already out of the playoff picture, practically if not mathematically, is Tulsa. The last-place Shock are only three games out of a postseason spot, but considering Tulsa hasn't won since June 4, right now just winning one game would seem substantial.
Meanwhile, the Los Angeles Sparks at 4-13 appear to also be in a leaking boat, but with a better possibility of bailing themselves out before sinking. Can the Sparks get it together enough to reel in a playoff spot if Phoenix, San Antonio or Minnesota falters?
There are moments in games when L.A. has looked capable of that, but rarely has that lasted for an entire game.
Having won its past two contests after a six-game losing streak, perhaps Phoenix is really getting its act together … but also maybe not. The Mercury still have to face Seattle three times, and Phoenix plays five of its last six games of the regular season on the road.
The Silver Stars, as always, must have a healthy (or healthy enough) Becky Hammon for things to work. They also need Chamique Holdsclaw to stay engaged -- which she has been thus far -- and Michelle Snow to be even stronger on the boards as she teams with Sophia Young. And a little more offense from Roneeka Hodges -- especially from behind the arc, where her percentage needs an upgrade -- would be a nice boost for San Antonio.
Minnesota, after a disappointing first half of the season impacted by injuries, simply has to hold onto a playoff spot or risk losing credibility as a franchise. That might sound harsh, but if the Lynx can't finish in the top four in the West this season, you have to wonder when it will ever happen again.
[+] Enlarge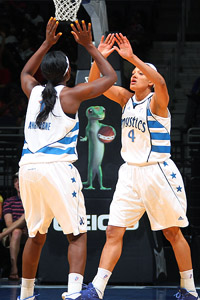 Ned Dishman/NBAE/Getty ImagesCrystal Langhorne, Marissa Coleman and the Mystics own the East's top win streak right now with four consecutive victories.
So the West is the easier side of assessing the WNBA's second half. Now for the East …
Atlanta and Washington really do appear to be the East's best two teams, and not just because they're occupying first and second place now. They both have a good mix of youthful and veteran players, with both playing well.
The Mystics have the East's current longest win streak at four games, but Washington has to solidify its spot in the conference over the next two weeks. Six of the Mystics' next seven games are against East foes, including a meeting with visiting Atlanta on July 21.
The Indiana Fever are essentially the same group that won the East and then took Phoenix to the brink in the WNBA finals last season. Is the Fever's experience and the clutch-play ability of Tamika Catchings and Katie Douglas enough to keep Indiana firmly in the playoff picture? Probably so.
Right now, Connecticut is in the fourth spot in the East but needing a boost. The Sun have lost three in a row and five of their past seven. Guard Anete Jekabsone-Zogota could be out another couple of weeks after arthroscopic knee surgery, and that took a reliable starter away from the Sun.
New York and Chicago at the bottom of the East are not the typical teams in those spots. Both have shown the talent and ability to compete with any other East squad. Were they in the West with their current records, either the Liberty (8-9) or Sky (8-11) would be in second place. But that doesn't do them any good.
The Sky, led by Sylvia Fowles, might be just a little short on offensive firepower in such a loaded East this season. The Liberty started the second half of the season on a good note with a victory Sunday against Chicago. Very important for New York are games at home this week against Washington (Thursday) and Indiana (Sunday).
Although you could say there are no games left for East teams that aren't important.
While the Storm might finish with a Secretariat-like lead in the West, it seems unlikely any East team will pull very far away from the pack. And whatever four from the East do make it to the postseason, all are going to be viable candidates to advance to the finals.
Mechelle Voepel, a regular contributor to ESPN.com, can be reached at mvoepel123@yahoo.com. Read her blog at voepel.wordpress.com.
espnW.com
Mechelle Voepel joined ESPN.com in 1996 and covers women's college hoops, the WNBA, the LPGA, and additional collegiate sports for espnW.
MORE WOMEN'S BASKETBALL HEADLINES

MOST SENT STORIES ON ESPN.COM