Commentary
MVP race down to three candidates
A tough call between Lauren Jackson, Tamika Catchings and Cappie Pondexter
Originally Published:
August 16, 2010
By
Mechelle Voepel
| Special to ESPN.com
Well, this is just great. Sigh. The WNBA's MVP race in 2010 is even more of a headache than usual.
[+] Enlarge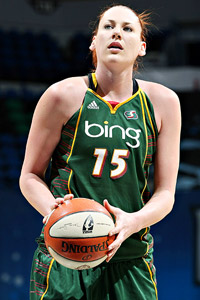 David Sherman/NBAE/Getty ImagesSeattle's Lauren Jackson is the MVP pick -- for now.
I really don't like voting on awards. Yes, it's understandable why "the media" typically does this, and it's important to accept the responsibility when you're asked. But …
As far as I'm concerned, no matter what you do as a voter, you can virtually always second-guess yourself to the point of being sure you screwed it up.
How, exactly, do you measure "value?" Well, there is no exact way to do it. Does "most valuable" refer to a player's general value in the league? Or does it mean her value specifically to her team?
If it's the latter, do you penalize an MVP candidate if she's on a successful team where she appears to have more talent around her? Does that really mean she is less "valuable?" And how do you really gauge that? How can you be sure that her very presence isn't what makes the players around her better?
There's the age-old question of how do you compare guards to post players? And how do you weigh the difference between being in the Eastern or Western Conference? Especially this season, with the disparity between the two?
All of the East playoff teams -- which we now know to be Indiana, New York, Washington and Atlanta -- will finish with at least 19 victories. Only one West team will end up with a winning record: runaway champ Seattle, which is 25-6. Second-place Phoenix must win out just to finish at .500.
So does that mean that MVP candidates in the East should get an edge over those from the West? And if so, how much?
Now that that's all clear as mud, let's start naming names. In a season with some spectacular individual performances, the MVP race has been whittled down to three players: Seattle's Lauren Jackson, Indiana's Tamika Catchings and New York's Cappie Pondexter.
Before we start the difficult process of debating which of them will nudge out the other two, let's also give a nod of recognition to the "secondary" pool. That would be those players who have the stats and performances to be mentioned as worthy candidates, but who aren't quite there with the top three.
Washington's Crystal Langhorne, last season's most improved player award winner, deserves to be in that group. So does Atlanta's Angel McCoughtry, the 2009 rookie of the year. Both are headed to the postseason despite their teams having lost players expected to be important contributors. The Mystics are without Alana Beard due to an ankle injury, while the Dream basically were forced to waive Chamique Holdsclaw because she requested a trade and didn't report to Atlanta.
Chicago's Sylvia Fowles would have been stronger in the MVP mix if her team were having a better summer. With the Sky eliminated from the postseason, her focus -- after finishing out Chicago's schedule -- goes to the big role she's expected to have for Team USA in the upcoming World Championship.
TOP MVP CANDIDATES
Indiana's Tamika Catchings, Seattle's Lauren Jackson and New York's Cappie Pondexter are among the top contenders to win this season's WNBA regular-season MVP award. A look at their stats (through Sunday's games):
| Catchings | Jackson | Pondexter |
| --- | --- | --- |
| 18.1 ppg | 20.9 ppg | 21.4 ppg |
| 7.0 rpg | 8.5 rpg | 4.6 rpg |
| 4.1 apg | 1.2 apg | 4.9 apg |
| 2.4 spg | 0.9 spg | 0.8 spg |
| 49.2 FG | 46.2 FG | 47.9 FG |
| 43.3 3FG | 33.3 3FG | 43.9 3FG |
Tina Charles, whose Connecticut Sun are also out of the playoffs, did make rookie of the year voting something even I won't fret over at all. She's a lock for that honor, but also earned mentions as an MVP candidate during the season. Now, though, like Fowles, she is close to turning her full attention toward Team USA.
In the Western Conference, we have the strange case of Phoenix, the defending champion that had last season's MVP, Diana Taurasi. She and teammates Candice Dupree and Penny Taylor are all among the best players in the league. You can easily make the case that each one is very valuable. Yet Phoenix still has a losing record.
Which brings us back to the top candidates: Jackson, Catchings and Pondexter. And there are many things that can swirl in your head about these three, whose teams are 1-2-3 (Seattle, Indiana, New York) in the Hollinger Power Rankings.
They're all in the top six among active players in efficiency per game this season. They're all quite deserving of the regular-season MVP award.
Jackson, the 6-foot-5 center who has missed the postseason the past two years because of injuries, is averaging 21.1 points and 8.7 rebounds. She's shooting 51.9 percent from 2-point range and 34.6 from 3-point range. She has also shot 91.1 percent from the foul line.
Her coach, Brian Agler, is not easy to please on the defensive end. But he is effusive in his praise for Jackson, saying she is just as good there as she is offensively. Jackson, in her 10 WNBA seasons, previously won the MVP award in 2003 and '07.
Catchings, a 6-1 forward in her ninth season in the league, has never won the honor. Should that work in her favor this year? Will it?
Indiana has been very proactive campaigning for her, focusing on her versatility, productivity and clutch performances. Catchings is shooting better than in any previous season: 51.3 percent from 2-point range and 42.5 from 3-point range. As always, she is everywhere at once on the court, averaging 17.8 points, 7.0 rebounds, 4.0 assists, 2.5 steals and 1.0 blocked shots.
Like Agler, Indiana's Lin Dunn is a defensive-minded coach and pretty much thinks Catchings' ability to be disruptive and creative on defense is unmatched.
Then there's Pondexter, a 5-9 guard who has re-energized the Liberty in her first season in New York after requesting a trade from Phoenix. A fifth-year pro, Pondexter is averaging 21.4 points, 4.6 rebounds and 4.9 assists. She is the focus of the opponent's defense in every game, yet still has managed to be an unstoppable offensive force.
Plus, there is the fact that Phoenix seems to have been more affected by her absence than perhaps was anticipated. Pondexter played a very highly regarded second fiddle to Taurasi with the Mercury, but maybe her impact -- both offensively and defensively -- was even more valuable than everyone realized.
Of course, there we go with that word again: valuable. If you take Jackson, Catchings or Pondexter away from their respective teams -- or if their performances were not near what they've been -- where would those teams be now? Would all three still be going to the playoffs?
Because Seattle is so far ahead in the West and has had a playoff spot clinched for so long, it might seem easier to say the Storm would be in the postseason even if Jackson weren't doing what she has done. But that doesn't necessarily mean it's the case. Catchings and Pondexter might appear more critical to each of their teams, but is either markedly more valuable than Jackson?
Then there's the fact that the Storm clinched home-court advantage throughout the playoffs when they still had five games left in the regular season. That effectively rendered the results of those games meaningless to Seattle. So Jackson has been getting more rest recently than either Catchings or Pondexter, whose teams are both still trying to win the East.
Big numbers are to be expected from those players in the final week of the regular season, while Jackson's stats might be reduced during that time. But should that have any impact on the MVP race? Shouldn't Jackson get credit for all she did to put her team in position to give its starters some much-needed rest at the end of the regular season?
Is your head hurting yet? Well, mine is … and has been for a while thinking about all this.
In the end, I guess the good thing is that we really can't be wrong no matter how we rank these MVP candidates. A very solid case could be made for all three. Which is exactly why I keep going around in circles about it.
Admittedly, Jackson has been No. 1 on my mental MVP ballot for quite a while now. If her coach is resting her to conclude the regular season for the good of the team's title hopes, that shouldn't have any negative impact on how her "body of work" is judged. While I never finalize my vote that is sent to the league until the last day of the regular season, I would vote for Jackson if I had to submit my ballot now.
Now I just have another week to agonize over whether that's the right call.
Regular-season honors
ALL-LEAGUE FIRST TEAM
| Pos/Player | Skinny |
| --- | --- |
| G Sue Bird, Seattle | Runs show for WNBA's top team. |
| G Diana Taurasi, Phoenix | League's leading scorer. |
| G Cappie Pondexter, New York | Gave Liberty star power. |
| C Lauren Jackson, Seattle | Powerful presence inside and out. |
| F Tamika Catchings, Indiana | Having her best season shooting. |
ALL-LEAGUE SECOND TEAM
| Pos/Player | Skinny |
| --- | --- |
| G/F Angel McCoughtry, Atlanta | Great follow to rookie-of-year season. |
| F Penny Taylor, Phoenix | Fills up stat sheet consistently. |
| C Sylvia Fowles, Chicago | Continues to blossom on struggling team. |
| F/C Crystal Langhorne, Washington | Improved on "most improved" honor. |
| F/C Tina Charles, Connecticut | Easily the WNBA's best rookie. |
OTHER AWARDS
| Award | Front-runner |
| --- | --- |
| Rookie of the year | Tina Charles, Connecticut. Already set WNBA rookie records of 368 rebounds and 20 double-doubles. |
| Coach of the year | Julie Plank, Washington. Playoff-bound even without Alana Beard. |
| Sixth player of the year | DeWanna Bonner, Phoenix. Repeats honor from rookie season. |
| Most improved player | Leilani Mitchell, New York. Went from averaging 2.4 to 8.9 ppg. |
| Defensive player of the year | Tamika Catchings, Indiana: Same amazing energy as always. |
Mechelle Voepel, a regular contributor to ESPN.com, can be reached at mvoepel123@yahoo.com. Read her blog at voepel.wordpress.com.
espnW.com
Mechelle Voepel joined ESPN.com in 1996 and covers women's college hoops, the WNBA, the LPGA, and additional collegiate sports for espnW.
MORE WOMEN'S BASKETBALL HEADLINES

MOST SENT STORIES ON ESPN.COM
STORIES FROM HUFFINGTON POST