Commentary
Expect drama from Mercury-Storm
Seattle's regular-season success against Phoenix might not hold in West finals
Originally Published:
August 28, 2010
By
Mechelle Voepel
| Special to ESPN.com
Now that we've dispatched with the formality of the first round of the WNBA's Western Conference playoffs, we can get right to looking at the showdown everyone's anticipated: Seattle versus Phoenix. Each finished 2-0 series sweeps Saturday in games that went as expected and will meet Thursday in Seattle for the opener of the best-of-three West finals.
Wait, you say, how about a few words for our departing participants? OK, sure, they deserve that much. Congratulations to Los Angeles and San Antonio for scrapping through difficult, injury-marred seasons to make the postseason and not tanking enough to end up in the lottery for the Maya Moore Sweepstakes, aka, the 2011 WNBA draft.
Of course, there was very little chance that both LA and San Antonio could have avoided the playoffs -- not with the way the Minnesota Lynx were leaking oil coming to the finish line.
Since Tulsa was eliminated from playoff contention a long time ago -- as in, basically when the season started -- only one of the West's other four teams that had a losing record this summer could also be on the postseason sidelines.
Tulsa will be the favorite for the No. 1 selection next April, with Minnesota (which has both its own and Connecticut's first-round pick) and Chicago also in the lottery. Whoever wins the prize to choose Moore doesn't need to closely examine the two West finals participants to understand the value of drafting UConn players. It's obvious.
Still, we will make the point: Three former Huskies (Swin Cash, Sue Bird, Svetlana Abrosimova) for the Storm plus two (Diana Taurasi, Ketia Swanier) for the Mercury equals a UConn reunion. Albeit not as big a one as when the U.S. national team gathers for upcoming women's World Championship.
Speaking of that event, which begins in the Czech Republic shortly after the WNBA finals, Seattle's Lauren Jackson and Phoenix's Penny Taylor will combine to help Australia defend its 2006 gold medal. Before that patriotic mission, though, Jackson and Taylor will attempt to knock each other's teams out of the WNBA playoffs.
This Storm-Mercury matchup is one we might have gotten in the West finals in the past couple of years if Jackson had been healthy. But she missed the 2008 and '09 playoffs with injuries, and the Storm just didn't have enough to successfully navigate the postseason without her.
For that matter, in 2005, '06 and '07, the Storm couldn't do it with Jackson.
[+] Enlarge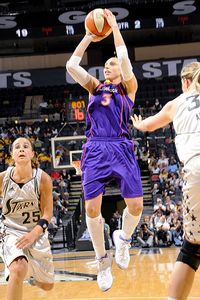 D. Clarke Evans/NBAE/Getty ImagesDiana Taurasi will be taking aim at an upset of the Storm.
Since winning the 2004 WNBA title, the Storm has fallen in the first round to Houston and Phoenix once each and to LA three times. The first three years after their title, the Storm didn't have a strong-enough supporting cast to back up Bird and Jackson. The next two seasons, the team overall was stronger, but LJ wasn't able to play at the most critical time.
Now everything has come together this year for Seattle. Jackson is having an MVP-caliber season that even all the jostling of seven meetings with LA's DeLisha Milton-Jones didn't derail.
And there were the important pickups of Abrosimova and Le'coe Willingham for the Storm. Abrosimova played just six games with the Sun in 2008 and didn't compete in the WNBA at all last year. She seriously debated returning to the league, but figured Seattle would be the perfect fit.
Meanwhile, Willingham was a valued starter in 2008 and '09 for Phoenix, helping the Mercury win the WNBA title last year. But salary-cap issues prevented the Mercury from re-signing her, and she was willing to move to a reserve role with the Storm.
So there is some cross-pollination in the Storm-Mercury matchup. Including, of course, with the longtime friendships that exist among various members of the teams, plus their collaboration on overseas squads. There is such a degree of familiarity between the Storm and the Mercury that scouting reports seem practically unnecessary.
What there hasn't been, surprisingly, between the two franchises this summer is balance in the series, at least in terms of the outcome. Seattle won all five meetings. However, four of them were very close.
In May, the Storm won by six in Phoenix. The lone blowout of the five came in June, when the host Storm won by 23.
The two July meetings both were terrific games; the first, in fact, was the best contest of the WNBA's regular season. Bird's 3-pointer with 6 seconds remaining was the winning shot in a 111-107 three-overtime marathon July 14 in Phoenix. Two weeks later in Seattle, the Storm won again, this time by six.
The last matchup, Aug. 20, was little more than a dress rehearsal for the playoffs. With their postseason spots already secured, the Storm and Mercury limited their starters' time -- Taurasi didn't play at all -- and visiting Seattle won by five.
So while the 5-0 series edge and Seattle's 28-6 regular-season record compared to Phoenix's 15-19 would appear to the casual observer to indicate a mismatch, nothing could seem further from the truth to league followers.
Seattle edged LA only 76-75 in the final regular-season game, but then comfortably topped the Sparks 79-66 and 81-66 in the playoffs' first round. So far, so good for the Storm.
Phoenix rested Taurasi and Taylor in its regular-season finale loss at San Antonio, a meaningless game to the Mercury. Then when it mattered again, the Mercury swatted away the Silver Stars in the first round, 106-93 and 92-73.
Phoenix forward Candice Dupree, eager for her first playoff action after four seasons of treading water with Chicago, especially hurt San Antonio. She unleashed a combined 51 points and 19 rebounds on the Silver Stars in the two games.
Taurasi, sounding a bit prickly in recent interviews, seems to be gearing up herself and the Mercury to play the role of the "disrespected" in the West finals.
Taurasi doesn't like the assertion that Phoenix doesn't play much defense, the 93.8 points per game they allowed in the regular season notwithstanding. And she wants very much to show the Mercury can win a title without Cappie Pondexter -- whose New York Liberty will try Sunday in Indiana (8 ET, ESPN2) to secure a spot in the East finals.
In one of this summer's subplots, Taurasi, through some thinking out loud in an interview, fueled speculation that she might skip an upcoming WNBA season to restore her energy from near year-round play.
That, in turn, fueled hysterical suggestions that such a decision by Taurasi would spell the immediate end of the WNBA, which has thwarted hopeful critics' death notices for 14 seasons now. Not that they ever seem to notice.
Then this past week, Taurasi signed a multi-year extension with the Mercury (cue cricket noises from same critics) and said, at the very least, she was committed to a full 2011 season with Phoenix. Whether she eventually opts to take some time off remains to be seen. Regardless, she made clear that her career will continue long-term in Phoenix.
Meanwhile, counterparts Jackson and Bird are equally committed to Seattle. It is the superstars' devotion to their respective franchises that helps make the Mercury-Storm matchup as eagerly anticipated as it is.
Along with the fact that when you combine the talent and personalities of both teams -- regardless of the Storm's regular-season dominance in the series -- it's just great theater.
Mechelle Voepel, a regular contributor to ESPN.com, can be reached at mvoepel123@yahoo.com. Read her blog at voepel.wordpress.com.
espnW.com
Mechelle Voepel joined ESPN.com in 1996 and covers women's college hoops, the WNBA and additional collegiate sports for espnW. Born in Los Angeles, she grew up 40 miles north of St. Louis and is a lifelong Cardinals fan still basking in amazement over their 2011 World Series title.
SPONSORED HEADLINES
MORE WOMEN'S BASKETBALL HEADLINES
MOST SENT STORIES ON ESPN.COM
WNBA Playoffs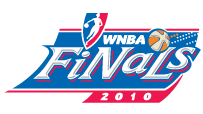 WNBA Finals
•
Voepel: Second title even sweeter for Storm
•
Voepel: Storm's Cash is money on 3-pointers
•
Voepel: Millers making most of Dream reunion
•
Voepel: Can Dream avoid sweep in Finals?
•
WNBA Finals Live: Game 3
•
Voepel: Jackson leads Storm to 2-0 start
•
Voepel: Atlanta will stick to game plan
•
WNBA Finals Live, Game 2
•
Voepel: Bird does it again to lift Seattle
•
Voepel: Little comes up big for Storm
•
Voepel: Can Atlanta's lineup solve Seattle?
•
Voepel: Wright complements Bird in backcourt
•
WNBA Finals Live: Game 1
•
Voepel: Cash helps carry Storm to finals
•
Voepel: Bales back, in best shape of career
•
Voepel: Head-to-head finals breakdown
•
Voepel: Athletic Atlanta to test Storm
Video
•
Storm win franchise's second WNBA title
•
Seattle takes 2-0 lead with 87-84 win
•
Monday's player interviews from KeyArena
•
Carolyn Peck breaks down Seattle's 79-77 win
•
Saturday's player interviews from KeyArena
Results
•
Complete schedule
WNBA.com
•
Complete playoff coverage