Discussion
Outtakes with Candice Wiggins
Kenny Mayne sits down for a few minutes with the WNBA star
Updated:
May 24, 2010, 10:07 AM ET
By
Kenny Mayne
| ESPN The Magazine
The following interview appears in the May 31 issue of ESPN The Magazine. More content from the issue can be found here
KM: How's your health? I understand you're a little injured. Going to miss much time? CW: I'm not sure. The time frame was four to six weeks, but who knows? Could be sooner. KM: Does the WNBA also have a dress code? Or can you wear sweats on the sideline? CW: We do have a dress code. We have to look nice. But after wearing them throughout my college career, ...

Read full story
ESPN The Magazine's Travel Issue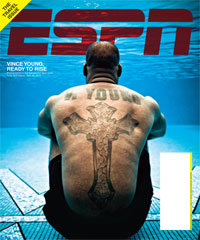 Check out all the content from ESPN The Magazine's May 31, 2010, issue (The Travel Issue). Where noted, the content is for ESPN Insiders.
Editorial Content
MORE WOMEN'S BASKETBALL HEADLINES