Comets add two players in dispersal draft
Updated:
January 6, 2004, 5:23 PM ET
ESPN.com news services
NEW YORK -- The Phoenix Mercury selected 6-foot-1 forward Penny Taylor with the first pick in the WNBA dispersal draft of Cleveland Rockers players during a conference call Tuesday.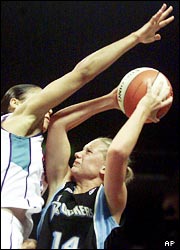 AP PhotoPenny Taylor, right, has averaged 10.6 points over her three-year WNBA career.
Sixteen players were available in the one-round draft. Teams drafted in inverse order of their regular-season finish in 2003.
The Washington Mystics chose center/forward Chasity Melvin with the second pick, and the San Antonio Silver Stars took forward LaToya Thomas with the third selection.
The Houston Comets, who on Monday gave up their second-round pick (24th overall) in the 2004 WNBA draft to Connecticut for the Sun's eighth pick in Tuesday's dispersal draft, added two players -- center Pollyanna Johns Kimbrough as the No. 8 selection and forward/center Lucienne Berthieu with the 11th pick.
Rockers guard/forward Merlakia Jones, who is an unrestricted free agent, was not available for selection in the dispersal draft.
A complete list of Tuesday's draft picks:
1. Phoenix: Penny Taylor, F, 6-1
2. Washington: Chasity Melvin, C/F, 6-3
3. San Antonio: LaToya Thomas, F, 6-2
4. New York: Ann Wauters, C, 6-4
5. Indiana: Deanna Jackson, F, 6-2
6. Seattle: Betty Lennox, G, 5-8
7. Minnesota: Helen Darling, G, 5-6
8. Houston (from Connecticut): Pollyanna Johns Kimbrough, C, 6-3
9. Charlotte: Mery Andrade, F, 6-0
10. Sacramento: Jennifer Butler, C, 6-3
11. Houston: Lucienne Berthieu, F/C, 6-0
12. Los Angeles: Isabelle Fijalkowski, C, 6-5
13. Detroit: Jennifer Rizzotti, G, 5-6
MORE WOMEN'S BASKETBALL HEADLINES