Washington guard expanding her TV work
Updated:
February 2, 2005, 2:46 PM ET
SportsTicker
WASHINGTON -- Washington Mystics guard Stacey Dales-Schuman, the third overall pick in the 2002 WNBA draft, retired Wednesday to pursue a career in broadcasting.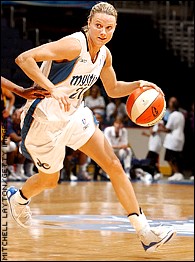 Getty ImagesStacey Dales-Schuman said her passion for playing has diminished. Mystics said she'll be "greatly missed."
Dales-Schuman, who helped lead Oklahoma to the 2002 NCAA national championship game, averaged 9.3 points, 2.6 rebounds and 2.9 assists in her three seasons with the Mystics.
"During the past couple of seasons, my passion and spirit for playing basketball have diminished," she said. "Leaving the game is not an easy decision to make, but one that I am fully comfortable with for both myself and my family."
In 2002, Dales-Schuman joined ESPN as a studio analyst for its coverage of women's college basketball. Recently, football and men's basketball were added to her duties.
"A player of Stacey's caliber will be greatly missed by our organization," Mystics vice president of basketball operations Judy Holland said. "She has been an integral part of the Mystics family for the past three seasons, and we wish her all the best."
MORE WOMEN'S BASKETBALL HEADLINES

MOST SENT STORIES ON ESPN.COM