Editor's note: ESPN analyst Nancy Lieberman had the night off Thursday but spent it watching a pair of first-round playoff games at the home of Melanie Jackson, who coordinates ESPN.com's women's basketball coverage and edits Lieberman's columns for the Web site. The following is the transcript from their running diary, which included Lieberman's game analysis, her MVP pick, a look ahead to the East finals, details of her conversations with not one but two WNBA coaches Thursday, an update on Katie Douglas' shoulder injury and even some insight into Lieberman's spending habits.

Lieberman
8 ET, Jackson: Hello and welcome. Thanks for joining us. I'm a bit worried, though. Nancy's been trading fun barbs with Geno Auriemma in the studio this week. Without her whipping boy around, I expect the sarcasm to remain at a high level.
It's funny that we're all gathered here in Burlington, Conn., just seven miles from ESPN's campus in Bristol. I mean, even though Nancy and I talk on the phone several times a week, we rarely actually see each other face-to-face. Apparently, though, Nancy is quite comfortable here and thinks she's in college again. She actually brought some laundry with her tonight!
8:02 ET, Lieberman: It's great to be here. I'm out in the sticks here in rural Connecticut. So far, I've been fed a good meal and had a great conversation with a 4-year-old, which, yes, I know, is just right at my level. It was a little disconcerting when Jillian, Mel's daughter, put on her Red Sox hat. But I quickly got rid of it and will be sending Yankee gear soon.
8:03 ET, Jackson: That will not fly in this house.
8:03 ET, Lieberman: Alright, alright. Let me tell you, I caught up on a lot of things today, but mainly I caught up on the devastation that Hurricane Katrina caused. The whole ordeal in Louisiana just took my breath away and I'm trying to come up with some ideas on how to help.
I have spoken to Charles Barkley --
Wow. She just broke her ankles. Tamika Catchings just broke Crystal Robinson's ankles. 15:58. Crystal Robinson's going to the emergency room.
OK, anyway. I spoke to Charles and he's going to Houston to try to find a way to lighten peoples' spirits. Shaquille O'Neal is already down there and I'm awaiting a call back to find a way to help.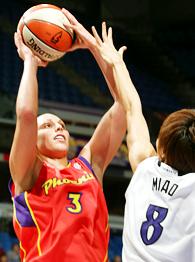 Rocky Widner/WNBAE via Getty ImagesLieberman's favorite point guard in today's game? Phoenix star Diana Taurasi.
8:03, Jackson: Name dropper.
8:04, Lieberman: Yeah, yeah. I also worked out at the ESPN gym, spent a couple of hours there with the phone attached to my ear, calling coaches and players.
8:06 ET, Jackson: That phone, by the way, is still attached. Leave it to Nancy. No one else can get a decent cell phone signal out here, but her phone is blowing up.
8:07 ET, Lieberman: Well, I only got one bar. Anyhow, I also talked to Bill Laimbeer. He was exhausted from watching film. He was disappointed but gave Connecticut credit for making some really tough shots, especially when the clock was winding down. He said the Sun pushed the ball more than he thought they would and that Lindsay Whalen's penetration really hurt them.
He said Detroit needs to be more aggressive and get to the rim instead of settling for those 8-foot jump shots where they're having to elevate over someone. He felt that Cheryl Ford needs to be on the floor a lot longer, too. She had those three quick reach-in fouls Wednesday. And he needs Elaine Powell and Plenette Pierson to step up off the bench.
I also heard from Becky Hammon today. She said New York was confident going into Game 2 and hopeful the Liberty could steal the game. After watching Game 1, I felt Indiana did a good job of limiting her shots. She had only nine shots and nine points, but needs 15-16 shots and certainly needs to get to the foul line more often.
Hold, on, I gotta teach Jillian how to do pushups. OK, come here. Put your hands here. 1 ... 2 ... 3 ... 11 ... 75.
8:15 ET, Jackson: Nice counting.
8:15 ET, Lieberman: Well, you know, I did go to Old Dominion.
8:15 ET, Jackson: What do you think about Indiana-New York game so far?
8:15 ET, Lieberman: New York is really struggling to score. And it's really physical, which benefits Indiana. (Now yelling at the TV:) Catchings! You are so good. You are so good.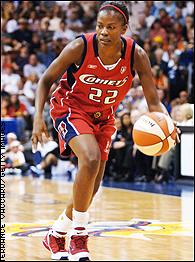 Photo by Terrance Vaccaro/NBAE via Getty ImagesTamika Catchings and Lauren Jackson are the best players in the league, but Sheryl Swoopes was Lieberman's MVP this season.
8:30 ET, Jackson: Who was your MVP?
8:30 ET, Lieberman: Sheryl Swoopes had the best season. I voted for her. But Tamika Catchings and Lauren Jackson are the best players in the league, hands down.
And you get named to the All-Chili team. That was some good chili you made tonight, Mel.
8:45 ET, Lieberman: No one can guard Catchings tonight. New York has to go to a zone. Cathrine Kraayeveld cannot guard her. And that's not a slight to Kraayeveld. She's good. It's really a shame Kraayeveld was sitting at home for a while after she was cut by San Antonio.
8:55 ET, Lieberman: New York's in a zone. Look at Kelly Miller's defense on Becky Hammon. That's really good stuff. Look at Catchings. She does not wear knee pads because it looks good. For her, it's functional.
Alright, it's halftime. Indiana 27, New York 16.
9 ET, Jackson: So what's your first-half breakdown?
9 ET, Lieberman: New York is physically being dominated by Indiana. And there's not a player on the team who can match up with Catchings. She only has nine points at halftime, but she's everywhere.
New York is a precision offense that is successful because of the entire team effort, not individual work. The timing and angles of their screens open up their looks. But Indiana reminds me of the old Cleveland Rockers with the way the Fever jam up the offense.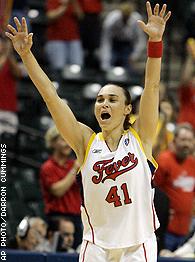 (AP Photo/Darron Cummings)Tully Bevilaqua's ID says she's 33 years old. She just doesn't look it.
9:05 ET, Jackson: (After watching a highlight of Ticha Penicheiro on NBA TV:) Who's your favorite point guard in today's game?
9:05 ET, Lieberman: I really like Diana Taurasi.
9:05 ET, Jackson: And yet, some people say she's not a natural point.
9:05 ET, Lieberman: Yeah, everybody has been trying to play her at the 2. But ask her where she wants the ball and she'll tell you, "In my hands." She's like Magic Johnson. She can score. She can pass. She can penetrate. With the ball in her hand, it's havoc. But if you put her on the wing, you take half her game away.
9:15 ET, Lieberman: I've got a great story about Indiana point guard Tully Bevilaqua. Well, you know, she's 33 years old, but she told [ESPN's] Pam Ward that she still gets carded all the time. Everybody thinks she's like 18. Or younger. This one time, as her plane landed, the flight attendant came over to Tully and was like, "You stay here and let everybody else get off and then we'll make sure someone's meeting you off the plane." Apparently she thought Tully was an unaccompanied minor!
9:22 ET, Lieberman: [New York coach] Pat Coyle has made some super adjustments. The Liberty have cut the lead to five. They will not win playing man-on-man. They need to stick with the zone. Indiana is not a great shooting team. New York has to make the Fever into a jump-shooting team and prevent them from slashing.
9:35 ET, Lieberman: School's back in session. Let's talk college hoops. LSU is my preseason No. 1 for 2005-06. The Lady Tigers will struggle at times after graduating Temeka Johnson. But they bring everybody else back, including national player of the year Seimone Augustus, who's a year older and wiser with two Final Four trips under her belt. Coach Pokey Chatman has gained invaluable experience and is a better coach today than she was a year ago. And I like their supporting cast.
9:45 ET, Lieberman: Sun coach Mike Thibault just called. Katie Douglas' shoulder was still hurting after the game last night, but she was feeling a little bit better today. They still don't know exactly what's wrong with the shoulder. But he never said she wouldn't play Friday.
Thibault thinks Connecticut can rebound better in Game 2. Obviously Margo Dydek getting into early foul trouble hurt them in that category. He also said Connecticut came out and played totally different against Detroit than it did in the regular season. That the Sun ran a lot more because they didn't give up second shots. He really felt that Connecticut was very fatigued in two of its matchups with Detroit in the regular season. But now both teams have had equal rest and preparation, and that showed Wednesday.
10:10 ET, Jackson: So Indiana wins, 58-50. How do the Fever match up against the Sun and Shock?
10:12 ET, Lieberman: Well, let me start by saying that I'm not surprised that all four road teams won Game 1. To be honest, I think all four first-round series will end in two games.
That said, I think the conference finals will all go three games and be hella competitive. Can I say, "hella"?
The Fever and Sun will match up in a very physical series. Indiana really mucks up the game on the defensive end and disrupts your offense. The Fever are also tremendous rebounders. And if Natalie Williams continues to play the way she has been, it's a tremendous complement to Catchings, who's all-universe and virtually unstoppable because she's so unpredictable. She doesn't post up all the time. She doesn't go perimeter all the time. She comes from the weak side. She hurts you whether the ball's in her hands.
But for as much defensive balance as Indiana has, Connecticut is just as balanced on offense. And don't forget the Sun were the league's No. 1 team in field-goal percentage defense (39.8 percent) in the regular season. They must rebound, though.
10:37 ET, Lieberman: The Storm look really good to me. They're hitting everything and it's a great crowd.
10:52 ET, Lieberman: Houston's in this game because they've been able to get to the foul line. They've scored 13 of their first 27 points on free throws.
10:55 ET, Jackson: Something I've noticed over the past three hours is that Nancy's attention span wanes every commercial, and now I know why. She says she's addicted to infomercials, that at home she watches TV with her phone in one hand and her credit card in the other.
And by the way, Nancy, your laundry is done.
10:56 ET, Lieberman: Thanks. Seriously, though, I buy everything I see. Stand-up putter. The thing that helps you fold your clothes so you can fit them in your bag. The TimeLife DVD of animals eating each other in the jungle. And look, this is my favorite. I use this one all the time.
10:57 ET, Jackson: Oh my God. She just pulled out a credit card-sized magnifying glass.
10:57 ET, Lieberman: And look! It lights up. This thing is great.
11 ET, Jackson: Can I tell everybody you're folding your unmentionables in front of my husband? Is that a pair of Abercrombie boxers?
11:01 ET, Lieberman: Um, so ... I think it's absolutely incredible that Sheila Johnson and the Mystics are donating $500,000 to Hurricane Katrina relief efforts. It's one thing to have money, but she really uses her money to benefit others. Thibault said the Mohegan Tribe also will donate all the receipts from Friday's game to the Red Cross. That's really cool, especially since they're expecting 8,000 or 9,000 people.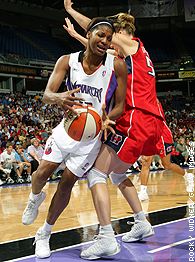 Rocky Widner/WNBAE via Getty ImagesWhen Sacramento almost self-imploded down the stretch Wednesday, it was easy to see how much DeMya Walker is missed.
11:10 ET, Lieberman: I also spoke to Sacramento coach John Whisenant today. He felt his team got caught up just waiting for the clock to tick down last night, that the Monarchs were just waiting for the game to be over. As a result, L.A. was able to get back in the game. The Monarchs stopped being aggressive offensively, stopped moving the ball well and, with the shot clock winding down, had to take poor shots.
Whisenant also said he was surprised that L.A. played with so much more defensive pressure than they presented against Sacramento in the regular season. In the last four minutes, L.A. went to man-on-man defense and put a lot of trapping pressure on the Monarchs. Usually, a lot of teams will play zone against Sacramento, especially when Nicole Powell and Kara Lawson are not in.
Whisenant admitted that the Monarchs didn't handle the pressure well, even though they practice press-breakers every single day in practice. "But our guys just threw the ball away," he said, adding that Yolanda Griffith gave a very spirited locker room speech to her teammates after Wednesday's game, emphasizing how important it is to finish games and play with intensity for 40 minutes.
The last four minutes really exposed how much the Monarchs miss DeMya Walker. Not only does she shoot a high percentage and have great step-through moves, she's also extremely quick defensively and takes a lot of charges, and would have been there in the lane against L.A.
"Everybody talks about how good we are without her," Whisenant said. "But we were winning against teams with sub-.500 records. We need her back."
Sacramento's hopeful Walker will be available for the Western Conference Finals, should they advance past L.A.
11:20 ET, Lieberman: Alright, kids. My laundry is done. It's time to get going. Now, how do I get back to my hotel?
11:20 ET, Jackson: Here's a map. Just turn right ...
11:20 ET, Lieberman: Great. But where did I put my magnifying glass?
Basketball analyst / Writer
Nancy Lieberman, one of the most recognized individuals in women's basketball, is a men's and women's basketball analyst for ESPN. She works on ESPN and ESPN2's coverage of men's and women's college basketball, plus the WNBA and writes for ESPN.com.
Women's Basketball
Melanie Jackson is ESPN.com's women's basketball editor.
STORIES FROM HUFFINGTON POST