Lynx pick LSU's Augustus first in WNBA draft
Updated:
April 5, 2006, 9:18 PM ET
Associated Press
BOSTON -- Seimone Augustus ran the gamut of emotions this weekend in Boston.
Hoping to win the NCAA women's title with LSU, the nation's leading scorer and the Lady Tigers were ousted in the national semifinal Sunday night by Duke. Three days later, Augustus was back on top as the No. 1 pick in the WNBA draft.
LSU's go-to player is going to Minnesota.
"After the semifinal loss, I mainly went back to my room and read books to try to keep my mind off of what just happened," Augustus said. "Once I got with the WNBA staff, it was focusing on trying to be prepared for the draft, getting ready for my career and my future."
The two-time AP Player of the Year led the nation in scoring with 23 points a game. She also led the Lady Tigers to three straight Final Fours.
Rutgers' guard Cappie Pondexter was selected second by the Phoenix Mercury. Duke's Monique Currie was the third pick taken by the Charlotte Sting. Duke fell short in the NCAA title game Tuesday night, losing to Maryland in overtime.
Baylor's Sophia Young was chosen by the San Antonio Silver Stars, and the Los Angeles Sparks took UCLA's Lisa Willis to round out the top five.
Augustus used her fluid jump shot to put up impressive numbers from the moment she stepped on campus, a Baton Rouge high school star hailed as the biggest recruiting catch in LSU history.
She scored 27 points in her debut against Arizona and has scored in double figures an NCAA-record 132 times in her 140 games. She finished her career with 2,702 points.
Instead of carrying a team, Augustus is looking forward to fitting in as a rookie in the WNBA.
"I kind of relate it back to my freshman year coming into college. You have to get into that comfort zone," she said. "You learn your teammates, learn their personalities and see where you fit in. You just have to use that year to get yourself together, get your thoughts together and your mindset ready for this professional league."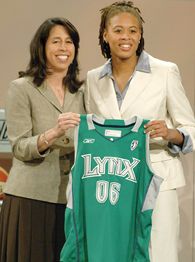 AP Photo/Josh ReynoldsAugustus said she is looking forward to starting fresh with the Lynx.
The Lynx finished 14-20 last season and won the league's draft lottery to gain the No. 1 pick. By trading All-Star Katie Smith to the Detroit Shock last summer, the Lynx acquired an extra first-round selection, the seventh overall.
Lynx coach Suzie McConnell Serio said team officials had their minds made up about Augustus long ago.
"She just separated herself from the rest of her senior class," McConnell Serio said. "Nobody's been able to stop her, but when they've contained her they've sent double and triple teams at her, leaving other players open on the floor."
Pondexter will join a backcourt that includes All-Star Diana Taurasi. Pondexter, a 5-9 Chicago native, has sported a WNBA tattoo on her arm since high school in anticipation of this day.
"It's just overwhelming just knowing your dream is here in front of you," Pondexter. "I've admired Taurasi for a long time, and just to have the opportunity to play with her, I think I will learn a lot."
Pondexter averaged 21 points this season and led the Scarlet Knights to two straight regular-season Big East titles.
New Mercury coach Paul Westhead said he's looking forward to pairing the two scorers in his up-tempo offense. The Mercury selected Taurasi first overall in 2004.
"I think Cappie will easily complement Diana Taurasi, and I know 'D' is going to help Cappie because she'll take some of the heat off her," Westhead said.
The draft capped a whirlwind weekend for many of the new professionals. Currie was across town on the floor of TD Banknorth Garden around midnight trying to help win Duke's first national title. The Blue Devils lost 78-75 in overtime to Maryland.
Currie, who came back for a fifth year for a shot at the title, scored 22 points.
"There hasn't been any time really to reflect on everything that has happened over the past day," Currie said. "I'm extremely happy, and very happy to be going to Charlotte. My college career didn't end like I wanted it to end, but I'm taking the next step and am looking forward to what the future holds for me."
"She's a very explosive player," said Sting coach Muggsy Bogues. "She's already a scorer. You don't have to teach her much on the perimeter."
Currie could also help boost ticket sales for the Sting by giving them a player with local appeal for their first season in a new downtown arena.
Young helped lead the Bears to their first NCAA title last year and averaged 17.8 points and 9.8 rebounds in college.
A relative newcomer to the game, she came to the United States seven years ago from a tiny Caribbean island of St. Vincent, with hopes of refining her basketball skills. The 6-1 forward had the biggest game of her life in the 2005 title win against Michigan State with 26 points and nine rebounds, and was named the Final Four's most outstanding player.
"It has been such a remarkable journey," she said. "I just took this opportunity and didn't know what I had in store. The [WNBA] is something you look forward to since you are a little girl and now that it is finally here, it's excitement mixed with nervousness."
Willis, a 5-11 guard, is the Bruins' all-time 3-pointer shooter (186). The Sparks had the fifth pick because of an offseason trade with Washington that sent Nikki Teasley to the Mystics for Temeka Johnson and Murriel Page.
Celebrating its 10th year, the league held the draft the day after the women's NCAA Final Four in the same city as the championship for the first time. Previous drafts were held at the NBA studios in Secaucus, N.J.
There were three rounds in Wednesday's draft and 42 picks overall.

Copyright 2006 by The Associated Press
SPONSORED HEADLINES
MORE WOMEN'S BASKETBALL HEADLINES
MOST SENT STORIES ON ESPN.COM
WNBA DRAFT
Related Stories
• Lynx take Augustus with top pick
• WNBA Draft Board, Picks 1-42
• Voepel: Bleary-eyed Boston draft
• Sun (but not East) shine in draft
• Suddenly professional Thorburn
• Zolman ready to take her shot
• Mercury trade for Strother

Seimone Augustus, She's No. 1
| | |
| --- | --- |
| | |
| | Augustus |
Age:
21
Born:
Baton Rouge on April 30, 1984
2005-06 averages:
22.7 points,
4.7 rebounds
and 1.8 assists
Experience and awards:
Player of the Year (2005) … Naismith Player of the Year (2005) … USBWA Player of the Year (2005) … Wade Trophy recipient (2005) … Honda Broderick Player of the Year (2005) … AP All-America (2005) … Kodak All-America (2005, 2004) … AP All-America Third Team (2004, 2003) … All-SEC First Team (2005, 2004) … Consensus Freshman of the Year (2003) … SEC Player of the Year (2005) (Source: WNBA.com)
WNBA Draft: First-round picks
1. Lynx,
S. Augustus
, G, LSU
2. Mercury,
C. Pondexter
, G, Rut.
3. Sting,
Monique Currie
, G, Duke
4. Silver Stars,
S. Young
, F, Baylor
5. Sparks,
Lisa Willis
, G, UCLA
6. Sky,
Candice Dupree
, F, Temple
7. Lynx,
Shona Thorburn
, G, Utah
8. Mystics,
T. James
, G, Miami
9. Fever,
L. Atkinson
, F, UNC
10. Sting,
Tye'sha Fluker
, C, Tenn.
11. Storm,
B. Turner
, G, UConn
12. Liberty,
Sherill Baker
, G, UGa
13. Monarchs,
Kim Smith
, F, Utah
14. Monarchs,
S. Hoston
, G, LSU
Motion
•
Augustus excited about Lynx
•
Augustus No. 1 Pick in Draft