Let the debates begin
Updated:
August 9, 2006, 11:09 AM ET
By
Graham Hays
| ESPN.com
Thankfully, Mark McGwire isn't on this ballot.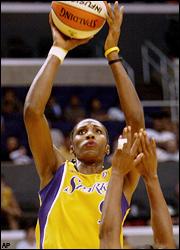 The Sparks' Lisa Leslie is posting the best numbers of her 10-year WNBA career this season.
But while voting for this season's WNBA awards might not involve the moral quandaries of voting on enshrinement in Cooperstown, it's still a way to honor the best and brightest of this season and requires some serious pondering.
Clearly, people care about the outcome. Take Kelley Pitchford, a WNBA fan from Brownsburg, Ind., who took time last week to send an e-mail and make an eloquent case for Tamika Catchings as MVP.
"The MVP should not be someone who just scores and leads a team," Pitchford wrote. "These are great qualities, but TC does that and everything else. The MVP should be the player who has an all-around game and doesn't just exceed in one or two categories."
As it happens, Kelley isn't going to like my ballot on this count, but that's part of the process and part of why awards matter. Whether a team wins or loses isn't up for debate, but we can all argue the merits of award candidates for as long as we desire. And the difference between what you see and what I or anyone else sees is what makes it worth watching the games instead of simply checking the score in the morning.
So for what it's worth, here is how my ballot will look.
MVP
1. Lisa Leslie, Los Angeles: One school of thought on MVP awards is that the winner should be the best player on the best team. Another line of reasoning, as argued by Pitchford, suggests it should be the best all-around player in the league. And a third, quite literal, interpretation is that the winner should be the player who is more valuable to her team's success than any other player is to that particular team's success.
With all due respect to the worthy candidates to follow, Leslie sweeps all three definitions in my mind.
A late-season slide after already clinching the top seed in the Western Conference might cost the Sparks the best record in the league, but Leslie is the best player on a team that dominated for much of the season. At 36, and even accounting for an overall spike in statistics across the league, Leslie is putting together her best season yet. In addition to averaging better than 20 points per game for the first time, she's besting her career averages in field-goal shooting, rebounds, assists and steals.
Not only has she bounced back from a disappointing injury-plagued season in 2005 by regaining dominance in her traditional footholds of scoring and rebounding, she's taking advantage of an opportunity to showcase new skills. In a league that increasingly demands its post players show vision and passing ability, either to speed the break or beat the new shot clock in half-court sets, Leslie has already shattered her single-season high in assists.
Before the season, I wrote the best-case scenario for the Sparks would involve Leslie ceding some of the spotlight and becoming the Kareem to Chamique Holdsclaw's Magic. Instead, Leslie has ensured that while the future is crowded with stars on the rise, one of the league's originals remains the best of the present.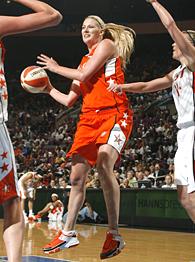 Jesse D. Garrabrant/GettyImagesDespite rarely playing more than 30 mpg while battling leg injuries, Lauren Jackson is averaging 19.5 ppg and shooting 54 percent from the field.
2. Lauren Jackson, Seattle: Physically, Jackson might be little more than half the player she was in winning MVP honors in 2003. But the fact that her production is far closer to 100 percent of that award-winning season than many thought possible is a testament to someone who has become the league's most efficient offensive player.
Despite rarely playing more than 30 minutes a game and hardly ever practicing at anything close to full strength while battling leg injuries, Jackson is averaging 19.5 points per game for the Storm. She's pulling off that neat trick by shooting with unparalleled accuracy.
Consider Jackson's shooting percentages on field goals, 3-pointers and free throws: 54, 40, 91, respectively. She ranks second in the league in field-goal shooting (while taking nearly twice as many shots per game as leader Erin Buescher), third in free-throw shooting (while averaging the fourth-most attempts in the league) and eighth in 3-point shooting.
Based solely on her height and agility, there aren't many defenders who can match up with Jackson. Add in that she can shoot effectively from anywhere, and stopping her becomes almost an impossibility.
There's no underestimating Sue Bird's leadership in Seattle, but it's also impossible to escape the fact that she might finish with the worst shooting, scoring and assist numbers of her career. With Bird struggling on offense and Jackson miles from healthy -- not to mention the small matter of potential franchise relocation hanging over the team's head -- the Storm easily could have fizzled out. Instead, thanks to Jackson's consistent excellence (she has scored in single-digits just four times this season), the Storm appear headed for a playoff berth.
3. Katie Douglas, Connecticut: It's at this point that the dreaded "intangibles" enter the conversation. Tough to prove and easy to employ, intangibles are a convenient means of justifying a pick that doesn't seem to add up.
And based on statistics, Douglas doesn't seem to warrant quite this lofty a place in the pecking order. After all, seven players are averaging more points than Douglas, including four on likely playoff teams. Her rebounds, assists and steals remain solid, just as they have been since she entered the league, but none are eye-popping. And finally, she's the leading scorer on a team that boasts three other double-digit scorers and the kind of fourth and fifth options in Asjha Jones and Margo Dydek that most teams only dream of employing.
So why third on the ballot? For starters, there is the other end of the court to consider. Douglas is on pace to set a career high in steals, but her defensive excellence is about far more than the swipes that show up in the box score. Douglas routinely gets the assignment of guarding the opposing team's best guard or wing, and handles the job with aplomb.
And looks can be deceiving on offense. Douglas might be averaging fewer points per game than some stars, but in taking her offensive game to new heights this season, she's on pace to be the top single-season scorer for the Sun during Mike Thibault's four seasons as coach. In an offense built around passing and sharing the wealth, Douglas is as dominant a scoring threat as is possible in that system.
That role has been highlighted even more since Nykesha Sales left the lineup just before the All-Star Game. With Douglas taking more shots without Sales around, even while hitting at a lower rate, the Sun were 9-1 in the first 10 games with Douglas carrying an ever heavier offensive load.
4. Alana Beard, Washington: For nearly half the season, Beard's top-scoring sidekick was Chasity Melvin. And with no offense to Melvin, that's a far cry from players with names like Holdsclaw, Lennox, Sales and Whitmore supporting the other candidates.
Playing with a new point guard in Nikki Teasley and without DeLisha Milton-Jones for a good chunk of the middle of the season, Beard put last season behind her and started capitalizing on the potential she flashed in leading Washington to the playoffs as a rookie in 2003.
Despite constant defensive attention and a lack of proven options on the court with her, Beard managed to shoot 49 percent from the floor, the best mark of any non-post player in the league (and something that sets her apart from the next player on this list). She also remains on pace to post the most 3-pointers, rebounds, assists and steals of her young career and has an outside shot at her career high of 34 blocks (as it stands now, she still ranks 15th in blocks per game and is the only player listed at shorter than 6-foot in the top 30).
5. Tamika Catchings, Indiana: It's true that you almost need chapters to organize a list of where Catchings ranks among the top 10 in major statistics. More than any other player in the league, she does at least a little, and usually quite a lot, of everything. It's also true that Catchings passes the intangibles test, playing every minute of every game (almost literally; she ranks third in minutes per game) like it's the closing minutes of a playoff game. She plays with a passion and a reckless abandon that makes her thrilling to watch.
But as long as she continues to shoot so recklessly from the field, it's tough to put her any higher than this on the ballot. Because for all her brilliance and skill, an MVP simply cannot shoot less than 40 percent from the field, as Catchings is all but assured of doing for the third consecutive season, no matter how many games the team wins.
In 2003, when she averaged 19.7 points on 43 percent shooting (including 39 percent from behind the arc), Catchings probably deserved the MVP ahead of Jackson. And if that player was on this Fever team, the Fever would more likely be holding off Connecticut for first than Washington for third in the East.
Rookie of the Year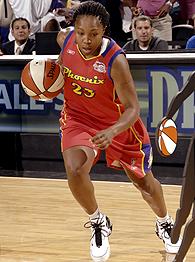 JAndrew D. Bernstein/Getty ImagesCappie Pondexter was one of three rookies on the West All-Star roster.
1. Cappie Pondexter, Phoenix: Unless I'm misjudging sentiment for Leslie, this might be the award that sparks the most debate. And I'll probably be on the losing end of that debate.
When it comes to Pondexter and Seimone Augustus, it's only possible to make a case for either player; it's ridiculous to try and argue against either one of the two best rookies in the league's best rookie class. A late scoring slide for Pondexter, who has been banged up physically and is averaging just 11.5 points in Phoenix's last four games, could further tilt the scales in favor of Augustus, who capped off July with her third 32-point game of the season. But Pondexter remains my choice.
What's special about both rookies is how much they play like veterans. For Pondexter, that's especially true when it comes to her turnovers. Despite shifting away from point guard, Pondexter remains a central figure in Paul Westhead's offense. The ball is in her hands a decent percentage of the time on offense, and as with every player on the Mercury, the ball is just in her hands a lot, period. But despite averaging just less than 16 shots a game and showing an ability to maneuver in traffic and get to the line (5.5 free-throw attempts per game), Pondexter is averaging just 1.43 turnovers.
Putting that number in some context, Pondexter is one of only two players (along with Jackson) in the top 10 in scoring who is averaging fewer than two turnovers per game. That's poise.
And with solid numbers across the board in rebounds, assists and steals, Pondexter is proving to be far more than just an elite scorer.
2. Seimone Augustus, Minnesota: If voting for a tie was an option, I'd happily sit on that fence. Augustus is entirely deserving of the honor and has impeccable credentials. Despite emerging as Minnesota's primary option since the day she arrived in camp, Augustus has simply been better than the defense thrown at her by opponents. She's ranked second behind Diana Taurasi in points per game (22.0), she's shooting a better percentage from the floor (45.7 percent) than half of the players in the top 10 in scoring, all while contributing 3-point shooting (although her touch from outside the arc has faded slightly in the second half).
And while Augustus can't match -- and isn't asked to match -- Pondexter's assists, she too is showing a remarkable ability to take care of the basketball on a team that is otherwise prone to turnovers.
Other players to consider: 3. Candice Dupree, Chicago; 4. Sophia Young, San Antonio; 5. Monique Currie, Charlotte.
Most Improved Player
1. Erin Buescher, Sacramento
2. Tamika Whitmore, Indiana
3. Kelly Mazzante, Charlotte
4. Bernadette Ngoyisa, Chicago
5. Agnieszka Bibrzycka, San Antonio
This is one of the toughest categories to judge, because the person on top of the list isn't necessarily the best of the five players. In this case, Whitmore is easily the best all-around player of the five, but she didn't have as far to go to reach where she is as Buescher had to go to reach where she is (and even if Buescher's minutes are tumbling with DeMya Walker rounding into shape). The same goes for Mazzante, who while still a role player on a bad team, has gone from the end of the bench to someone who looks like she will have a solid career.
Coach of the Year
1. Mike Thibault, Connecticut
2. Joe Bryant, Los Angeles
3. John Whisenant, Sacramento
4. Van Chancellor, Houston
5. Bill Laimbeer, Detroit
It definitely feels like this is about voting for the team with the best record, but other options just didn't make enough out of bad situations. Muggsy Bogues deserves credit for keeping the Sting focused and making a nice run in the second half of the season, but even sweeping Chicago and New York next weekend would leave the Sting 3-3 against fellow Eastern basement dwellers.
Graham Hays is a regular contributor to ESPN.com's women's basketball coverage. E-mail him at Graham.Hays@espn3.com.
espnW.com
Graham Hays covers college sports for espnW, including softball and soccer. Hays began with ESPN in 1999.
SPONSORED HEADLINES
MORE WOMEN'S BASKETBALL HEADLINES
MOST SENT STORIES ON ESPN.COM