Leslie, Sparks fizzle in Game 2
Updated:
August 27, 2006, 2:45 AM ET
By
Miki Turner
| Special to ESPN.com
ANAHEIM, Calif. -- Try and describe Saturday's Western Conference final between the top-seeded Los Angeles Sparks and the second-seeded Sacramento Monarchs and you'll find none of the words that come to mind are pretty or positive.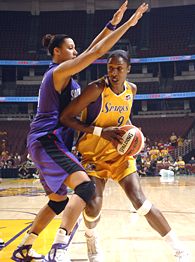 Noah Graham/NBAE via Getty ImagesLisa Leslie, right, says she had a tough time playing teams with physical frontcourts in consecutive series.
The Monarchs, fueled by a balanced scoring attack, dismantled, dismayed and destroyed the Sparks in a must-win game for L.A., 72-58, in front of a sparse crowd at the Arrowhead Pond. The defending champions now advance to meet either Detroit or Connecticut in the WNBA Finals, which open Wednesday.
The Sparks, who won a pair of WNBA titles in 2001 and 2002, were severely hampered by early turnovers, poor shooting and the Monarchs' unrelenting defense. L.A.'s only bright spots offensively came from Tamara Moore (16 points) and Mwadi Mabika (15).
And then there's Lisa Leslie, who continued her dismal series with another subpar effort. L.A.'s perennial All-Star and the leading candidate for MVP honors, missed a slew of shots underneath early on and shot only 2-of-9 in the first half. She finished with 10 points on 4-for-15 shooting and only four rebounds.
After getting eliminated by Sacramento for the third straight season, Leslie said playing teams with very physical frontcourts in back-to-back series might have taken a toll on her.
"It's just been a little frustrating overall in the playoffs for me," she said. "It's just a different game. It's so much more physical and I just don't feel like I had the physicality to sustain. With Seattle first, playing against Lauren (Jackson), was not an easy task. And then having Sacramento, and they have so many players in the post. It was very physical and they were overwhelming me with players. There was always someone on me, always some contact. I just did the best that I could.
"It's a game of basketball, it's a game of runs. Some days you come out and everything is clicking and some days you don't. I was really proud of my teammates, we came out and we fought hard. We didn't complain. We did the best that we could do."
Most of the game they had to do their best without the services of Chamique Holdsclaw. The Sparks forward made her first appearance in the series, going 0-for-5 with one assist in 14 first-half minutes. It was obvious that Holdsclaw's left foot was still sore and impairing her ability to pivot and drive.
Sparks coach Joe Bryant said it was hard to overcome Holdsclaw's limited minutes.
"She's a player that can play four positions on the floor. And for us to make it this far with just having her having good days and bad days where she was not 100 percent, I think we did a fabulous job," he said. "Now, if you really think about it, if we had 100 percent of Holdsclaw, we wouldn't be sitting here talking about having this mood now."
Instad, L.A. could just never find the right combination of players to get it done on both ends of the court. Sacramento jumped to a 5-0 advantage to start the game and never rescinded the lead. The Monarchs were up by as many as 25 points in the first half after a 15-2 run at the start of the second quarter. The Sparks were outscored 22-8 during that period and trailed 45-21 at halftime.
The Sparks did make some mini runs after the break, increasing their field goal percentage to 50 percent while the Monarchs fell to 25, but Sacramento's D held up even when its offense was MIA.
"Sacramento is defending their title. They play aggressive defense, they really take you out of your plays," Bryant said. "There's times when you just have to go back to Basketball 101. When people put pressure on you, you go back to Princeton basketball -- pass, cut, go through, move. They all understand that.
"We just didn't play well today. … Sacramento, my hat's off to them. They're the defending champs. They're thinking dynasty, they're thinking back-to-back. They're playing great."
Miki Turner, a freelance TV producer and writer in Los Angeles, is a frequent contributor to ESPN.com. She can be reached at dmiki@aol.com.
SPONSORED HEADLINES
MORE WOMEN'S BASKETBALL HEADLINES
MOST SENT STORIES ON ESPN.COM