Commentary
Moore, Cambage the top prospects
Updated:
April 11, 2011, 12:28 AM ET
By
Chris Hansen
| HoopGurlz
TOP 20 WNBA DRAFT PROSPECTS
Minnesota will be on the clock Monday when the 2011 WNBA draft (ESPN, 3 p.m. ET) is held on ESPN's campus in Bristol, Conn. Below is a list of my top prospects heading into the three-round, 36-player draft. Click here for WNBA.com's complete draft board.
What makes her good

1. MAYA MOORE, F, CONNECTICUT

There isn't a more competitive player in the class and perhaps on earth than Connecticut's Moore. She has developed her shooting range to be a complete package offensively. She is one of the rare players who can carry a team to victory even without much help, though she had plenty of it in Storrs. She continues to improve, and that's scary for opponents as she is already the best in the class.

2. LIZ CAMBAGE, C, AUSTRALIA

Most of the buzz has been about her refusal to play in Tulsa -- her likely destination at No. 2 -- which is a shame because Cambage brings a lot to the table. Start with her height: 6-foot-8. But before your mind starts conjuring images of Brittney Griner or Margo Dydek, understand she isn't like either one of them. Cambage has a solid build, good mobility and a smooth athleticism. All the tools are there to be an impact player at a position the league holds at a premium.

3. AMBER HARRIS, F, XAVIER

At 6-5 and incredibly athletic, the question is twofold. How high is Harris' ceiling? And more importantly, how close will she get to reaching it? Despite an injury that took away her junior year, Harris is still one of the most impressive athletes in the draft; she has ball skills that are rarely seen in players her size. Harris brings the potential to impact both ends of the floor.

4. JANTEL LAVENDER, C, OHIO STATE

Among the post players in the draft, she is the best at moving without the basketball. Lavender has range at the top of the key and good counter moves. She is highly skilled and has the potential to score 30 if guarded one-on-one.

5. KAYLA PEDERSEN, F, STANFORD

Her collegiate career could easily have been more self-serving, yet her pro prospects are high. She can do so much on the offensive end of the floor that she will bring a wealth of options to a creative coach. She is lethal as a face-up 4 and capable of using her size at the 3 to knock down perimeter shots and do some things off the dribble. Pedersen's length and smarts counter some of her weakness in defending the perimeter. She makes good decisions on the floor and should have a long career.
6. COURTNEY VANDERSLOOT, PG, GONZAGA
She has all the intangibles you can't teach at the point guard position. Vandersloot is a great passer in transition and in the half court. She's the top point guard in the class and she can score. She is likely to go between the fourth and eighth picks, but she won't get past the Fever at No. 9.


7. TA'SHIA PHILLIPS, C, XAVIER

She's as strong as any post you will find. Phillips, who has been 6-6 since a young age, has mastered how to use her size really well in scoring, rebounding and defending. She will punish her defender, especially if left one-on-one. Phillips shows signs of some finesse to her game at times, but she works her power moves until they are stopped. She shot better than 60 percent from the field as a senior, and the only thing keeping her from being a 20 points-per-game player is her free throw shooting. There's not a ton of potential upside here -- what you see is what you get. But Phillips is pretty good at being a physical post player.

8. DANIELLE ROBINSON, PG, OKLAHOMA

A blur with the ball and a terror guarding it, Oklahoma's senior leader will likely battle Vandersloot as the first guard off the board, depending on style. Robinson has made progress on her jumper in the midrange, but her game is still about getting by the defender and making plays in the lane. Even with defenders backing off her and begging her to shoot the jumper, she can penetrate into the heart of the defense. She is a good but not terrific finisher in traffic, but is a solid scorer because of her ability to draw fouls. The reason that works is because she is better than 87 percent from the charity stripe.

9. JASMINE THOMAS, PG, DUKE

Of the perimeter players in this class, Thomas is probably the most explosive athlete. Some question what position she'll play at the next level, but she is so strong that despite not having prototypical height for the off guard position (listed at 5-9), she will be a terrific defender anywhere on the perimeter. If she plays offense off the ball, it won't hurt anyone because Thomas can explode into the paint and elevate to finish, and she shot nearly 40 percent on 3-pointers as a senior. Instead of questioning what position she plays, a team that wants Thomas will utilize her versatility and toughness.

10. DAWN EVANS, G, JAMES MADISON

Evans might surprise some people by potentially sneaking into the first round. Few can create offense like she can. She averaged an impressive 23.1 points as a senior and can really hit a hot streak and carry a team by herself. She scored a career-high 42 points against Virginia this season and scored 38 on three other occasions. Some might not like the swings, however, as there will be games when Evans scores 14 points on 22 shots. She is a guard who needs to be the focal point of the offense and needs the ball in her hands to create. She isn't a combo guard -- she is a scoring point guard. She has good range out to the 3-point arc and is well-versed in operating the pick-and-roll. She isn't a fit for every team, but for the right system she could be dynamite.

11. AMY JAESCHKE, C, NORTHWESTERN

If you are looking for a true post player with good size and soft hands, Jaeschke is your post. She has been leaned on as the primary scorer from the second she arrived in Evanston. As with Ta'Shia Phillips, speed is not a strong suit, but Jaeschke isn't Alison Bales, either. Jaeschke was a big producer, averaging 21. 4 points and 9.0 rebounds. Tina Charles, the No. 1 pick in the 2010 draft, averaged 15.5 points and 11.7 rebounds per game as a rookie, so Jaeschke is probably a 12 and 8 kind of player early in her career. She needs touches to produce like she did in college.

12. DANIELLE ADAMS, F, TEXAS A&M

Adams was one of the most prolific scorers in the country this past season. She can stretch defenses with her range, though she's not a traditional player at either forward position -- and that is the risk with Adams. She's not the most physical player on the block, but can post smaller players. Still, the question is whether she will get the volume of shots in the WNBA. Adams has good touch, and she has a mid-post shot to complement her 3-point shooting (she hit 42 treys as a senior). Defensively is where things get a little dicey. She's not unathletic, but her lateral quickness isn't on par with most wing players and she doesn't have the height of most power forwards in the league. All that said, she does one really important thing: She puts the ball in the basket -- a lot.

13. ANGIE BJORKLUND, G, TENNESSEE

She's a tremendous shooter, and what makes her a legitimate pro prospect is that Bjorklund can shoot from 3-point range off the dribble, spotting up or coming off screens. She lacks elite quickness but sets up moves and reads defenses with the best of them. She never had the luxury of a traditional point guard to set the table for her and get her open looks with dribble penetration, so despite being a big name, Bjorklund might be a sleeper in this class. Some shin injuries have slowed her down, but she always puts a tremendous amount of work into coming back strong to the court.

14. VICTORIA DUNLAP, F, KENTUCKY

She's terrific in transition and cleaning up the offensive glass. Her production is somewhat limited on the offensive end due to a poor shooting percentage, but Dunlap usually gets her misses and scores on the second chance. She really came into her own the last two seasons; she started as a rebounder and shot blocker, and she emerged as a capable leader and scorer. The faster you play, the better Dunlap gets, and she is one of the best at sprinting the floor and getting early post position. She is an average free throw shooter, which is a concern because she gets to the line a lot with her relentless play in the paint.

15. JESSICA BRELAND, F, NORTH CAROLINA

Breland's comeback from cancer is inspiring, and she should actually get better with time. She has a unique style at the forward position, where she can face up but can also score against taller defenders because she has a tremendous amount of length. She is getting closer to being the player she was before getting sick, and her work ethic has never been questioned, so expect Breland to overachieve.

16. JEANETTE POHLEN, G, STANFORD

The hope with Pohlen is that she will be able to move back to the off guard position where her passing, size and shooting ability make for a really nice player. Super-quick point guards gave her fits in college, but she still played the point guard position well enough for a terrific run of four straight Final Fours and the Pac-10 Player of the Year honor as a senior.

17. ALEX MONTGOMERY, W, GEORGIA TECH

She is a terrific athlete who developed the strength to change her wiry 6-1 frame into a pro build. Montgomery can play either forward position and is a tireless worker on the defensive end. She has 3-point range and ball skills to attack off the dribble. She has developed leadership skills, as well, which scouts really like to see.

18. CAROLYN SWORDS, C, BOSTON COLLEGE

Swords' career at Boston College was the model of efficiency in the post. She is 6-6, and combining that with her ability to finish in the post, she is the type of player teams will have a tough time letting slide in the second round. She averaged 17.4 points and 9.3 rebounds while finishing nearly 72 percent of her shots as a senior. She isn't the best athlete, but in a half-court style of play, she could be very effective.

19. ANGEL ROBINSON, PG, MARQUETTE

The game against Tennessee in the NCAA tournament woke up the rest of the country to what Marquette fans knew Robinson was capable of. Her notable skill is creating with the ball, but that goes beyond scoring the basketball. She doesn't have the height to be a regular rotation shooting guard, but as a point guard she put up a respectable 1.6 assist-to-turnover ratio as a senior and helped scare the hoopla out of the Lady Vols with her determination and shot-making ability. She needs to improve her 3-point shooting.

20. ITALEE LUCAS, G, NORTH CAROLINA

Her talent is off the charts. She might be able to shake her own shadow in a one-on-one game. Lucas has steadily improved her scoring numbers, shooting the 3-pointer with consistent results for most of her time in Chapel Hill. But the playmaking never netted the four or five assists per game that would allow her to become an elite scoring point guard who still makes everyone better. She creates space with her hesitation and change-of-direction moves, and has that shiftiness that you can't teach.
On the bubble: Melissa Jones (G, Baylor), Liz Repella (G, West Virginia), Kachine Alexander (G, Iowa), Sarah Miles (G, West Virginia), Ify Ibekwe (F, Arizona), Chastity Reed (F, UALR), Courtney Ward (G, Florida State).
Senior writer Glenn Nelson and national evaluators Brandon Clay and Keil Moore of HoopGurlz, as well as ESPN TV analyst LaChina Robinson, also contributed to this story.
Chris Hansen is the national director of prospects for ESPN HoopGurlz and covers girls' basketball and women's college basketball prospects nationally for ESPN.com. He is a member of the McDonald's All-American team selection committee. Hansen can be reached at chris.hansen@espn.com.
ESPNHS HoopGurlz
National director of prospects for HoopGurlz
Coached girls' high school and club basketball
Girls and women's basketball trainer, evaluator and reporter since 1998
2011 WNBA DRAFT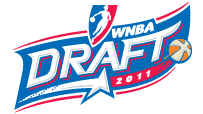 COLUMNS AND FEATURES
VIDEO
SPORTSNATION
MORE

MOST SENT STORIES ON ESPN.COM