Maya Moore heads to Lynx as top pick
Updated:
April 12, 2011, 11:50 AM ET
ESPN.com news services
BRISTOL, Conn. -- Maya Moore is used to winning titles at Connecticut.
Now she's ready to bring that same mentality to her new team -- the Minnesota Lynx, who took her with the first pick in the WNBA Draft on Monday.
"Every year the goal is a championship," she said. "That's what I expect. I go on to every team expecting to win a championship, especially with the amount of talent we have. I don't want to limit to the playoffs, I want to win a championship."
She helped UConn win a record 90-straight games during one stretch over the past two seasons, and also led the school to two national championships in her stellar four-year career.
Voepel: Shock And Haul

Tulsa gets high marks after selecting both Liz Cambage and Kayla Pedersen in the top 10, ESPN.com's Mechelle Voepel writes. Story
• Voepel: Moore Is No. 1 | Analysis
• Liz Cambage's Draft Diary
Her selection as No. 1 wasn't much of a surprise.
"It feels really great to finally be able to have the moment of being drafted No. 1," Moore said. "All the hype and excitement around it."
Moore was followed in the draft by Elizabeth Cambage of Australia (Tulsa) and Courtney Vandersloot of Gonzaga.
Moore, a four-time All-American, averaged 22.8 points this season. She was also the only collegian to play on the U.S. women's national team that won gold at the world championships last October.
The two-time AP player of the year is used to having a lot of pressure put on her.
"I think I live in the land of high expectations after playing at Connecticut," Moore said.
She is also the second straight UConn player to be taken with the first pick in the draft, and fourth overall. Tina Charles went to the Connecticut Sun last season and earned the league's rookie of the year award.
The Lynx finished 13-21 last season and won the draft lottery.
The 6-foot-8 Cambage is just the third Australian to be selected in the first round of the WNBA's college draft following in the footsteps of former No. 1 overall pick Lauren Jackson (Seattle Storm, 2001), Michelle Timms (drafted 11th overall by the Phoenix Mercury in 1997), and Alison Lacey (No. 10, Seattle, 2010).
"This is the coolest moment right now," said Cambage who joins a Tulsa team that owned the league's worst record last year at 6-28.
At 19, Cambage is one of the youngest players ever selected but may not be with the Shock this season as she intends to train with the Australian national team ahead of the 2012 London Olympics.
"For me, I really need to stay behind and train to make the extra miles to make the Olympic team," said Cambage, who averaged more than 22 points and eight rebounds last season in the WNBL in Australia.
Cambage did however deny a report in Australia's Herald Sun that claimed she has no intentions of playing for the Shock.
"I want to go," she said. "I'm so happy. My name's been called out. I'm psyched to get on a plane and get over there and wear a Tulsa jersey."
There are no such complications for the No. 3 pick Vandersloot who is excited to be playing for the Sky.
"It's a very good fit," Vandersloot said of heading to Chicago to play with Epiphanny Prince and Sylvia Fowles. "They needed a point guard and [coach Pokey] Chatman is going to be able to teach me everything I don't know already."
[+] Enlarge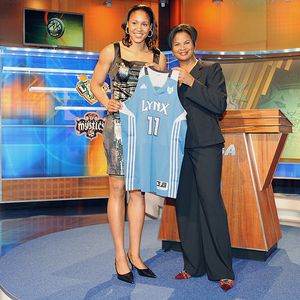 Joe Faraoni/ESPNFollowing a career filled with accolades while at UConn, Maya Moore added another after being named the No. 1 overall pick in the WNBA draft.
Vandersloot won this year's Nancy Lieberman Award, given to the nation's top female point guard, and is the first NCAA Division I player, male or female, to accumulate more than 2,000 points and 1,000 assists in a career.
In addition to selecting Moore with the top pick, the Lynx added Amber Harris, a forward from Xavier with the fourth overall selection.
The Los Angeles Sparks made Jantel Lavender, a center out of Ohio State, the fifth overall pick.
Danielle Robinson went sixth to the San Antonio Silver Stars where the All-Big 12 first teamer out of Oklahoma is expected to team with fellow guard Becky Hammon.
Making their second pick in the first round, the Shock made Stanford's Kayla Pedersen the seventh overall selection.
The Atlanta Dream drafted Ta'Shia Phillips at No. 8, making her the second Xavier player to get picked in the first round of the 2011 draft. Phillips was later shipped to Washington in a trade that sent her, guard Kelly Miller and Atlanta's 2012 first round pick to the Mystics for veteran guard Lindsey Harding and a 2012 second round pick.
The Indiana Fever, coming off their second straight playoff appearance, went small in drafting Stanford guard Jeanette Pohlen at ninth overall.
Georgia Tech's Alex Montgomery rounded out the top 10 after being selected by the New York Liberty.
SEC leading scorer Victoria Dunlap, a forward out of Kentucky, was picked 11th overall by the Washington Mystics.
The defending champion Seattle Storm took Duke's Jasmine Thomas at No. 12 to wrap up the first round.
North Carolina's Jessica Breland was selected with the first pick of the second round by the Lynx. Breland returned to the Tar Heels this season after being diagnosed with Hodgkins lymphoma in May 2009.
The first member of the NCAA champion Texas A&M Aggies to be drafted was point guard Sydney Colson, who was selected by Connecticut 16th overall. Colson's teammate, Danielle Adams, who was named the Final Four's most outstanding player, went to San Antonio as the 20th overall pick.
"It's crazy," Colson said. "It seems like it all happened so quickly. Really, throughout your whole college career, all you want is to get a national championship."
Colson was traded right after the draft ended to the New York Liberty for Kalana Greene.
Training camps open May 15 and the WNBA's 15th season begins June 3.
Information from The Associated Press was used in this report.
2011 WNBA DRAFT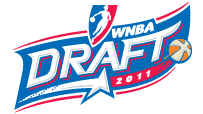 COLUMNS AND FEATURES
VIDEO
SPORTSNATION
MORE
MORE WOMEN'S BASKETBALL HEADLINES
MORE FROM ESPN LOS ANGELES

Check out the new ESPN Los Angeles, the place for your local Los Angeles sports coverage.
MORE FROM ESPN NEW YORK

Check out ESPN New York, your destination for sports coverage in the Big Apple.
MOST SENT STORIES ON ESPN.COM