Commentary
Whirlwind takes Dupree from Poland to Windy City
Originally Published:
May 26, 2008
By
Candice Dupree
| Special to ESPN.com
Editor's note: Sky forward Candice Dupree will write a blog for ESPN.com throughout the 2008 season. The following is her debut installment.
[+] Enlarge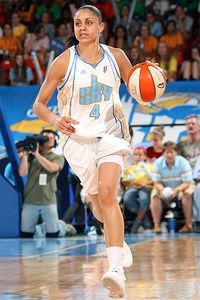 Gary Dineen/NBAE/Getty ImagesCandice Dupree averaged 16.5 points and 7.7 rebounds last season. Her 1.3 blocks per game ranked sixth in the WNBA.
What's up, everybody?! I will be blogging for you throughout this WNBA season. Now for those of you who don't remember, I did this for ESPN.com back when I was a senior in college. You all seemed to enjoy it then, so let me catch you up on some of the recent happenings. I spent the entire offseason playing for Wisla Can-Pak in Poland. Some of my teammates might be recognizable to you: Kara Braxton, Anna DeForge and Marta Fernandez. We spent the season as one of the top two teams in the country, always ending up having to play the Polish team from Gydnia called Lotos. That team was pretty stacked as well with Chamique Holdsclaw, Alana Beard and Sky teammate Dominique Canty. When it came time to playing for championships, it was always Lotos standing in the way. So picture this: Game 7 of the Polish League finals -- winner takes all. We're down by four points with three seconds remaining. Anna gets fouled for some reason and gets two free throws. She makes the first and then confers with us about what to do with the second shot. We told her to miss it. Now what happens next is absolutely mind-boggling to me. I mean, really, Anna? You really missed your free throw so perfectly that you got your own rebound and dribbled behind the 3-point line in the corner to throw up a prayer?
That went in
?!?! I'm not going to lie -- I thought we were over and done with on that second free throw. So we ended up going into overtime and we won the Polish League Championship. I was also named MVP of the finals. Then it was time to celebrate the win … at the airport! What better way to celebrate than to have Kara lead our Polish teammates in the Soldier Boy dance! Too bad she was the only one that could actually hear the song on her iPod! No wonder they looked a mess. See for yourself on
www.youtube.com
.
So after missing nearly all of training camp, for good reason, it was time to head back to the States. I made it home to Florida for a couple of days and then it was time to pack it up and head to Chicago. After a few days of practice, it was finally game time. Our first game of the season was on the road against Seattle. Going on the road during my first two seasons was fun, but with the group of characters that we have now, there will never ever be a dull moment. Armintie Price and Sylvia Fowles together are hilarious! When we arrived in Seattle, we all decided to go to dinner at Benihana's as a team, coaches included. Definitely something we've never done before, but it was good fun and nice for us all to get together like that. And if [coach] Steve [Key] is going to continue to pick up the tab at dinner, then we might have to do this team stuff more often.
Too bad the game didn't go as well as dinner did, though. We played decent up until the third quarter, and then Seattle turned it up a notch. Our mini-runs weren't enough to get back into the game and we ended up losing by six points. The good news was we had almost a week to iron out some kinks. The bad news was we had almost a week before our next game. That meant just practices and no games. UGH! The home opener against Sacramento was great. We had a pretty good turnout, considering it was a Thursday night. As a team, we redeemed ourselves from that Seattle defeat. Everyone played really well, especially AP. Before the game, they unveiled a Rookie of the Year banner to honor her achievement from last season. Big Syl also played very well in her first game at home. She seemed to be very comfortable and at ease during warm-ups. I was also able to redeem myself from my poor shooting performance in Seattle, where I couldn't hit the broad side of a barn. I finished the game perfect from the floor, but I only had one measly rebound. For real? Had to be a typo or something because I know I got at least two rebounds! Once again, we have almost a week off again before our next game. Until next time, keep the Sky in mind! -- Candice
SPONSORED HEADLINES
MORE WOMEN'S BASKETBALL HEADLINES
MOST SENT STORIES ON ESPN.COM