Commentary
Mistaken identity? No matter for CD4
Originally Published:
June 11, 2008
By
Candice Dupree
| Special to ESPN.com
Editor's note: Sky forward Candice Dupree will write a blog for ESPN.com throughout the 2008 season.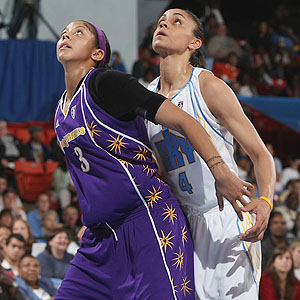 Gary Dineen/Getty ImagesCandace Parker and the Sparks needed overtime to beat Candice Dupree's Sky in Chicago on June 3 in front of a sellout crowd.
What's up! The last time we left off, I told you that we had another week off in between games. Well, now we're in the midst of playing four games in seven days. We just can't find a happy medium with this scheduling yet, huh? We started off the week with Connecticut at home. First of all, it was a Sunday game and I expected us to have a nice crowd. But it was the first
real
day of summer in the city, so everyone must have decided to make their plans for outdoors. Where is everybody?! Or maybe everyone decided to save themselves for our matchup against Los Angeles. Out of all of our scheduled home games, this one must have been circled in every basketball household in Chicago. I guess the Sparks are The Beatles of the WNBA right now. The attendance at their away games has been crazy so far. They have been hyping this game up since before the draft because of Candace Parker returning to Chicago. Now, first let me just say this: If one more person asks me if I'm Candace Parker … you know what? It must be the light-skinned, tall basketball player with a ponytail thing that gets them. Then I have to explain to them that I am Candice Dupree of "their" Chicago Sky. To which they simply reply, "Oh." Ewww. Well, CP3 probably went through the same thing, while in Tampa (my hometown) during the Final Four and the WNBA draft, with everyone wondering if she were me, CD4. So I understand the confusion! Anyway, on to the aforementioned L.A. game. Let me set the scene for you: It was a grey and gloomy day, with rain in the forecast. I also had some friends in town from Philly. The day started pretty cool. Woke up early, went to shoot around and then to Target. Yes, Target. That might be the only store I can go in
every
single day and buy something I need. It's ridiculous. This time I bought another vacuum cleaner. Is it me or are vacuum cleaners a waste of money? I only need it for about 10 square feet of rug in my apartment. A week ago, I decided to buy the cheapest … wait … least expensive vacuum I could find that could handle the "rugs." That piece of trash. I spent 15 minutes vacuuming an area rug under a coffee table because that "piece of trash" decided to work against me. So, I decided to invest in a decent one this time around -- $40 bucks … can't beat that for what I'm using it for. I'm really easy to please with this kind of stuff. I mean, all I wanted to see were some vacuum lines. And I finally got a return on my investment with this vacuum. OK, OK, back to the game. When I arrived to the gym, there were already lines everywhere. Inside was pretty electric, too. People were there early to watch us warm up. And The Beatles, too. By game time, it was pretty packed, but not yet to the sellout it was declared at the end. Apparently, the lines for tickets and will call wrapped around to the parking lot. And it was raining a little bit, too. We started the game out getting a little slow out of the gates. L.A. went up 12-2 before we finally put some runs together. Big Syl was active on both ends of the floor. Nique was working out, too. We played a much better second quarter and ended up down by one at the half. Then came the dreaded third quarter.
Cue the violins.
Not only did we struggle to score for what seemed like an eternity, but Syl went down with a knee injury on what I thought was a goal tend. Yes, a goal tend in women's basketball! Once she went down, though, I thought our energy went with her, too. Thankfully, the injury looked worse than what it was. No knee tear. We should have her back in 4-6 weeks. Got to the fourth quarter and Super Jia finally entered the building. Jia started to hit some huge shots for us and really got us going. We managed to come from being down 14 to force overtime. Overtime came and went, though, because we played from behind the entire time. We ended up losing, but it was an exciting game to witness in person. If I were a fan, I would have been extremely entertained that night. The atmosphere was great and it was really fun playing at home in front of that many people for the first time. Hopefully, you all come out again and support the Sky. If Dwyane Wade can come to a game, that means it's all right! And … it was a Tuesday night. Can you imagine what could happen for a weekend game? It just might be standing room only. We finished up the week with a home and away back-to-back against Atlanta. After both of those victories, we now sit tied for fourth in the East with a match up against Washington coming up at the end of the week. After that, it's a seven-day road trip out west. Wish us luck! -- Candice
SPONSORED HEADLINES
MORE WOMEN'S BASKETBALL HEADLINES
MOST SENT STORIES ON ESPN.COM