More teams should want to be like Mike's
Updated:
May 23, 2006, 8:14 PM ET
By
Graham Hays
| ESPN.com
The WNBA is a league that often seems to be stuck in uneasy middle ground between embracing the growing popularity of women's college basketball and staying true to its ties to the NBA.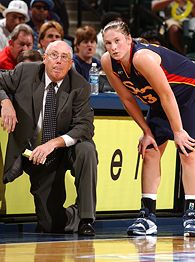 Ron Hoskins/NBAE/Getty ImagesIf point guard Lindsay Whalen, right, is healthy, Mike Thibault and the Sun could be eyeing another deep postseason run.
But more often than not, it's a league that, for better or worse, tries very hard to distinguish itself from the college game. A list of coaches that is dominated by men, many of whom played in the NBA, makes it clear where the league usually looks for its inspiration and philosophy. And consider this offseason's rule changes, where two 20-minute halves were replaced by NBA-like quarters and the shot clock was sliced to 24 seconds.
The pattern even extends to marketing, where minus the glitz of high-flying aerial acrobatics, the WNBA so often turns to the glamour of many of its stars. Neither angle really has much to do with the outcome of games or the fate of championships, but it's the direction they choose to go in attempting to capture the attention of increasingly fickle fans.
Which is why it must drive more than a few folks in the league office nuts that the Connecticut Sun keep spoiling the party.
There's very little that's sexy about the way the Sun -- who get the most out of a roster with more of a championship work ethic than a Madison Avenue personality -- play basketball for coach Mike Thibault.
Come to think of it, there's nothing sexy about Thibault either, an average-sized, balding man who could pass for a high school history teacher during even his most red-faced sideline tirades. But the coach who has worked everywhere from Los Angeles in the NBA to Calgary in the World Basketball League has developed a remarkable blueprint for team success in a league known more for star-driven championship teams like the Comets of Sheryl Swoopes and Cynthia Cooper and the Sparks of Lisa Leslie.
These days, the Detroit Shock have the big-name, outspoken coach in Bill Laimbeer and a roster loaded with marquee attractions such as Katie Smith and Cheryl Ford and marketing dreams like the glamorous and immensely talented Swin Cash (not to mention Ruth Riley and Deanna Nolan). Like a flashy sports car, the Shock capture the attention of fans and media alike (consider me guilty, as the Shock are my preseason pick to win it all).
But it's the Sun who owned the Eastern Conference the last two seasons. And if Lindsay Whalen is anywhere close to healthy for the majority of the season, there is ample statistical evidence to suggest they'll keep on winning.
That's the caveat for any assessment of the Sun this preseason: if Whalen is healthy. And it's far from clear that the third-year point guard out of Minnesota will be healthy after undergoing offseason surgery to correct an ankle injury that slowed her almost to a point of ineffectiveness in last season's playoff run.
Reports suggest Whalen, who has practiced but not played in the preseason, will be available early in the season, possibly as early as the regular-season opener against New York on Saturday. Injuries to the foot and ankle are notoriously difficult to gauge (which raises the question of exactly which injuries aren't notorious), but the suggestion that she'll be a factor for much of the regular season in encouraging for the Sun.
Because with Whalen running the show, the Sun are a model of basketball efficiency.
Last season, Connecticut shot 45.2 percent from the field, while limiting opponents to 39.8 percent shooting.
During an average game, a team will take around 60 shots. Those shooting percentages give the Sun a three-basket cushion right out of the gate. Think about how many games you've seen that come down to a single possession. Those are the games the Sun win by four or five points. The one-possession games they are in are games that most teams aren't even in position to win.
And even as eyes begin to glaze over at the threat of being inundated with decimal points and numbers, stop for a minute to ponder that these numbers represent one of the most statistically impressive seasons since 2002 (when the Sparks shot 44.5 percent while limiting opponents to 39.0 percent shooting).
No other team was even close to the Sun in field-goal differential last season. Even the Sacramento Monarchs were less than half as effective on their way to a title (we'll get to how that happened in a bit). Here are the five teams with the biggest differential between what they shot from the floor and what they allowed their opponents to shoot in 2005.
Connecticut: plus-5.4 percent
Seattle: plus-2.7 percent
Sacramento: plus-2.2 percent
New York: plus-1.8 percent
Houston: plus-1.2 percent
(The Shock shot 40.3 percent from the field last season, exactly what they allowed their opponents to shoot).
It's easier to shoot a high percentage if you play an up-tempo style that sacrifices defense for easy baskets (as Paul Westhead will try with Phoenix this season). Similarly, slowing down the game and focusing on defense can limit how well your opponent shoots, but it also tends to drag down your own percentages by limiting transition baskets and other easy looks. But doing both is a rare feat, and a sign that last season's success was more the culmination of the team's development under Thibault than some fluke to be ascribed to Detroit's failures or a weak Eastern Conference.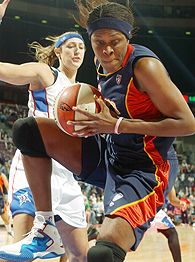 D. Lippitt/Einstein/NBAE via Getty ImagesTaj McWilliams-Franklin had arguably the best season of her career in 2005.
There is a myth that great teams control the tempo of games. More accurately, those teams are simply better at a given tempo than their opponents. But under Thibault, the Sun really did control the tempo of a game last season, allowing Whalen to run with Nykesha Sales and Katie Douglas without sacrificing defensive efficiency on the other end.
People often reference John Wooden's affection for the fundamentals on display in the women's game when defending women's basketball. Well, the Sun were a basketball fundamentalist's dream come true.
Last season, each of the top seven players in Thibault's rotation shot either 46 percent or better from the field or 40 percent from behind the arc (the value of the shot making up for the overall lower field-goal percentage). Some of the credit goes to the players for selecting and hitting the shots, some of it goes to Whalen for running the offense, but a lot of it has to go to Thibault for putting a system in place that places such high value on shot selection.
The offensive efficiency also translated to the defensive end. With fewer misses on the offensive end, opponents had few opportunities to get out and run. And with a system that doesn't push for steals (opponents averaged 7.6 steals per game to the Sun's 6.9), a team that at first glance lacks explosive athletes like Canty or Cash was almost always in position to make stops.
So why are the Sun still looking for a title after two consecutive trips to the WNBA Finals?
Against Seattle in 2004, it might be that they simply ran into a better team (although they were a Sales' 3-pointer at the end of Game 2 away from sweeping the Storm). Without Margo Dydek, who was acquired after the 2004 season, the Sun didn't have a dominant presence in the middle to anchor Thibault's defense and were counting on an inexperienced Whalen to run an offense of experienced players.
But the loss to Sacramento last season was as much their own doing as anything else. In two of the three losses, the Sun shot better from the field than the Monarchs. Unfortunately, they also committed more than twice as many turnovers as their opponent, essentially giving the Monarchs more possessions than the Sun could make up with the field-goal differential.
After losing only Brooke Wyckoff from last season's significant contributors (and adding last year's second-round pick Erin Phillips, among other potential role players), the Sun don't appear likely to fall apart. Dydek, 32, and Taj McWilliams-Franklin, 35, are getting up there in years (Sales turned 30 on May 10, making her just the third 30-something on the team), but McWilliams-Franklin had arguably her best professional season last year.
With Thibault on the sidelines and a young but experienced team executing to perfection, the Sun will continue leaving the sizzle and flash to the stage acts outside the arena at the Mohegan Sun Casino.
And even if the so-called experts aren't predicting it, there is a good chance they'll keep winning, too.
Graham Hays is a regular contributor to ESPN.com's women's basketball coverage. E-mail him at Graham.Hays@espn3.com.
espnW.com
Graham Hays covers college sports for espnW, including softball and soccer. Hays began with ESPN in 1999.
SPONSORED HEADLINES
MORE WOMEN'S BASKETBALL HEADLINES
MOST SENT STORIES ON ESPN.COM