8:00 PM ET, September 16, 2003
AUBURN HILLS, Mich. (AP) -- Bill Laimbeer had a plastic cup of champagne in his left hand and a trophy in his right.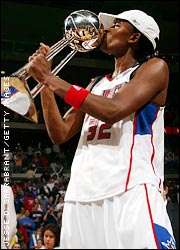 Getty Images
Detroit's Swin Cash, who won two NCAA titles at UConn, was one assist shy of a triple-double on Tuesday.
More than a decade after the "Bad Boys'' center helped the Pistons win two NBA titles, Laimbeer was a champion again as the coach of the worst-to-first Detroit Shock. Ruth Riley scored a career-high 27 points and Detroit beat the two-time defending champion Los Angeles Sparks 83-78 on Tuesday night in the decisive third game of the WNBA Finals. The Shock won a league-best 25 regular-season games this season, one year after losing a league-worst 23. "It all starts with Coach,'' said Riley, the series MVP. An hour after red, white and blue confetti fluttered through the air and fireworks exploded, Laimbeer was still celebrating. "I have my championships, so this one is really for the ladies,'' he said. "As a coach, it doesn't get any better than this. "And for it to happen in front of so many of our fans is fantastic for women's basketball, especially in this market.'' The game drew a WNBA-record crowd of 22,076, breaking the mark of 19,563 set in the 2000 finals between New York and Houston. The Palace, also the home of the Pistons, changed its address from 2 to 3 Championship Drive after the game.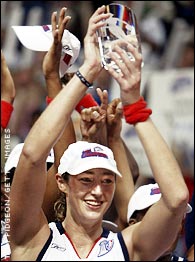 Getty Images
Ruth Riley was 11-for-19 for a career-high 27 points and the WNBA Finals MVP award.
"That's pretty cool,'' Laimbeer said. Shock president Tom Wilson has said Laimbeer, who took over the team when it was 0-10 last year, saved the franchise because his presence prevented it from moving or folding. "If you would've told me when we started this league seven years ago that Bill Laimbeer would coach our championship team, I wouldn't have believed you,'' WNBA commissioner Val Ackerman said. "But I think it's the quintessential story for our league because he got into women's basketball because he started coaching his daughter's team.'' Cheryl Ford, the daughter of NBA star Karl Malone, played a big role in Detroit's turnaround. Ford, the league's rookie of the year, had 10 points and 11 rebounds. She made four free throws in the final minute, then jumped into her father's arms after the game. "In the last game of my college career, I missed some big free throws against LSU and it cost us the game,'' said the former Louisiana Tech star, whose father covered his eyes at courtside while she was at the line. "That's why he couldn't watch. "I told him, 'I've got a ring, now it's your turn.' '' Among those in the Thunder Stix-clapping crowd were Malone's Los Angeles Lakers teammate Derek Fisher, Detroit Lions rookie Charles Rogers, former boxing great Thomas "Hit Man'' Hearns and Joe Dumars and Vinnie Johnson, two former teammates of Laimbeer. The Shock are just the third franchise to win the WNBA title. The Houston Comets won the first four and the Sparks the last two. Detroit is the first team from the Eastern Conference to win the title since 1997, when Houston won the inaugural championship before being shifted to the West. The Sparks trailed for much of the game, but led 73-70 with 3:40 left. Riley made a jumper and Deanna Nolan connected on a 3-pointer with 53 seconds left to give Detroit the lead for good. Los Angeles' Mwadi Mabika scored a season-high 29 points. Lisa Leslie, who fouled out with 43 seconds left, had 13. "You couldn't ask for a better game than what you got out there today,'' Sparks coach Michael Cooper said. "The Detroit Shock are definitely worthy of this championship. "The only thing I don't like is the fact that they made their coach seem like he's a fortune teller or something.'' Even before the season that almost never happened, Laimbeer publicly said the Shock could win a championship. And just as he did as a player for the Pistons in 1989, Laimbeer prevented Cooper, a member of the "Showtime'' Lakers, from winning a third straight title.
Copyright by STATS LLC and The Associated Press
Team Stat Comparison
| | Los Angeles | Tulsa |
| --- | --- | --- |
| Points | 78 | 83 |
| FG Made-Attempted | 28-71 (.000) | 28-62 (.000) |
| 3P Made-Attempted | 5-15 (.333) | 4-11 (.364) |
| FT Made-Attempted | 17-19 (.000) | 23-28 (.000) |
| Rebounds (Offensive-Total) | 12-34 | 11-32 |
| Assists | 17 | 21 |
| Turnovers | 9 | 11 |
| Steals | 7 | 5 |
| Blocks | 5 | 6 |
| Fast Break Points | 4 | 3 |
| Fouls (Tech/Flagrant) | 23 (0/0) | 18 (0/0) |
Top Performers
Los Angeles
Tulsa
Mabika
Points: 29
Reb: 9
Ast: 2
Stl: 1
Blk: 0

Riley
Points: 27
Reb: 6
Ast: 3
Stl: 0
Blk: 3

Game Leaders
Los Angeles
Tulsa
Points
M. Mabika 29
R. Riley 27
Rebounds
L. Leslie 11
S. Cash 12
Assists
N. Teasley 7
S. Cash 9
Steals
L. Leslie 2
E. Powell 2
Blocks
L. Leslie 2
R. Riley 3
Team rosters: Los Angeles | Tulsa