9:00 PM ET, October 12, 2004
Key Arena, Seattle, WA
SEATTLE (AP) -- Betty Lennox had two WNBA franchises fold while she was on the roster. After the Cleveland Rockers folded last year, she landed with the Seattle Storm in the dispersal draft.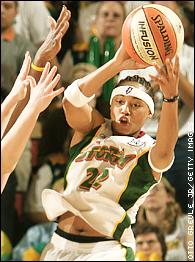 Getty Images
Betty Lennox, who averaged 22.3 points in the championship, was named WNBA Finals MVP.
Now she's the MVP of the WNBA Finals.
Lennox had another huge night, scoring 23 points to lead Seattle to its first title with a 74-60 victory over the Connecticut Sun on Tuesday night.
What happened after the game was hard for Lennox to believe.
"Not only the celebration, the award that I just got. I can't believe it,'' she said. "Me? After everything I've been through? I'm speechless right now.''
Lauren Jackson added 13 points and seven rebounds and Seattle got a big contribution from Kamila Vodichkova, who scored 14 points after being held to a total of seven in the first two games of the finals.
At the buzzer, the Storm players raced to midcourt for a pileup while yellow and green confetti fell from the rafters.
The Storm claimed the city's first major professional sports championship in 25 years, going back to the SuperSonics winning the 1979 NBA title.
"I never played for a championship in front of my home crowd and that was huge for us,'' said Sue Bird, who won two national titles at the University of Connecticut. "We had a huge advantage and we worked all year for that.''
The victory also gave Seattle coach Anne Donovan her first WNBA crown
Donovan is the first female coach to win a WNBA title, following Houston's Van Chancellor (1997-2000), Los Angeles' Michael Cooper (2001-02) and Detroit's Bill Laimbeer (2003).
"I think there are a lot of great women coaches out there. In order to get to the next level of respect, we have to win championships," Donovan said. "Some of the credibility issues that people are reluctant to give female coaches, this will help.''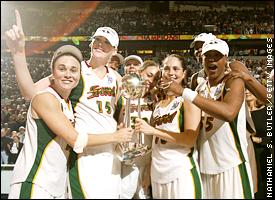 Getty Images
Seattle is the fourth team to capture a WNBA crown in the league's eight-year history, joining Houston, L.A. and Detroit.
The league finals were not new territory for Donovan, who took Charlotte to the championship series in 2001.
Hired in Seattle before the 2003 season as coach and director of player personnel, she immediately won the favor of stars Lauren Jackson and Bird, using her experience as a player to develop strong relationships.
On the court, Donovan pressed Jackson to become more of an inside force and not rely so much on the outside shot, and allowed Bird to grow as a team leader.
In her first year under Donovan, Jackson was the league MVP.
"Anne Donovan is one of the best coaches in the world. I can't thank her enough for what she's done for me,'' Jackson said. ``I'm so proud to play under her.''
Perhaps Donvoan's best personnel move was the acquisition of Lennox from Cleveland in the 2003 dispersal draft.
In the league finals, Lennox averaged 22.3 points.
Lennox, who scored 27 points in Seattle's Game 2 victory that evened the best-of-three series, kept her momentum going in the decisive third game. She couldn't seem to miss in the second half.
Fans chanted, "Betty, Betty, Betty'' when Lennox stepped to the free throw line with 2:35 remaining. She made both shots capping a 33-12 run that stretched Seattle's lead to an insurmountable 71-56.
They changed it to "M-V-P, M-V-P'' when she returned to the line with 1:40 to go, and the fans got what they wanted moments later when WNBA commissioner Val Ackerman told the sellout crowd of 17,072 that Lennox won the award.
"Betty was unbelieveable,'' said Seattle's Sue Bird, who had eight points. "Two days ago, tonight. They couldn't stop her.''
Lennox was the sixth overall pick by Minnesota in the 2000 WNBA draft but was traded, skipping from Minneapolis to Miami and Cleveland before Seattle. She picked up a reputation as a troublemaker, but all Donovan saw was a playmaker.
FINALS ANALYSIS
The WNBA Finals are in the books. And Seattle is the new champion. A quick review of the series: GAME 3: STORM 74, SUN 60

"I think Coach Donovan knew what this team needed,'' Lennox said. "She saw those criteria in me, and she took a shot and gave me an opportunity.''
Lennox got a huge cheer when she left the game with 1:11 remaining, getting a smothering hug from Donovan and then making her way cheerfully down the Seattle bench.
"There's a reason we won tonight and that's because other people stepped up,'' Bird said. "They tried to take me and Lauren away, and you saw what happened: Betty Lennox. I can't say anything else.''
Connecticut's Nykesha Sales, who scored a WNBA Finals-record 32 points in Seattle's Game 2 victory, shot 5-for-12 for 18 points Tuesday. The rest of the Sun starters combined for only 26 points on 7-of-31 shooting.
"I saw a lot of great shots go up. They just didn't go in,'' Sales said.
Katie Douglas, who had 18 points in Game 1 and 14 in Game 2, scored all six of her points at the free throw line and was 0-for-11 from the field.
"If you want a worst nightmare, step into my world right now,'' Douglas said, looking exhausted as she leaned against a locker room wall.
Rookie Lindsay Whalen and Taj McWilliams-Franklin each scored 10 points.
The Storm opened a big lead after the break, and there seemed little chance they'd lose after Lennox threw in an off-balance jumper, drew a foul on Whalen and completed the three-point play for a 62-48 lead with 6:52 remaining.
"It's been a great year,'' Connecticut coach Mike Thibault said. "It doesn't feel like it tonight.''
Lennox added a layup on the next possession, and all Thibault could do was watch his team put up airballs, commit 14 of their 17 turnovers after halftime and watch Lennox hustle up and down the court.
"We didn't play well,'' Whalen said. "We had too many turnovers and they played great.''
The Storm toughened defensively as they extended their 37-36 halftime lead, holding Connecticut without a field goal for 12½ minutes in the second half, and frustration began to show for the Sun.
"All year long we've talked about our defense being what wins games for us,'' Donovan said. "We like to run and get in transition. We've done a good job throughout the playoffs controlling the backboards.''
Seattle led 43-36 after scoring the first six points of the second half, with Bird leading the Storm's transition game for two easy baskets. She added another fast-break bucket during a 12-4 run over the first 4 minutes of the second half.
From there, the Storm simply took over, and Seattle's players were still dancing at midcourt in front of a mostly filled arena some 15 minutes after the trophies were presented.
"We needed to come out and get off to a good start and we did. It was great,'' Jackson said.
Copyright by STATS LLC and The Associated Press
Team Stat Comparison
| | Connecticut | Seattle |
| --- | --- | --- |
| Points | 60 | 74 |
| FG Made-Attempted | 20-61 (.000) | 27-61 (.000) |
| 3P Made-Attempted | 3-16 (.188) | 1-5 (.200) |
| FT Made-Attempted | 17-22 (.000) | 19-27 (.000) |
| Rebounds (Offensive-Total) | 10-29 | 7-36 |
| Assists | 7 | 14 |
| Turnovers | 11 | 13 |
| Steals | 7 | 6 |
| Blocks | 1 | 3 |
| Fast Break Points | 0 | 3 |
| Fouls (Tech/Flagrant) | 21 (1/0) | 20 (1/0) |
Top Performers
Connecticut
Seattle
Sales
Points: 18
Reb: 6
Ast: 0
Stl: 2
Blk: 1

Lennox
Points: 23
Reb: 3
Ast: 2
Stl: 2
Blk: 0

Game Leaders
Connecticut
Seattle
Points
N. Sales 18
B. Lennox 23
Rebounds
N. Sales 6
L. Jackson 7
Assists
K. Douglas 2
S. Bird 6
Steals
K. Douglas 2
B. Lennox 2
Blocks
N. Sales 1
L. Jackson 2
Team rosters: Connecticut | Seattle