Coverage: ESPN2/WatchESPN
7:30 PM ET, September 1, 2006
The Palace of Auburn Hills, Detroit, MI
| | | | | | |
| --- | --- | --- | --- | --- | --- |
| | 1 | 2 | 3 | 4 | T |
| SAC | 26 | 16 | 12 | 9 | 63 |
| TUL | 19 | 14 | 15 | 25 | 73 |
Top Performers
Sacramento: Y. Griffith 14 Pts, 8 Reb, 2 Ast, 2 Stl, 1 Blk
Tulsa: D. Nolan 21 Pts, 3 Reb, 4 Ast, 1 Stl
AUBURN HILLS, Mich. (AP) -- Katie Smith wasn't going to let her best chance for a WNBA title slip away that easily.
Smith, scoreless in the first half, pumped in 16 second-half points, including two clutch 3-pointers, to lead the Detroit Shock to a 73-63 win over the defending champion Sacramento Monarchs on Friday night in Game 2 of the Finals.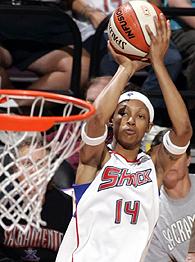 Gregory Shamus/Getty Images
Deanna Nolan led the Shock with 21 points in Friday's Game 2 victory.
"I haven't been here before, and who knows if I'll ever get back, so I'm going to leave everything I've got out on the floor," said Smith, who has scored 4,000 points during her WNBA career but had never played in the Finals.The best-of-five series, which is tied 1-all, shifts to Arco Arena for Game 3 on Sunday. The Shock have lost their last two visits to Sacramento by an average of 36.5 points.For the better part of three quarters, it looked like the Monarchs would take a 2-0 lead, but Smith wouldn't let that happen.Her 3-pointer with two seconds remaining in the third quarter pulled the Shock -- who had trailed by as many as 11 points earlier in the game -- within 54-48."When Katie made the 3-ball, we told them they've got 10 minutes to hold their home court and get back in the series," Shock coach Bill Laimbeer said.The Shock scored 14 of the next 16 points and didn't look back. Another 3-pointer by Smith gave them a 67-58 cushion with less than three minutes to go.Detroit also benefited from the play of captain Swin Cash, who was all but absent in the first game. Cash, one of the stars of the 2003 title team, was held scoreless in Wednesday's 95-71 loss and was benched for the last 18 minutes by Laimbeer. In Game 2, she had 11 points, eight rebounds and five assists."I thought Swin Cash played the way we want her to play. She came from the start and brought all the energy in the world," Laimbeer said.But All-Star Cheryl Ford, who scored a career playoff-high 25 points and was one of the few bright spots in the first game, got into early foul trouble Friday and was forced to sit for significant portions of the first half.She picked up her fourth foul -- a blocking violation far from the basket -- midway through the third quarter and again headed to the bench.Ford, the daughter of former NBA star Karl Malone, finished with five points and eight rebounds.But her teammates picked her up and continued a trend of bouncing back from lopsided defeats. Detroit bounced back from double-digit losses to win its next game six times during the regular season.The Shock also more closely resembled the team that finished second in the league in defense, holding teams to 70 points a game during the regular season as opposed to the finals-record 95 they surrendered in the first game.After scoring 38 points in the paint in Game 1, the Monarchs managed only 18 on Friday."They were more aggressive. ... They just came out and wanted it, you could see it," said Yolanda Griffith, who led Sacramento with 14 points and eight rebounds.The Monarchs held a 42-33 halftime lead and trailed only once in that span -- 7-5 -- three minutes into the first quarter.Kara Lawson and Kristin Haynie had 11 each for Sacramento, and DeMya Walker added 10."Detroit was beating us to all loose balls, all deflected rebounds they were getting to. They were just sharper and fresher, and you can say, Bill will probably say, they just wanted it more," Monarchs coach John Whisenant said.Deanna Nolan scored a game-high 21 points for the Shock.
Game notes
The announced attendance was 15,218, an increase of more than 5,000 from the first game although The Palace appeared to be at least half-empty. ... The league announced Friday that Ford had been selected as a member of the All-WNBA second team. She accepted the honor during a pregame ceremony. ... The WNBA also came out Friday with its list of most popular player jerseys, and All-WNBA first teamer Lisa Leslie's is No. 1. Sacramento guard Ticha Penicheiro's is in eighth place, and Cash's is in ninth. ... This series marks the first time in WNBA Finals history that both participants are No. 2 seeds. ... Fifteen of the 22 players in the series have won a WNBA title, while Smith won two ABL championships in the late 1990s.
Copyright by STATS LLC and The Associated Press
Team Stat Comparison
| | Sacramento | Tulsa |
| --- | --- | --- |
| Points | 63 | 73 |
| FG Made-Attempted | 21-64 (.000) | 29-62 (.000) |
| 3P Made-Attempted | 3-15 (.200) | 3-9 (.333) |
| FT Made-Attempted | 18-24 (.000) | 12-16 (.000) |
| Rebounds (Offensive-Total) | 11-30 | 9-28 |
| Assists | 10 | 15 |
| Turnovers | 14 | 21 |
| Steals | 8 | 8 |
| Blocks | 3 | 5 |
| Fast Break Points | 4 | 12 |
| Fouls (Tech/Flagrant) | 19 (1/0) | 23 (1/0) |
Top Performers
Sacramento
Tulsa
Griffith
Points: 14
Reb: 8
Ast: 2
Stl: 2
Blk: 1

Nolan
Points: 21
Reb: 3
Ast: 4
Stl: 1
Blk: 0

Game Leaders
Sacramento
Tulsa
Points
Y. Griffith 14
D. Nolan 21
Rebounds
Y. Griffith 8
S. Cash 8
Assists
K. Haynie 3
S. Cash 5
Steals
T. Penicheiro 3
C. Ford 3
Blocks
Y. Griffith 1
P. Pierson 3
Team rosters: Sacramento | Tulsa