Commentary
The history behind 1-vs.-2 matchups
Blue Devils riding 24-game home winning streak into showdown
Originally Published:
December 17, 2013
By
Charlie Creme
| espnW.com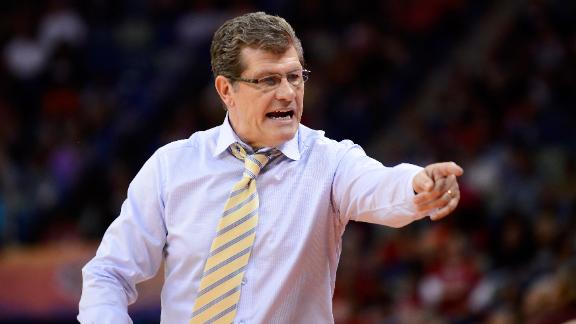 Demanding Perfection
Top players for UConn describe what practice is like playing for coach Geno Auriemma.
Demanding Perfection
Just more than a month into the season, there is little to no debate over which are the two best women's college basketball teams in the country. With possible apologies to those in Knoxville, South Bend and Lexington, Connecticut and Duke entered the season at Nos. 1 and 2, respectively, and neither team has done anything up this point to indicate any errors in that assessment.
The real question, as we embark on another 1-versus-2 matchup on Tuesday night (ESPN2/WatchESPN, 7 ET) in Durham, N.C., is whether the Blue Devils are right there with the Huskies as a true threat to the top spot … or merely closer to the rest of the pack that includes Tennessee, Notre Dame, Kentucky and a few others.
[+] Enlarge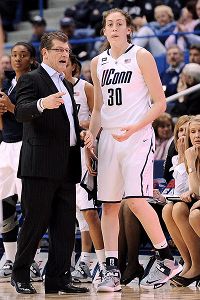 Icon SMIGeno Auriemma's Huskies are 14-3 in 1-vs.-2 matchups -- and 4-0 all-time in Durham, N.C.
The history of 1-2 matchups and the recent history between the two programs both work strongly against Duke in this regard. Connecticut has played extremely well against the best of the best, and even better against Duke.
This is the 52nd time the top two teams in the Associated Press women's poll have met. No. 1 leads 31-20 and has won nine of the past 10. The most recent came about 51 weeks ago and, not surprisingly, involved the Huskies. With many of the same players who will take the floor Tuesday night (including Kaleena Mosqueda-Lewis and Morgan Tuck, both of whom are expected back from injuries), Connecticut crushed Stanford 61-35. Not coincidentally, that was the only time in the last 10 of these such meetings that the No. 2 team prevailed. UConn was ranked behind the Cardinal, but dominated the matchup at Maples Pavilion to stop Stanford's 82-game home winning streak and steal the top ranking.
Perhaps more important, UConn is 14-3 in these 1-versus-2 matchups. No program in the sport is even close to that kind of success rate. Louisiana Tech is next-best at 9-4, but the last time the Lady Techsters were involved in such a game, Amanda Wilson and Tamicha Jackson were trying to keep pace with Tennessee's Chamique Holdsclaw and Tamika Catchings in the 1997-98 season opener.
Tuesday's showdown will mark the fourth straight season Connecticut is involved in a 1-2 battle. The Huskies have split their last two appearances, falling to top-ranked Baylor in December 2011. Duke, meanwhile, is 3-3 in 1-versus-2 meetings, but hasn't played in one since 2007, when the Blue Devils won at North Carolina.
The uglier number for Duke is its recent history against Connecticut -- six straight blowout losses -- which has served as a symbol of the Blue Devils' inability to get to the next level and reach a Final Four.
RECENT 1 VS. 2 RESULTS
Tuesday's game marks the 52nd meeting all-time between the top two teams in the AP womens poll. The No. 1 team leads the all-time series 31-20 and has won nine of the last 10 meetings. ESPN Stats & Info provides a look at the last five meetings:
Date
Result
Dec. 29, 2012
No. 2 UConn 61,
No. 1 Stanford 35
April 1, 2012
No. 1 Baylor 59,
No. 2 Stanford 47
Dec. 18, 2011
No. 1 Baylor 66,
No. 2 UConn 61
Nov. 20, 2011
No. 1 Baylor 94,
No. 2 Notre Dame 81
Nov. 16, 2010
No. 1 UConn 65,
No. 2 Baylor 64
While its current ranking is the highest Duke has reached prior to any of those past six matchups with the Huskies (previously as high as No. 3 and as low as No. 9), the Blue Devils have lost those six straight by an average margin of 29.3 points. Twice in the past three meetings Duke entered this game unbeaten (16-0 last season and 20-0 in 2011) and lost those games 79-49 and 87-51.
The last win for Duke in the series dates back to the 2006 NCAA tournament Bridgeport Regional final. Monique Currie was still a Blue Devil. Maya Moore wasn't even in college yet. Gail Goestenkors, not Joanne P. McCallie, was Duke's coach. The Blue Devils won that one in overtime, two games prior to losing the heartbreaking national title game to Maryland.
These two storied programs even have a 1-2 matchup in their history. The 2002 meeting at Cameron Indoor Stadium also had plenty of buildup. It was an entertaining, Saturday prime-time affair in which Diana Taurasi outshot Alana Beard and UConn won 77-65.
While most of the numbers and history seem to work against the Blue Devils, they are riding a 24-game home winning streak, the third-best in the country (although UConn is 4-0 all-time in Durham). And despite the No. 1 team's dominance in these matchups, the numbers even out a bit when the top-ranked club plays on the road. No. 1s are just 6-5 away from home against No. 2s. It should be noted, however, that Connecticut was never one of those top-ranked teams to lose on the road to a No. 2.
ESPN Stats & Info contributed to this story.
Women's College Basketball
Charlie Creme projects the women's NCAA Tournament bracket for ESPN.com.
SPONSORED HEADLINES
MORE WOMEN'S BASKETBALL HEADLINES
MOST SENT STORIES ON ESPN.COM
NO. 1 UCONN AT NO. 2 DUKE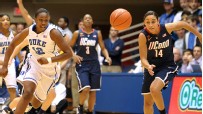 The nation's top two teams clash in a 1-2 showdown Tuesday (ESPN2 and WatchESPN, 7 p.m. ET).
VIDEO