Commentary
Finally, K-State makes right call
Two months later, Kansas State OK's Leticia Romero's transfer request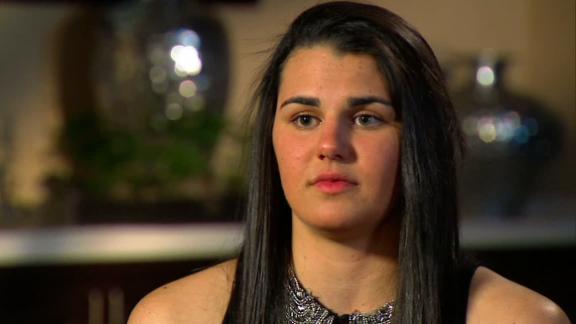 Leticia Romero: Transfer Troubles
"Outside The Lines" examines the issues surrounding Leticia Romero's request to transfer from Kansas State.
Leticia Romero: Transfer Troubles
When we see one person standing in opposition to a large entity, passions can be easily inflamed as people empathize. It's the mini versus the monolith.
But that's even more the case when, no matter how hard you look, you can't figure out what the monolith stands to gain by exercising its power. Ultimately, that's why so many people were baffled and angered by Kansas State's treatment of women's basketball player Leticia Romero.
Finally, after putting a foreign teenager through two months of stressful uncertainty about her athletic and academic future, Kansas State made the correct move Tuesday and released Romero from her scholarship. She is now free to explore all options outside of Big 12 schools. Oddly, Northern Colorado -- where four members of the former Kansas State women's hoops staff now work -- wasn't blocked, even though allegations of tampering by a previous staff member supposedly was why Romero was initially denied her release.
For Kansas State, this was like driving back and forth across the country just to get to a destination that was next door. Oh, and picking up numerous dents and scrapes along the way while damaging the engine and flattening the tires.
[+] Enlarge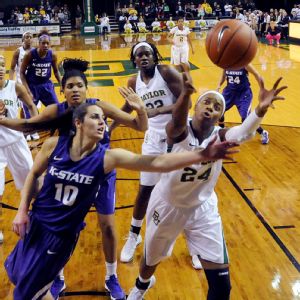 AP Photo/Waco Tribune Herald/Rod AydelotteLeticia Romero has been granted her release from Kansas State. She will be eligible for athletic aid at any institution with the exception of Big 12 schools.
Tuesday, the school announced that it had "modified its institutional policy" in regard to transfers, and then allowed athletic director John Currie to retroactively apply the new policy in regard to Romero.
Translation: Kansas State had to find a procedural method to save face after a flood of negative publicity and the embarrassing revelation that the right hand didn't always know or care what the left hand was doing at the school.
Just last Wednesday, "Outside the Lines" made public a letter that showed Currie had asked the appeals committee in early May to reconsider having upheld his initial denial of Romero's request for a release. He said he had "new information" -- aka, he had finally talked to her and now was satisfied that she had made up her own mind to leave. Currie wrote that this conversation had persuaded him that a release would indeed be proper and in Romero's best interest.
But later that same day, Kansas State sent out a news release written by Jeffery Morris, the school's vice president for communications and marketing, that said the appeal committee's decision was final and binding, and there was "no university procedure to re-examine one of those decisions."
Well, voila! As of today, Kansas State has created a procedural "out." Currie wrote another letter, this one to university president Kirk Schulz, asking that an additional step be added to the school's transfer release policy. In short: that the athletic director could revisit his own decision not to grant a release after the appeals committee also had denied it.
Plus, there is now an amended section in Kansas State's student-athlete handbook that allows for considerations such as "the best interests of the student-athlete and the institution," in regard to granting a transfer release.
That's about as broad as you could make such criteria, which is sensible. There are many reasons why a college athlete might request the right to transfer. That Romero's reason was so understandable -- the coaching staff that she'd come from the Canary Islands to play for had been fired -- just made Kansas State's denial all the more indefensible.
Kansas State had to find a procedural method to save face after a flood of negative publicity and the embarrassing revelation that the right hand didn't always know or care what the left hand was doing at the school.
What's next for Romero? She will have her 19th birthday Wednesday, and she's scheduled to return home at the end of this week. She is part of the Spanish national team program and is expected to compete for Spain in the Under-20 European Championship for Women, which is in Italy in July. She might also get a look at being on Spain's team for the Women's World Championship in Turkey, which runs Sept. 27- Oct. 5.
She will have to explore all her options in regard to where she'll go to school next fall in the United States. Kansas State's initial decision would not have prevented her from going to a junior college and accepting a scholarship, and that option remains available.
But Romero is really more interested in transferring to a four-year school, where she will need to sit out a year per NCAA rules. Kansas State's initial refusal to release her would have prevented her from accepting a scholarship at any four-year school for a year. It would have severely limited the options for a very talented player to continue her college career. And it would have gained Kansas State nothing.
So this decision to finally grant the release in no way harms the school. But taking this long to do it hurt Kansas State, and that should be a lesson to all schools.
From the beginning, Kansas State mismanaged this, starting with Currie's not insisting on talking to Romero before denying her release, then not explaining to her why. The appeals committee upheld the denial, also without giving her any reason. Currie and other school officials said they couldn't talk publicly about the situation, but then Currie tweeted about it. (Even if Romero wasn't directly named in those tweets, it was obvious whom they were about.)
Then, the wheels of bureaucracy at the school moved at the speed of rust once Currie really did start trying to reverse his decision and work for Romero's release. Ultimately, an avalanche of bad publicity and the threats of a lawyer retained by Romero at last resolved a situation that never had to be contentious to begin with.
"I don't want get into a fight with the university," is what Romero told me when I spoke to her in Manhattan, Kansas, on April 28. "I don't have anything against K-State."
She just wanted a fresh start. Now, she can work on that.
And Kansas State can work on moving forward and mending the damage to the school's reputation. Hopefully, not just Kansas State but all universities can look at how this happened and learn something.
espnW.com
Mechelle Voepel joined ESPN.com in 1996 and covers women's college hoops, the WNBA, the LPGA, and additional collegiate sports for espnW.