Commentary
Louisville 82, Baylor 81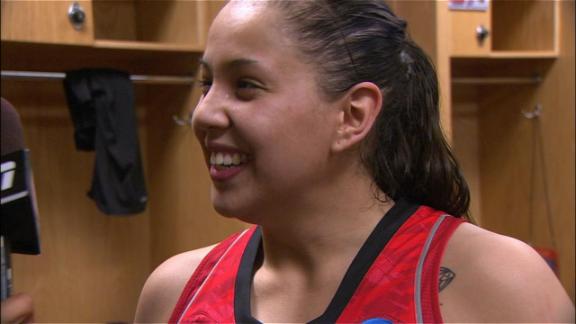 Moving on
OKLAHOMA CITY -- All things considered, you might call it the biggest upset in women's NCAA tournament history. Or at least very high on the list. Louisville, the No. 5 seed, took down defending champion Baylor 82-81 in the Sweet 16 after an other-worldly performance from behind the arc. And after surviving a frantic, riveting Baylor comeback.
The Louisville women shocked the world and, in this case, it is not hyperbole. The Cardinals made 16 of 25 3-point shots. Every coach has been asked how to best defeat Baylor, and all have said the same thing: Hit from the perimeter. Louisville did. Wow, did the Cardinals do that.
There will be no back-to-back NCAA championships for the Lady Bears, the No. 1 overall seed for the second season in a row. There will be no triumphant finish for superstar Brittney Griner, who struggled in her final game for Baylor. Roughed up by Louisville's physical posts, she finished with 14 points on 4-of-10 shooting.
Baylor coach Kim Mulkey, a Louisiana native, won't have the chance to take her team back to her home state to play in the Women's Final Four in New Orleans.
Credit the underdog Cardinals, who both defended and shot the ball from the perimeter amazingly well. Louisville put on a clinic from 3-point range. Then, with the game on the line, Monique Reid hit two free throws with 2 seconds left to thwart Baylor's comeback after Odyssey Sims had put the Lady Bears ahead with two free throws of her own. A quick reaction:
Overview: Louisville executed its game plan perfectly in the first half and led Baylor 39-29 at the break. It was just the third time this season the Lady Bears have trailed after 20 minutes. Baylor was 1-1 in those games; the Lady Bears lost to Stanford after being down 31-29 at the break, and beat UConn after trailing 29-26.
The Lady Bears were finally able to crack Louisville's defense in the closing minutes of the game, and it looked like they just might pull out an amazing comeback. But Reid, after missing a one-and-one attempt earlier, made the winning free throws. Several of Lady Bears fell to the floor in disbelief.
Turning point: At the 14:45 mark in the second half, Louisville's Shoni Schimmel missed a 3-pointer -- something that hadn't happened much for the Cardinals at that point. That made Louisville 12 of 17 from behind the arc. They were still red-hot … but maybe starting to cool? Was this the shift Baylor needed? Then, at the other end, Odyssey Sims missed a 3-pointer, but Destiny Williams got the rebound and was fouled. She made 1 of 2 free throws, cutting Louisville's lead to 51-40. But … Antonita Slaugher then came down and hit yet another 3. It just showed that Louisville wasn't going away in this game. And despite Baylor's comeback, the Cardinals hung in until the end.
Key player: Antonita Slaughter hit 7 of 9 3 pointers for Louisville. Most expected Shoni Schimmel, who led Louisville with 22 points, could potentially burn Baylor. But Slaughter's performance was surprisingly astounding.
Key stat: Gee, no debate about this one. The Cardinals were unreal from behind the arc, hitting 64 percent.
What's next: Louisville faces Tennessee in the regional final on Tuesday for a trip to New Orleans. It would be the second Final Four for Louisville, the 19th for Tennessee. Can the Cardinals join their men's team in the Final Four? … Baylor says goodbye to a marvelous senior class that has to leave disappointed by falling short of a second title.
espnW.com
Mechelle Voepel joined ESPN.com in 1996 and covers women's college hoops, the WNBA and additional collegiate sports for espnW. Born in Los Angeles, she grew up 40 miles north of St. Louis and is a lifelong Cardinals fan still basking in amazement over their 2011 World Series title.
SPONSORED HEADLINES
MORE WOMEN'S BASKETBALL HEADLINES
MOST SENT STORIES ON ESPN.COM
EIGHT IS GREAT FOR UCONN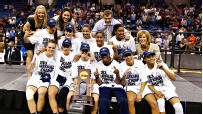 Connecticut routed Louisville 93-60 to win its eighth national title
Tourney home » Bracket » Challenge » Video »
NATIONAL CHAMPIONSHIP
VIDEO
BLOGS
MORE ON TOURNEY